Dutch Apple Pie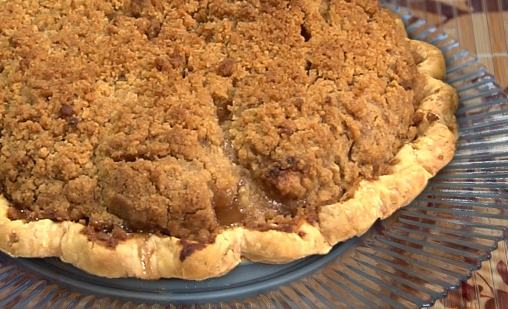 Yom Kippur ended a few hours ago. Just as there are those who immediately do some token gesture toward building the sukkah, my thoughts turn to apple pie. I love apple pie in the sukkah and always make sure that I make my own "personal pan". Giving birth to Aviva quite a few years back on the first night of Sukkot, I remember laying in the hospital thinking of the apple pie I left in the sukkah. Caught unexpectedly delivering 2 weeks early on yontif, there isn't any kosher food in the hospital. This is where having non-Jewish family members comes in handy. I ask my mother to bring me something to eat; the pie in the sukkah. How much do I want? The whole thing.
As a kid, I always enjoyed making the Dutch Apple Pie. Bringing a flaky crust together with slightly tart apples and a crumb topping is simple yet impressive. Yes, get that potential baker in the family baking this pie for the holidays.
We uploaded an assortment of my favorite apple pie recipes in step-by-step video format a couple of weeks ago. Someone pointed out that I didn't post the recipe. Whoops ~ sorry about that! Glad we caught it in time for Sukkot; we love our apples in the Northwest.
Kosher Status:
Parve
Number of servings:
1 pie, 6 - 8 servings
Main Ingredient(s):
Apples
Preparation Time:
00:40
Cooking Time:
00:40
Skill Level:
2

(1 Easy - 5 Hard)

Estimated POINT value:


Ingredients:


1 single pie crust, unbaked
Filling:
2 pounds Granny Smith or other tart apples

1 tablespoon lemon juice

2 tablespoons flour

3/4 cup sugar

dash of salt

1 teaspoon cinnamon
Topping:
1 cup flour

1/2 cup light brown sugar

1/2 cup margarine (butter for dairy)


Steps:


Preheat the oven to 375'.

Make a single pie crust using the Perfect Pie Dough recipe. Chill until ready to fill.

Peel the apples, core and slice into even pieces. Toss with remaining filling ingredients. Add apples to the pie crust.

Make topping: Combine the flour and sugar. "Cut" in the margarine or butter.

Place crumb topping on top of the pie. Place the pie onto a baking sheet pan or cookie pan to catch juices as the pie bakes. Bake for 40 - 50 minutes until the apples are tender. You may want to cover with a piece of foil if the pie browns too quickly.


Recently viewed recipes:



Dutch Apple Pie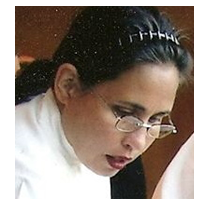 About Leah
Hi! Thank you for stopping by to watch me, Leah, cook kosher. I've been the owner operator of my boutique catering firm in Seattle, Leah's Catering, for the past 14 years.
Read more...
Leah's Blog

Aviva Makes Aliyah and The Sandwich Generation

Happy Chinese New Year! Happy Super Bowl! Go Hawks!

Tradition! Fun with the Seattle International Film Festival

Where Have I Been in My Life???

Making Kosher Salads

Blog Categories
Leah's Kosher Pantry

View what is in the pantry
Recipes

Appetizers
(44)

Appetizers - Dips and Sauces
(11)

Appetizers - Starter Courses
(10)

Beverages - Cold
(1)

Breads - Yeast
(10)

Breakfast Pastries
(7)

Dessert - Frostings
(6)

Desserts - Cakes
(13)

Desserts - Cookies and Brownies
(29)

Desserts - Dairy
(42)

Desserts - Pareve
(71)

Desserts - Pies and Tarts
(14)

Desserts - Tea Breads, Quick Breads
(8)

Desserts and Baked Goods - Gluten Free
(18)

Main Dish - Beef
(7)

Main Dish - Dairy
(3)

Main Dish - Eggs and Fritattas
(6)

Main Dish - Fish
(11)

Main Dish - Poultry
(14)

Main Dish - Vegetarian and Vegan
(9)

Salads - Dressing
(8)

Salads - Fruit
(4)

Salads - Grains & Legumes
(7)

Salads - Green
(1)

Salads - Pasta and Rice
(10)

Salads - Potatoes and Eggs
(5)

Salads - Vegetable
(15)

Side Dishes - Kugels and Souffles
(7)

Side Dishes - Potatoes and Vegetables
(17)

Side Dishes - Rice, Grains and Pasta
(7)

Soups, Stews and Cholent
(9)
Special Considerations

Dairy-Free Recipes
(230)

Gluten-Free Recipes
(134)

High Fiber Recipes
(18)

Low-fat Recipes
(11)

Nut-Free Desserts Recipes
(48)

Vegan Recipes
(101)

Vegetarian Recipes
(207)
Holidays

Rosh Hashana Recipes
(23)

Yom Kippur Recipes
(3)

Sukkot Recipes
(26)

Simchat Torah Recipes
(9)

Chanukah Recipes
(20)

Tu B'shevat Recipes
(16)

Purim Recipes
(9)

Passover Recipes
(44)

Lag Ba'omer Recipes
(6)

Shavuot Recipes
(24)

Shabbat Recipes
(34)
Cookbook Library

New Releases

Jewish Classics

Other Favorites
Kitchen Gadgets

Essentials

Small Appliances
Chef Of The Week

Barbara Williamson
Congratulations to our chef of the week.