Spicy Yellow Dahl Dip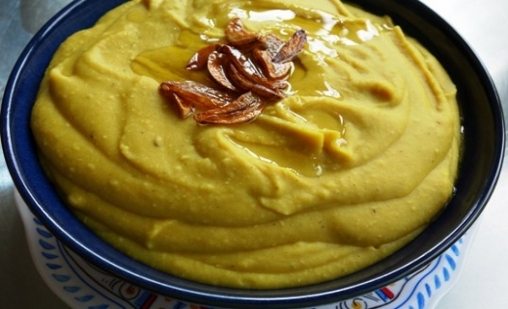 Doing a semi-authentic Indian inspired dinner the other night, semi- authentic only because my experience with Indian food is minimal, I remember that I have a recipe for this dip in my recipe binders. It is in a handwriting I don't recognize. I've been flipping past the limp plastic sheet protector for years. Burned out on hummus, I think we should revive this recipe since it must have been worthy to save.
Worthy and easy, it offers a blast of curry color to the buffet. Subtle, it's important to find the right balance of garlic and shallot, salt. I like to add a little sprinkling of red pepper flakes to the top along with the fried garlic slices. It's a keeper and a nice alternative to some of our standard basics.
Oh, BTW, the customer loved the dinner including the curried vegetables. Need to post that soon!
Kosher Status:
Parve
Number of servings:
about 2 cups, 10 - 16 servings
Main Ingredient(s):
Lentils
Preparation Time:
00:30
Cooking Time:
00:20
Skill Level:
1 - Easy

(1 Easy - 5 Hard)

Estimated POINT value:


Ingredients:


1 cup red lentils

1/4 teaspoon ground turmeric

1 large shallot minced, about 1/4 cup

1/4 teaspoon curry powder

1/4 teaspoon salt

2 tablespoon canola oil
For Garnish:
2 garlic cloves, thinly sliced and fried in a little oil

1/4 teaspoon dried chili flakes (optional)


Steps:


| | |
| --- | --- |
| | In a medium sauce pan, combine the lentils and 2 1/4 cups water. Add the shallot, tumeric and salt. Bring to a boil, turn the heat down and simmer until the water is absorbed, about 20 minutes. |
| | |
| --- | --- |
| | When the lentils are cooked, remove from the heat and let cool slightly. Put the cooked lentils into a food processor fitted with the blade attachment. Add the oil and process until smooth. Remove to serving bowl. |
| | |
| --- | --- |
| | Thinly slice the garlic. Heat a little oil in a small saute pan and cook the garlic until golden brown. Drizzle a little oil on the dip, add the garlic. Sprinkle with red pepper flakes if using. |


Recently viewed recipes:



Spicy Yellow Dahl Dip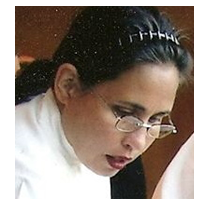 About Leah
Hi! Thank you for stopping by to watch me, Leah, cook kosher. I've been the owner operator of my boutique catering firm in Seattle, Leah's Catering, for the past 14 years.
Read more...
Leah's Blog

Aviva Makes Aliyah and The Sandwich Generation

Happy Chinese New Year! Happy Super Bowl! Go Hawks!

Tradition! Fun with the Seattle International Film Festival

Where Have I Been in My Life???

Making Kosher Salads

Blog Categories
Leah's Kosher Pantry

View what is in the pantry
Recipes

Appetizers
(44)

Appetizers - Dips and Sauces
(11)

Appetizers - Starter Courses
(10)

Beverages - Cold
(1)

Breads - Yeast
(10)

Breakfast Pastries
(7)

Dessert - Frostings
(6)

Desserts - Cakes
(13)

Desserts - Cookies and Brownies
(29)

Desserts - Dairy
(42)

Desserts - Pareve
(71)

Desserts - Pies and Tarts
(14)

Desserts - Tea Breads, Quick Breads
(8)

Desserts and Baked Goods - Gluten Free
(18)

Main Dish - Beef
(7)

Main Dish - Dairy
(3)

Main Dish - Eggs and Fritattas
(6)

Main Dish - Fish
(11)

Main Dish - Poultry
(14)

Main Dish - Vegetarian and Vegan
(9)

Salads - Dressing
(8)

Salads - Fruit
(4)

Salads - Grains & Legumes
(7)

Salads - Green
(1)

Salads - Pasta and Rice
(10)

Salads - Potatoes and Eggs
(5)

Salads - Vegetable
(15)

Side Dishes - Kugels and Souffles
(7)

Side Dishes - Potatoes and Vegetables
(17)

Side Dishes - Rice, Grains and Pasta
(7)

Soups, Stews and Cholent
(9)
Special Considerations

Dairy-Free Recipes
(230)

Gluten-Free Recipes
(134)

High Fiber Recipes
(18)

Low-fat Recipes
(11)

Nut-Free Desserts Recipes
(48)

Vegan Recipes
(101)

Vegetarian Recipes
(207)
Holidays

Rosh Hashana Recipes
(23)

Yom Kippur Recipes
(3)

Sukkot Recipes
(26)

Simchat Torah Recipes
(9)

Chanukah Recipes
(20)

Tu B'shevat Recipes
(16)

Purim Recipes
(9)

Passover Recipes
(44)

Lag Ba'omer Recipes
(6)

Shavuot Recipes
(24)

Shabbat Recipes
(34)
Cookbook Library

New Releases

Jewish Classics

Other Favorites
Kitchen Gadgets

Essentials

Small Appliances
Chef Of The Week

Barbara Williamson
Congratulations to our chef of the week.