Baba Ganoush

We frequently come to this website for recipes. Working from my home office, I bring what I need to the kitchen on prep days. Sometimes I forget things and it has been very handy to have so many recipes in the archives. These are my catering recipes; I'm happy to share my repertoire but mostly I'm happy that I'm finally getting organized. I was caught off guard the other day. We needed baba ganoush and I didn't have my recipe. Going to this website yielded nada; nothing; zilch. What the heck? What kind of kosher Jewish recipe site doesn't have a baba ganoush recipe?
In an effort to remedy the situation, I grab a cookbook and we make a recipe after much debate: onions or no onions, mayonnaise or no mayonnaise. In the end, we develop this recipe going with the no onions/no mayonnaise track. I'll post what I've been told is the Ashkenazi version another time. It was an interesting debate, though. People are very attached to their opinions about baba ganoush. Me, I'm allergic to eggplant and can only touch it with gloves. I do risk my life tasting the final product; I'd eat it if I could!
Kosher Status:
Parve
Number of servings:
12 - 16
Main Ingredient(s):
Eggplant
Preparation Time:
00:30
Cooking Time:
00:20
Skill Level:
2

(1 Easy - 5 Hard)

Estimated POINT value:


Ingredients:


2 eggplants, about 1 pound each

2 teaspoons minced garlic

1/4 cup tehini

2 tablespoons olive oil

1/4 cup fresh lemon juice

2 tablespoons finely chopped parsley

1 teaspoon salt

1/2 teaspoon black pepper

1/8 teaspoon cayenne (optional)


Steps:


Preheat the oven to 400'.

Wash the eggplant and cut in half lengthwise. Spray an cookie sheet with non-stick cooking oil. Add a drizzle of olive oil and place the eggplant, cut side down, onto the cookie sheet.

Bake until the eggplant is soft and starts to collapse, maybe 15 minutes depending on your oven.
When the eggplant is done, let cool slightly until you can safely handle it. Scrape the pulp of the eggplant into the food processor. Add the remaining ingredients and blend until almost smooth. Leave a little texture for interest.

That's it!


Recently viewed recipes:



Baba Ganoush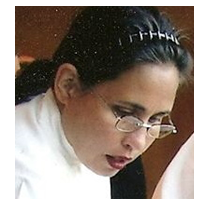 About Leah
Hi! Thank you for stopping by to watch me, Leah, cook kosher. I've been the owner operator of my boutique catering firm in Seattle, Leah's Catering, for the past 14 years.
Read more...
Leah's Blog

Aviva Makes Aliyah and The Sandwich Generation

Happy Chinese New Year! Happy Super Bowl! Go Hawks!

Tradition! Fun with the Seattle International Film Festival

Where Have I Been in My Life???

Making Kosher Salads

Blog Categories
Leah's Kosher Pantry

View what is in the pantry
Recipes

Appetizers
(44)

Appetizers - Dips and Sauces
(11)

Appetizers - Starter Courses
(10)

Beverages - Cold
(1)

Breads - Yeast
(10)

Breakfast Pastries
(7)

Dessert - Frostings
(6)

Desserts - Cakes
(13)

Desserts - Cookies and Brownies
(29)

Desserts - Dairy
(42)

Desserts - Pareve
(71)

Desserts - Pies and Tarts
(14)

Desserts - Tea Breads, Quick Breads
(8)

Desserts and Baked Goods - Gluten Free
(18)

Main Dish - Beef
(7)

Main Dish - Dairy
(3)

Main Dish - Eggs and Fritattas
(6)

Main Dish - Fish
(11)

Main Dish - Poultry
(14)

Main Dish - Vegetarian and Vegan
(9)

Salads - Dressing
(8)

Salads - Fruit
(4)

Salads - Grains & Legumes
(7)

Salads - Green
(1)

Salads - Pasta and Rice
(10)

Salads - Potatoes and Eggs
(5)

Salads - Vegetable
(15)

Side Dishes - Kugels and Souffles
(7)

Side Dishes - Potatoes and Vegetables
(17)

Side Dishes - Rice, Grains and Pasta
(7)

Soups, Stews and Cholent
(9)
Special Considerations

Dairy-Free Recipes
(230)

Gluten-Free Recipes
(134)

High Fiber Recipes
(18)

Low-fat Recipes
(11)

Nut-Free Desserts Recipes
(48)

Vegan Recipes
(101)

Vegetarian Recipes
(207)
Holidays

Rosh Hashana Recipes
(23)

Yom Kippur Recipes
(3)

Sukkot Recipes
(26)

Simchat Torah Recipes
(9)

Chanukah Recipes
(20)

Tu B'shevat Recipes
(16)

Purim Recipes
(9)

Passover Recipes
(44)

Lag Ba'omer Recipes
(6)

Shavuot Recipes
(24)

Shabbat Recipes
(34)
Cookbook Library

New Releases

Jewish Classics

Other Favorites
Kitchen Gadgets

Essentials

Small Appliances
Chef Of The Week

Barbara Williamson
Congratulations to our chef of the week.