Jerusalem Artichoke and Asparagus Frittata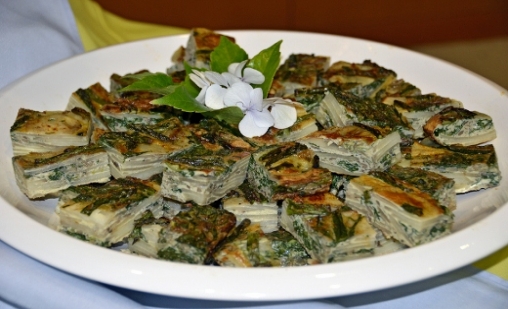 If at first I don't succeed, I quit or keep trying. Believing that this recipe, derived from "La Tartine Gourmande - Recipes for an Inspired Life" by Beatrice Peltre, has potential for serving to the masses, I give it a try. Well, first I give it to a chef to make; he didn't have the vision. We serve it anyway but I'm not feelin' it. Next time, I make it following the directions exactly. I appreciate the cumin in the egg mixture. I'm intrigued with the sunchokes and want the flavor to balance with the potato. The result is almost there, we serve it; it's close.
I'm determined to serve it at my next party; 200 servings. I'm feelin' it this time and get Benoit, my genuine Frenchman, to help me out with the prep. He's meticulous and arranges the ingredients so all I have to do is layer everything into the pans. It is a lot of everything. He slices paper thin potatoes on the mandolin. We scrub and grate the sunchokes into water so they don't turn color. Spinach wilted, onions sauteed, asparagus blanched - it's looking good!
I'll admit this party is comprised of very fresh food; as usual. We've been slammed with back-to-back events for weeks. Flying around the kitchen, I get 4 large pans of this frittata into the oven quickly. Even faster the pieces are cut and placed on platters. I'm thrilled to have a photo to show.....there was nothing left after the event!
Kosher Status:
Parve
Number of servings:
6 - 8 servings
Main Ingredient(s):
Potatoes - Yukon Gold
Preparation Time:
00:40
Cooking Time:
00:20
Skill Level:
3

(1 Easy - 5 Hard)

Estimated POINT value:


Ingredients:


12 asparagus tips, about 3" long

1/3 cup olive oil

8 oz. baby spinach, wilted

1 cup red onion, thinly sliced

8 oz. Yukon Gold potatoes

8 oz. Jerusalem artichokes (sunchokes)

8 large eggs

1 teaspoon ground cumin

2 teaspoons salt

1/2 teaspoon black pepper

1 tablespoon chopped cilantro

2 tablespoons chopped sundried tomatoes (optional)

sprinkle of dried red pepper flakes (optional)


Steps:


Crack, check the eggs for blood spots, and whisk in a large bowl. Add the cumin, 1/2 the salt, pepper and cilantro. Set aside.

Preheat the oven to 350'.
| | |
| --- | --- |
| | In a very small sauce pan, bring a couple of cups of water to a boil. Toss in the asparagus and turn down the heat. Blanch until the color is bright green. Drain and gently rinse under cold water. Drain and set aside. |
| | |
| --- | --- |
| | In a saute pan, add about 1 tablespoon of olive oil and heat. Add the spinach and cook until wilted. Remove from the pan, rough chop and set aside. |
| | |
| --- | --- |
| | Heat another 2 tablespoons of oil in the saute pan and saute the red onion until just soft. Remove from the pan and set aside. |
Peel and thinly slice the potatoes. Heat another 2 tablespoons of oil in the saute pan and over medium heat, saute the potatoes just until tender. Remove from the pan and set aside.

While the potatoes are cooking, scrub the sunchokes well. Grate in the food processor and empty into cold water until ready to cook. When the potatoes are removed from the pan, add a tablespoon of oil. Drain and saute the sunchokes until tender. Remove from the heat.
Spray the baking pan, 9" round or square, and layer in the prepped vegetables. Whisk the egg mixture as you pour over the vegetables.

Bake for about 20 minutes, or until lightly golden brown and the egg mixture is set and firm to the touch.

Cool slightly and cut. Serve at warm or at room temperature.


Recently viewed recipes:



Jerusalem Artichoke and Asparagus Frittata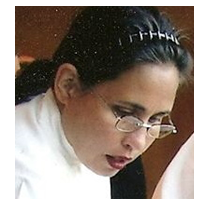 About Leah
Hi! Thank you for stopping by to watch me, Leah, cook kosher. I've been the owner operator of my boutique catering firm in Seattle, Leah's Catering, for the past 14 years.
Read more...
Leah's Blog

Aviva Makes Aliyah and The Sandwich Generation

Happy Chinese New Year! Happy Super Bowl! Go Hawks!

Tradition! Fun with the Seattle International Film Festival

Where Have I Been in My Life???

Making Kosher Salads

Blog Categories
Leah's Kosher Pantry

View what is in the pantry
Recipes

Appetizers
(44)

Appetizers - Dips and Sauces
(11)

Appetizers - Starter Courses
(10)

Beverages - Cold
(1)

Breads - Yeast
(10)

Breakfast Pastries
(7)

Dessert - Frostings
(6)

Desserts - Cakes
(13)

Desserts - Cookies and Brownies
(29)

Desserts - Dairy
(42)

Desserts - Pareve
(71)

Desserts - Pies and Tarts
(14)

Desserts - Tea Breads, Quick Breads
(8)

Desserts and Baked Goods - Gluten Free
(18)

Main Dish - Beef
(7)

Main Dish - Dairy
(3)

Main Dish - Eggs and Fritattas
(6)

Main Dish - Fish
(11)

Main Dish - Poultry
(14)

Main Dish - Vegetarian and Vegan
(9)

Salads - Dressing
(8)

Salads - Fruit
(4)

Salads - Grains & Legumes
(7)

Salads - Green
(1)

Salads - Pasta and Rice
(10)

Salads - Potatoes and Eggs
(5)

Salads - Vegetable
(15)

Side Dishes - Kugels and Souffles
(7)

Side Dishes - Potatoes and Vegetables
(17)

Side Dishes - Rice, Grains and Pasta
(7)

Soups, Stews and Cholent
(9)
Special Considerations

Dairy-Free Recipes
(230)

Gluten-Free Recipes
(134)

High Fiber Recipes
(18)

Low-fat Recipes
(11)

Nut-Free Desserts Recipes
(48)

Vegan Recipes
(101)

Vegetarian Recipes
(207)
Holidays

Rosh Hashana Recipes
(23)

Yom Kippur Recipes
(3)

Sukkot Recipes
(26)

Simchat Torah Recipes
(9)

Chanukah Recipes
(20)

Tu B'shevat Recipes
(16)

Purim Recipes
(9)

Passover Recipes
(44)

Lag Ba'omer Recipes
(6)

Shavuot Recipes
(24)

Shabbat Recipes
(34)
Cookbook Library

New Releases

Jewish Classics

Other Favorites
Kitchen Gadgets

Essentials

Small Appliances
Chef Of The Week

Barbara Williamson
Congratulations to our chef of the week.