Sephardic Biscochos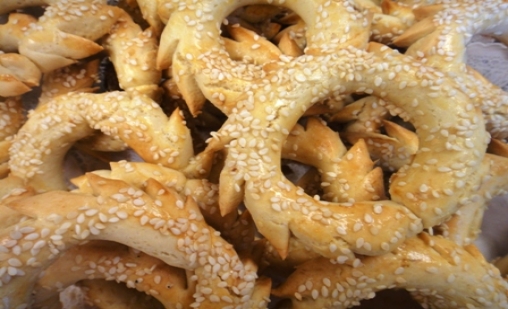 Biscochos are in my top favorite cookies to make. They are a Sephardic classic, especially in this town. Catherine Scharon is my adopted Sephardic grandmother and she taught me her way of making these cookies. As per her tradition, they are a labor of love and symbolic of being part of a rich ethnic culture. I watch her mixing the dough and adjusting the flour or oil just by the feel. Amazed, I observe how she cuts a piece of dough, rolls and slices it, then forms each into a perfect round. Brushing the egg wash seems a caress and sprinkling the sesame seeds a gentle whisper. Each cookie is formed by years of practice and speaks of affection passed from generation to generation. Wow.
Of course, insolent as I am, I quickly streamline the system for production. Scooping dough like a machine, rolling logs by the dozens, and cutting the edges with rapid fire precision we crank out hundreds at a time. But, the point comes when you have to slow down and brush the egg wash and sprinkle the sesame seeds on to each cookie. At this point, I marvel at the labor involved and pull out the secret ingredient; the love ~ for all those who go through the effort of making such a beautiful cookie.
I've been to events where people come up to me with tears in their eyes. Seriously, they aren't the customer with my invoice. They usually have a biscocho or boreka in their hand and talk about how they haven't eaten them since their grandmother passed. It is rewarding to have made something so authentic that it brings back memories. And, when Catherine marvels that she can't tell mine from hers, I know I've arrived...even if the journey took years.
Kosher Status:
Parve
Number of servings:
36 cookies
Main Ingredient(s):
Preparation Time:
00:30
Cooking Time:
00:20
Skill Level:
2

(1 Easy - 5 Hard)

Estimated POINT value:


Ingredients:


3 eggs

6 tablespoons canola oil

1/2 teaspoons pure vanilla extract

5/8 cups granulated sugar

2 teaspoons baking powder

1/4 teaspoon salt

2 3/4 cups flour


Steps:


| | |
| --- | --- |
| | Beat the eggs until very light and foamy. While this is going, measure the dry ingredients into a bowl. If the eggs are still not very light and foamy, call someone and chat. You don't want to rush this; until very light and foamy. |
| | |
| --- | --- |
| | When the eggs are light and foamy, add the oil, sugar and vanilla. Beat until well combined. Pour wet ingredients over the flour mixture. Use your hand to lift the flour over the liquid and continue until the dough is combined. If the dough is too sticky, add a dusting of flour. If it is too hard, add a little oil. You want a dough that will roll without sticking to the table and will not crumble when pressed. |
| | |
| --- | --- |
| | Turn the dough onto the counter and cover with the bowl. Let the dough rest...but, you don't get to ~ start cleaning up the dirty equipment you just used! |
| | |
| --- | --- |
| | I like to use a #50 scoop to form 'walnut sized' pieces. I scoop all the dough at once and keep the balls close together so they can still fit under the bowl. You don't want to dry out the dough as you work. |
| | |
| --- | --- |
| | Round the balls of dough. Leave about a dozen out on the very lightly floured counter. |
| | |
| --- | --- |
| | Roll the balls into about 6" lengths. When rolling towards the edges, don't flatten your hands to the table or else the ends will be pointy. Use a lifting motion at the ends to maintain the same thickness. I work about a dozen at a time. I'm part Chinese so I say, "find your inner Asian" and do things production style! |
| | |
| --- | --- |
| | Slice the biscocho at an angle. Shorter cuts done more frequently will help keep the cookie round. I usually run the knife below the cookie to loosen it from the counter top. |
| | |
| --- | --- |
| | Gently lift the biscocho and place it onto the cookie sheet in a round shape. They will puff a bit but they won't spread while baking. |
Brush lightly with egg wash (beaten egg) and sprinkle with sesame seeds. Bake at 325 degrees until lightly browned on the bottom and baked through. These shouldn't be dark. Remove from the oven and cool. When all the cookies are done, they may be 'shingled' onto a cookie sheet. Then, they are placed back into the oven at a lower temperature, 160 degrees until they crisp up. The color should remain light. These are a biscotti in that they are twice baked. However, the crumb is much lighter than a traditional biscotti. Yum-yum!

And that is how you make Kosher Sephardic Biscochos!


Recently viewed recipes:



Sephardic Biscochos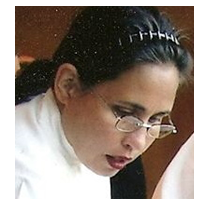 About Leah
Hi! Thank you for stopping by to watch me, Leah, cook kosher. I've been the owner operator of my boutique catering firm in Seattle, Leah's Catering, for the past 14 years.
Read more...
Leah's Blog

Aviva Makes Aliyah and The Sandwich Generation

Happy Chinese New Year! Happy Super Bowl! Go Hawks!

Tradition! Fun with the Seattle International Film Festival

Where Have I Been in My Life???

Making Kosher Salads

Blog Categories
Leah's Kosher Pantry

View what is in the pantry
Recipes

Appetizers
(44)

Appetizers - Dips and Sauces
(11)

Appetizers - Starter Courses
(10)

Beverages - Cold
(1)

Breads - Yeast
(10)

Breakfast Pastries
(7)

Dessert - Frostings
(6)

Desserts - Cakes
(13)

Desserts - Cookies and Brownies
(29)

Desserts - Dairy
(42)

Desserts - Pareve
(71)

Desserts - Pies and Tarts
(14)

Desserts - Tea Breads, Quick Breads
(8)

Desserts and Baked Goods - Gluten Free
(18)

Main Dish - Beef
(7)

Main Dish - Dairy
(3)

Main Dish - Eggs and Fritattas
(6)

Main Dish - Fish
(11)

Main Dish - Poultry
(14)

Main Dish - Vegetarian and Vegan
(9)

Salads - Dressing
(8)

Salads - Fruit
(4)

Salads - Grains & Legumes
(7)

Salads - Green
(1)

Salads - Pasta and Rice
(10)

Salads - Potatoes and Eggs
(5)

Salads - Vegetable
(15)

Side Dishes - Kugels and Souffles
(7)

Side Dishes - Potatoes and Vegetables
(17)

Side Dishes - Rice, Grains and Pasta
(7)

Soups, Stews and Cholent
(9)
Special Considerations

Dairy-Free Recipes
(230)

Gluten-Free Recipes
(134)

High Fiber Recipes
(18)

Low-fat Recipes
(11)

Nut-Free Desserts Recipes
(48)

Vegan Recipes
(101)

Vegetarian Recipes
(207)
Holidays

Rosh Hashana Recipes
(23)

Yom Kippur Recipes
(3)

Sukkot Recipes
(26)

Simchat Torah Recipes
(9)

Chanukah Recipes
(20)

Tu B'shevat Recipes
(16)

Purim Recipes
(9)

Passover Recipes
(44)

Lag Ba'omer Recipes
(6)

Shavuot Recipes
(24)

Shabbat Recipes
(34)
Cookbook Library

New Releases

Jewish Classics

Other Favorites
Kitchen Gadgets

Essentials

Small Appliances
Chef Of The Week

Barbara Williamson
Congratulations to our chef of the week.