Guasacaca (Chunky Avocado Salsa)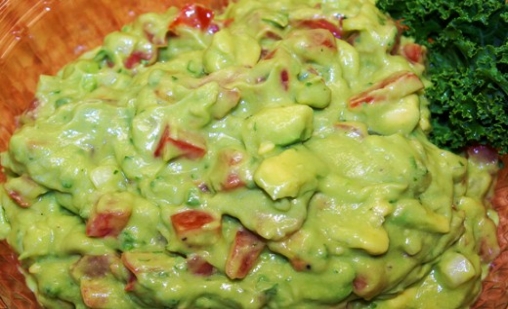 Okay, you look at the photo and you think 'guacamole'. Look closer. There are actually pieces of diced avocado blended with smooth avocado. You can keep thinking guacamole but this takes it up a notch. Fresh diced tomatoes, jalapeno, parsley and cilantro accentuate that when-am-I-going-on-vacation yearning.
I recently made 18 pounds of this for an event with 14 tables of 8. As I filled a bowl for each table, I questioned my calculations. What was I thinking? It seemed an obscene amount per table. The lead server just shrugged as she carried the tray to the dining room. Oh well. Clearing the salad course, the same lead server came back with empty dip bowls. Lasted all of about 5 minutes. This is some good avocado dip!
Kosher Status:
Parve
Number of servings:
8 - 10
Main Ingredient(s):
Tomatoes - Fresh, Avocado
Preparation Time:
00:20
Cooking Time:
00:00
Skill Level:
1 - Easy

(1 Easy - 5 Hard)

Estimated POINT value:


Ingredients:


2 large avocados, ripe but firm

2 tablespoons lime juice

3 medium tomatoes, seeded and diced on the smaller side

1/2 sweet onion, finely diced

1/2 - 1 jalapeno pepper, seeded and diced very fine

1 tablespoon finely chopped parsley

1 tablespoon finely chopped cilantro

1/4 cup red wine vinegar

1/2 cup canola oil

2 1/2 teaspoons salt or to taste

1/4 teaspoon black pepper


Steps:


Wash the avocados. Peel the riper of the 2, slice in half and remove the pit. Put the pit in a mixing bowl. Put the peeled avocado into the bowl of a food processor. Process until very smooth. Add the avocado paste to the bowl with the pit. Add the lime juice and stir.

Peel the 2nd avocado and remove the pit. Dice the avocado into about 3/8" pieces and add to the bowl with the avocado paste. Gently stir.

Prep the rest of the ingredients and add to the bowl going easy on the jalapeno. You can add more to taste. Gently stir until blended leaving the pit in the bowl. This helps prevent the dip for turning brown. Taste for the right balance of salt, vinegar and jalapeno. Chill until ready to serve.


Recently viewed recipes:



Guasacaca (Chunky Avocado Salsa)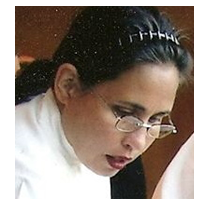 About Leah
Hi! Thank you for stopping by to watch me, Leah, cook kosher. I've been the owner operator of my boutique catering firm in Seattle, Leah's Catering, for the past 14 years.
Read more...
Leah's Blog

Aviva Makes Aliyah and The Sandwich Generation

Happy Chinese New Year! Happy Super Bowl! Go Hawks!

Tradition! Fun with the Seattle International Film Festival

Where Have I Been in My Life???

Making Kosher Salads

Blog Categories
Leah's Kosher Pantry

View what is in the pantry
Recipes

Appetizers
(44)

Appetizers - Dips and Sauces
(11)

Appetizers - Starter Courses
(10)

Beverages - Cold
(1)

Breads - Yeast
(10)

Breakfast Pastries
(7)

Dessert - Frostings
(6)

Desserts - Cakes
(13)

Desserts - Cookies and Brownies
(29)

Desserts - Dairy
(42)

Desserts - Pareve
(71)

Desserts - Pies and Tarts
(14)

Desserts - Tea Breads, Quick Breads
(8)

Desserts and Baked Goods - Gluten Free
(18)

Main Dish - Beef
(7)

Main Dish - Dairy
(3)

Main Dish - Eggs and Fritattas
(6)

Main Dish - Fish
(11)

Main Dish - Poultry
(14)

Main Dish - Vegetarian and Vegan
(9)

Salads - Dressing
(8)

Salads - Fruit
(4)

Salads - Grains & Legumes
(7)

Salads - Green
(1)

Salads - Pasta and Rice
(10)

Salads - Potatoes and Eggs
(5)

Salads - Vegetable
(15)

Side Dishes - Kugels and Souffles
(7)

Side Dishes - Potatoes and Vegetables
(17)

Side Dishes - Rice, Grains and Pasta
(7)

Soups, Stews and Cholent
(9)
Special Considerations

Dairy-Free Recipes
(230)

Gluten-Free Recipes
(134)

High Fiber Recipes
(18)

Low-fat Recipes
(11)

Nut-Free Desserts Recipes
(48)

Vegan Recipes
(101)

Vegetarian Recipes
(207)
Holidays

Rosh Hashana Recipes
(23)

Yom Kippur Recipes
(3)

Sukkot Recipes
(26)

Simchat Torah Recipes
(9)

Chanukah Recipes
(20)

Tu B'shevat Recipes
(16)

Purim Recipes
(9)

Passover Recipes
(44)

Lag Ba'omer Recipes
(6)

Shavuot Recipes
(24)

Shabbat Recipes
(34)
Cookbook Library

New Releases

Jewish Classics

Other Favorites
Kitchen Gadgets

Essentials

Small Appliances
Chef Of The Week

Barbara Williamson
Congratulations to our chef of the week.