Honey Quinoa Bread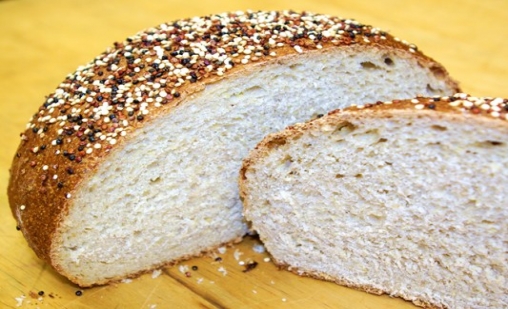 Searching for South American recipes for Hillelfest this past winter, I happen upon a recipe for honey quinoa bread. Tweaking here and there, the bread is very tasty. Slightly nutty, a little chewy, it is a great high protein bread eaten to very positive approval ratings. It does have wheat flour so it isn't gluten-free; sorry! But wait, there's more: the recipe doesn't have any eggs. I just noticed and that is a good thing for those vegans out there.
Now, I use the word 'bread' with caution and haven't consulted a rabbi. There is water and a little soy milk in the dough, I think enough water to maintain its 'bread' status. That said, consult your rabbi if you wonder if challah should be taken and which blessings should be said. I vote for washing and bentching but let me know if you hear otherwise. And, truthfully, if the soy milk was substituted with water it probably wouldn't matter.
In our damp winter season, this bread takes a while to rise. Don't be in a hurry as the flavor really develops with time. I sprinkle the top with the tri-colored quinoa for added appeal. Give it a try, it is a real treat.
Kosher Status:
Parve
Number of servings:
2 loaves
Main Ingredient(s):
Quinoa, Oatmeal
Preparation Time:
04:30
Cooking Time:
00:40
Skill Level:
2

(1 Easy - 5 Hard)

Estimated POINT value:


Ingredients:


1 cup quinoa

1/4 cup oatmeal

2 1/2 cups water

3/4 cup warm soy milk

1 tablespoon rapid rise yeast

1/3 cup honey

1/4 cup vegetable oil

2 1/2 - 3 cups bread flour

2 teaspoons salt

1 cup whole wheat flour

2 tablespoons raw quinoa for the top


Steps:


| | |
| --- | --- |
| | In a small sauce pan, combine quinoa, oatmeal and water. Cover and bring to a boil. Turn down the heat and allow the water to be absorbed. Uncover and transfer to a bowl to cool. This is important; if you toss this hot mixture into your yeast sponge, you'll kill it! |
| | |
| --- | --- |
| | While the quinoa/oatmeal cooks, put the yeast and warm soy milk into a large bowl. Stir and then let it rest for about 5 minutes. |
Add the honey and 1 cup of the bread flour to the yeast mixture and stir well.

Add the cooled quinoa/oatmeal mixture and stir well.

Add the whole wheat flour and 1 more cup of the bread flour and mix. When it starts to get stiff, transfer to the work surface and start to knead, adding more flour as necessary. Knead by hand for 10 minutes. It'll be a little sticky but it should hold a round ball shape and be smooth.

Shape into 2 round balls and place on an oiled sheet pan. Or, shape to fit 2 8" loaf pans. Brush with water and sprinkle with the raw quinoa.

Set aside to rise until almost double in bulk. Preheat the oven to 400' about 10 minutes before baking. When you put the loaves into the oven, add a tray of ice cubes to the bottom of the oven to create a steam.

Bake for 45' or until the loaves sound hollow when tapped on the bottom. If they brown too quickly, cover with foil after about 30 minutes.

Allow to cool for at least 15 minutes before removing from pans if using. Cool before slicing (if you can wait that long!).


Recently viewed recipes:



Honey Quinoa Bread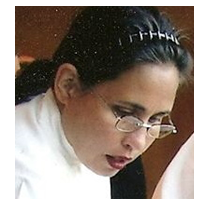 About Leah
Hi! Thank you for stopping by to watch me, Leah, cook kosher. I've been the owner operator of my boutique catering firm in Seattle, Leah's Catering, for the past 14 years.
Read more...
Leah's Blog

Aviva Makes Aliyah and The Sandwich Generation

Happy Chinese New Year! Happy Super Bowl! Go Hawks!

Tradition! Fun with the Seattle International Film Festival

Where Have I Been in My Life???

Making Kosher Salads

Blog Categories
Leah's Kosher Pantry

View what is in the pantry
Recipes

Appetizers
(44)

Appetizers - Dips and Sauces
(11)

Appetizers - Starter Courses
(10)

Beverages - Cold
(1)

Breads - Yeast
(10)

Breakfast Pastries
(7)

Dessert - Frostings
(6)

Desserts - Cakes
(13)

Desserts - Cookies and Brownies
(29)

Desserts - Dairy
(42)

Desserts - Pareve
(71)

Desserts - Pies and Tarts
(14)

Desserts - Tea Breads, Quick Breads
(8)

Desserts and Baked Goods - Gluten Free
(18)

Main Dish - Beef
(7)

Main Dish - Dairy
(3)

Main Dish - Eggs and Fritattas
(6)

Main Dish - Fish
(11)

Main Dish - Poultry
(14)

Main Dish - Vegetarian and Vegan
(9)

Salads - Dressing
(8)

Salads - Fruit
(4)

Salads - Grains & Legumes
(7)

Salads - Green
(1)

Salads - Pasta and Rice
(10)

Salads - Potatoes and Eggs
(5)

Salads - Vegetable
(15)

Side Dishes - Kugels and Souffles
(7)

Side Dishes - Potatoes and Vegetables
(17)

Side Dishes - Rice, Grains and Pasta
(7)

Soups, Stews and Cholent
(9)
Special Considerations

Dairy-Free Recipes
(230)

Gluten-Free Recipes
(134)

High Fiber Recipes
(18)

Low-fat Recipes
(11)

Nut-Free Desserts Recipes
(48)

Vegan Recipes
(101)

Vegetarian Recipes
(207)
Holidays

Rosh Hashana Recipes
(23)

Yom Kippur Recipes
(3)

Sukkot Recipes
(26)

Simchat Torah Recipes
(9)

Chanukah Recipes
(20)

Tu B'shevat Recipes
(16)

Purim Recipes
(9)

Passover Recipes
(44)

Lag Ba'omer Recipes
(6)

Shavuot Recipes
(24)

Shabbat Recipes
(34)
Cookbook Library

New Releases

Jewish Classics

Other Favorites
Kitchen Gadgets

Essentials

Small Appliances
Chef Of The Week

Barbara Williamson
Congratulations to our chef of the week.