Quinoa Tabouli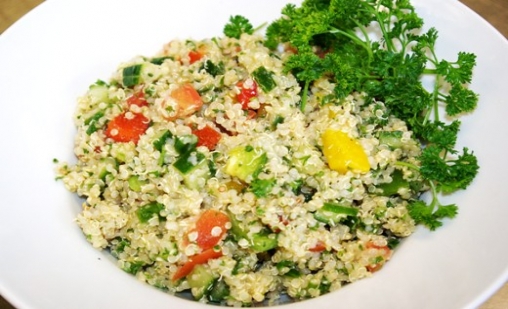 During Passover, doing a quick check through this website's recipe archives to find this recipe, I'm shocked to see it isn't listed. That said, there is nothing shocking about me posting it a month later; life is crazy busy. And because it is a great, gluten-free alternative to the traditional bulgur wheat version happily consumed by Jews and hippies alike since the 1970's, it is a must in the recipe file.
I could take the lazy route and revisit my tabouli recipe and simply state to substitute one grain for the other. However, I did see in my email box that it is officially "Jewish History Month". Our local Washington State Jewish Historical Society launched their community cookbook last winter. "Yesterday's Mavens, Today's Foodies" is go to book for regional specialties. On page 92 is Carlyn Koch Steiner's version of Quinoa Tabouli. It is a classic version suitable for Passover. For year around, I like to toss in a can of garbanzo beans.
Simple, fresh and appreciated by our many protein seeking vegans and vegetarians, consider this WHEN and IF the sun comes out and your garden grows! Tomato, cucumber, parsley, mint, green onion....that is a lot of summer packed into a refreshing dish.

Kosher Status:
Parve
Number of servings:
8 - 12
Main Ingredient(s):
Quinoa
Preparation Time:
00:20
Cooking Time:
00:20
Skill Level:
1 - Easy

(1 Easy - 5 Hard)

Estimated POINT value:
Average Rating:
5/5


Ingredients:


1 cup quinoa

1/2 cup fresh lemon juice, divided in 1/2

1/2 cup cucumber, peeled, salted, chopped and patted dry

1 clove garlic, finely minced

1/2 cup tomato, seeded and chopped

1/2 cup green onion, sliced on the bias

1/2 cup parsley, chopped

2 tablespoons fresh mint, chopped

2 teaspoons ground cumin (leave out for Passover)

1/4 cup olive oil

1 teaspoon salt (or to taste)

1/2 teaspoon pepper (or to taste)


Steps:


Cook the quinoa as per the package directions. Generally, that is 1 cup of quinoa to 1 1/2 cup water. I usually bring it to a boil, turn the heat down and when the liquid is almost absorbed, I fluff and turn off the heat keeping the lid on. It is usually fluffy after about 10 minutes of resting.

Turn the cooked quinoa out into a bowl and toss with 1/2 of the lemon juice. Cool.
While the quinoa is cooking and cooling, prep the vegetables and herbs as noted in the ingredient list.

When the quinoa has cooled, combine all the ingredients. Refrigerate for a few hours to allow the flavors to meld. Adjust salt, pepper and lemon juice prior to serving.


Recently viewed recipes:



Quinoa Tabouli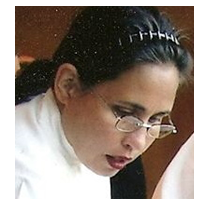 About Leah
Hi! Thank you for stopping by to watch me, Leah, cook kosher. I've been the owner operator of my boutique catering firm in Seattle, Leah's Catering, for the past 14 years.
Read more...
Leah's Blog

Aviva Makes Aliyah and The Sandwich Generation

Happy Chinese New Year! Happy Super Bowl! Go Hawks!

Tradition! Fun with the Seattle International Film Festival

Where Have I Been in My Life???

Making Kosher Salads

Blog Categories
Leah's Kosher Pantry

View what is in the pantry
Recipes

Appetizers
(44)

Appetizers - Dips and Sauces
(11)

Appetizers - Starter Courses
(10)

Beverages - Cold
(1)

Breads - Yeast
(10)

Breakfast Pastries
(7)

Dessert - Frostings
(6)

Desserts - Cakes
(13)

Desserts - Cookies and Brownies
(29)

Desserts - Dairy
(42)

Desserts - Pareve
(71)

Desserts - Pies and Tarts
(14)

Desserts - Tea Breads, Quick Breads
(8)

Desserts and Baked Goods - Gluten Free
(18)

Main Dish - Beef
(7)

Main Dish - Dairy
(3)

Main Dish - Eggs and Fritattas
(6)

Main Dish - Fish
(11)

Main Dish - Poultry
(14)

Main Dish - Vegetarian and Vegan
(9)

Salads - Dressing
(8)

Salads - Fruit
(4)

Salads - Grains & Legumes
(7)

Salads - Green
(1)

Salads - Pasta and Rice
(10)

Salads - Potatoes and Eggs
(5)

Salads - Vegetable
(15)

Side Dishes - Kugels and Souffles
(7)

Side Dishes - Potatoes and Vegetables
(17)

Side Dishes - Rice, Grains and Pasta
(7)

Soups, Stews and Cholent
(9)
Special Considerations

Dairy-Free Recipes
(230)

Gluten-Free Recipes
(134)

High Fiber Recipes
(18)

Low-fat Recipes
(11)

Nut-Free Desserts Recipes
(48)

Vegan Recipes
(101)

Vegetarian Recipes
(207)
Holidays

Rosh Hashana Recipes
(23)

Yom Kippur Recipes
(3)

Sukkot Recipes
(26)

Simchat Torah Recipes
(9)

Chanukah Recipes
(20)

Tu B'shevat Recipes
(16)

Purim Recipes
(9)

Passover Recipes
(44)

Lag Ba'omer Recipes
(6)

Shavuot Recipes
(24)

Shabbat Recipes
(34)
Cookbook Library

New Releases

Jewish Classics

Other Favorites
Kitchen Gadgets

Essentials

Small Appliances
Chef Of The Week

Barbara Williamson
Congratulations to our chef of the week.