Salmon Poached in Court Bouillon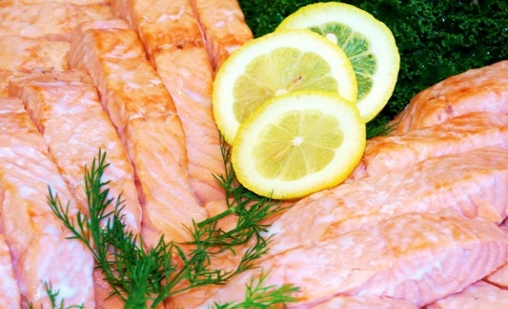 I've been making this salmon for Passover for years and years. In my retail Seder packages, it is an alternative starter to the gefilte fish I learned to make from Laurie Minsk. This salmon is also a FABULOUS main course served room temperature. Make it just before yontif and schlepp it out on the 2nd day lunch; you'll look like you're still enthusiastic about eating and serving meals. All it needs is fresh lemon juice and herbed sour cream. For pareve meals, a tomato basil salsa or mango cucumber salsa is refreshing.
I've also made this poached salmon for years in my catering business. I am shocked to see that I've never uploaded the recipe as it is such a simple to make winner. The white wine in the poaching liquid creates such a light and fragrant broth. Salmon will not dry out when poached in Court Bouillon. I usually do dozens, if not hundreds, of portions at a time on sheet pans. They aren't deep enough to totally cover with the poaching liquid. I also poach in the oven as I need to work fast. So, either poaching on the stove top or in the oven, cooking to just 120' on a thermometer will yield PERFECT salmon that holds for days.
Yes, this is a great dish for when you want to eat a bit lighter and work a lot less.
Kosher Status:
Parve
Number of servings:
enough for a large salmon or 12 - 15 pieces of salmon
Main Ingredient(s):
Preparation Time:
00:10
Cooking Time:
00:30
Skill Level:
1 - Easy

(1 Easy - 5 Hard)

Estimated POINT value:


Ingredients:


2 - 3 quarts water

3 cups dry white wine (about a bottle)

2/3 cups fresh lemon juice

2 small or 1 large onion, quartered

3 carrots, peeled and cut into chunks

2 celery stalks, chopped

3 - 4 parsley sprigs

1 bay leaf

1 teaspoon dried thyme or 1 tablespoon fresh (optional)

2 teaspoons salt

1 tablespoon of black peppercorns


Steps:


| | |
| --- | --- |
| | Combine all the ingredients in a stock pot and cover. Bring to a boil and reduce the heat. Simmer for about 30 minutes. |
| | |
| --- | --- |
| | Strain the stock and discard the vegetables. |
| | |
| --- | --- |
| | Prepare you salmon. I like to order skinned salmon fillets and then bone them. I also cut into portion sizes. Place salmon in a 13" x 9" baking pan or a shallow pot. Cover with the Court Bouillon and then cover. Poach at 400' or on medium heat until the fish is firm to the touch, about 120'. Remove from heat and let rest a minute. Drain off the liquid. Arrange the fish on a platter and serve. Or, let cool and wrap well for storage in the refrigerator. Bring to almost room temperature before serving. |


Recently viewed recipes:



Salmon Poached in Court Bouillon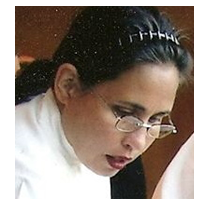 About Leah
Hi! Thank you for stopping by to watch me, Leah, cook kosher. I've been the owner operator of my boutique catering firm in Seattle, Leah's Catering, for the past 14 years.
Read more...
Leah's Blog

Aviva Makes Aliyah and The Sandwich Generation

Happy Chinese New Year! Happy Super Bowl! Go Hawks!

Tradition! Fun with the Seattle International Film Festival

Where Have I Been in My Life???

Making Kosher Salads

Blog Categories
Leah's Kosher Pantry

View what is in the pantry
Recipes

Appetizers
(44)

Appetizers - Dips and Sauces
(11)

Appetizers - Starter Courses
(10)

Beverages - Cold
(1)

Breads - Yeast
(10)

Breakfast Pastries
(7)

Dessert - Frostings
(6)

Desserts - Cakes
(13)

Desserts - Cookies and Brownies
(29)

Desserts - Dairy
(42)

Desserts - Pareve
(71)

Desserts - Pies and Tarts
(14)

Desserts - Tea Breads, Quick Breads
(8)

Desserts and Baked Goods - Gluten Free
(18)

Main Dish - Beef
(7)

Main Dish - Dairy
(3)

Main Dish - Eggs and Fritattas
(6)

Main Dish - Fish
(11)

Main Dish - Poultry
(14)

Main Dish - Vegetarian and Vegan
(9)

Salads - Dressing
(8)

Salads - Fruit
(4)

Salads - Grains & Legumes
(7)

Salads - Green
(1)

Salads - Pasta and Rice
(10)

Salads - Potatoes and Eggs
(5)

Salads - Vegetable
(15)

Side Dishes - Kugels and Souffles
(7)

Side Dishes - Potatoes and Vegetables
(17)

Side Dishes - Rice, Grains and Pasta
(7)

Soups, Stews and Cholent
(9)
Special Considerations

Dairy-Free Recipes
(230)

Gluten-Free Recipes
(134)

High Fiber Recipes
(18)

Low-fat Recipes
(11)

Nut-Free Desserts Recipes
(48)

Vegan Recipes
(101)

Vegetarian Recipes
(207)
Holidays

Rosh Hashana Recipes
(23)

Yom Kippur Recipes
(3)

Sukkot Recipes
(26)

Simchat Torah Recipes
(9)

Chanukah Recipes
(20)

Tu B'shevat Recipes
(16)

Purim Recipes
(9)

Passover Recipes
(44)

Lag Ba'omer Recipes
(6)

Shavuot Recipes
(24)

Shabbat Recipes
(34)
Cookbook Library

New Releases

Jewish Classics

Other Favorites
Kitchen Gadgets

Essentials

Small Appliances
Chef Of The Week

Barbara Williamson
Congratulations to our chef of the week.