Chicken or Salmon Chimichurri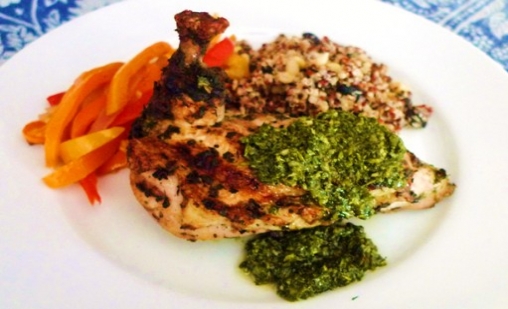 Call me desperate; it's okay. Passover is in a week and I'm scrambling.....catering two funerals while kashering for Passover has put me behind in uploading new recipes. That said, I'm still using the old ones to rave reviews...but, I get it. I need to keep it fresh!
Recently catering Hillelfest, I got the opportunity to explore South American food. Discovering a recipe for chimichurri sauce on About.com, it looks good to me. I'd never made chimichurri before so it was time to experiment. I describe chimichurri sauce as similar to pesto but pareve and without basil. This recipe is packed with parsley, cilantro and oregano; everything fresh. Squeezing limes, chopping garlic and inhaling the fragrant greenery transports me to a very long over-due vacation. Everything I read about Argentinian food started and ended with 'grilled'. Never mind it was March 1st in Seattle, I rolled out the grills and lit the charcoals.
I use half the sauce as a marinade for the chicken. Grilling to mark blackens the chimichurri marinade a bit giving it that distinct taste of summer. The remaining sauce is spooned over the chicken for an added blast of flavor. Pretty fabulous ~ and, it is also great on salmon baked in the oven.
Added bonus: there is no reason this can't be kosher for Passover. So, there you have it ~ the start of 2012 recipes for Passover!
Kosher Status:
Meat
Number of servings:
2 chickens, about 10 - 12 servings
Main Ingredient(s):
Chicken
Preparation Time:
00:20
Cooking Time:
00:50
Skill Level:
1 - Easy

(1 Easy - 5 Hard)

Estimated POINT value:


Ingredients:


1 cup parsley, firmly packed

1 cup cilantro, firmly packed

1/4 cup fresh oregano leaves, loosely packed

whole garlic cloves, about 1 tablespoon worth

onion, about 2 tablespoons worth

1/2 cup olive oil

2 tablespoons red wine vinegar

1 tablespoon lime juice (about 1/2 lime)

Salt and red pepper flakes to taste


Steps:


Hmm, just realized I didn't put in the steps. No worries, it's easy.

In the bowl of a food processor, or with a knife, finely chop the onion and garlic. Add the parsley, cilantro and oregano. Rough chop to almost fine and transfer to a bowl. Add the remaining ingredients. This is one place where chimichurri differs from pesto. All the herbs are not processed to a pulp, they are just mixed with the olive oil, etc.

Marinate the chicken or fish with 1/2 of the chimichurri for a few hours or overnight. Grill or bake in the oven until done. Serve with the remaining chimichurri on the side or spooned over the chicken or salmon. It is so good!


Recently viewed recipes:



Chicken or Salmon Chimichurri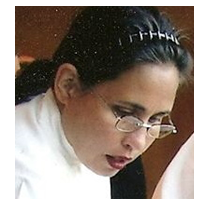 About Leah
Hi! Thank you for stopping by to watch me, Leah, cook kosher. I've been the owner operator of my boutique catering firm in Seattle, Leah's Catering, for the past 14 years.
Read more...
Leah's Blog

Aviva Makes Aliyah and The Sandwich Generation

Happy Chinese New Year! Happy Super Bowl! Go Hawks!

Tradition! Fun with the Seattle International Film Festival

Where Have I Been in My Life???

Making Kosher Salads

Blog Categories
Leah's Kosher Pantry

View what is in the pantry
Recipes

Appetizers
(44)

Appetizers - Dips and Sauces
(11)

Appetizers - Starter Courses
(10)

Beverages - Cold
(1)

Breads - Yeast
(10)

Breakfast Pastries
(7)

Dessert - Frostings
(6)

Desserts - Cakes
(13)

Desserts - Cookies and Brownies
(29)

Desserts - Dairy
(42)

Desserts - Pareve
(71)

Desserts - Pies and Tarts
(14)

Desserts - Tea Breads, Quick Breads
(8)

Desserts and Baked Goods - Gluten Free
(18)

Main Dish - Beef
(7)

Main Dish - Dairy
(3)

Main Dish - Eggs and Fritattas
(6)

Main Dish - Fish
(11)

Main Dish - Poultry
(14)

Main Dish - Vegetarian and Vegan
(9)

Salads - Dressing
(8)

Salads - Fruit
(4)

Salads - Grains & Legumes
(7)

Salads - Green
(1)

Salads - Pasta and Rice
(10)

Salads - Potatoes and Eggs
(5)

Salads - Vegetable
(15)

Side Dishes - Kugels and Souffles
(7)

Side Dishes - Potatoes and Vegetables
(17)

Side Dishes - Rice, Grains and Pasta
(7)

Soups, Stews and Cholent
(9)
Special Considerations

Dairy-Free Recipes
(230)

Gluten-Free Recipes
(134)

High Fiber Recipes
(18)

Low-fat Recipes
(11)

Nut-Free Desserts Recipes
(48)

Vegan Recipes
(101)

Vegetarian Recipes
(207)
Holidays

Rosh Hashana Recipes
(23)

Yom Kippur Recipes
(3)

Sukkot Recipes
(26)

Simchat Torah Recipes
(9)

Chanukah Recipes
(20)

Tu B'shevat Recipes
(16)

Purim Recipes
(9)

Passover Recipes
(44)

Lag Ba'omer Recipes
(6)

Shavuot Recipes
(24)

Shabbat Recipes
(34)
Cookbook Library

New Releases

Jewish Classics

Other Favorites
Kitchen Gadgets

Essentials

Small Appliances
Chef Of The Week

Barbara Williamson
Congratulations to our chef of the week.