Couscous with Seven Vegetables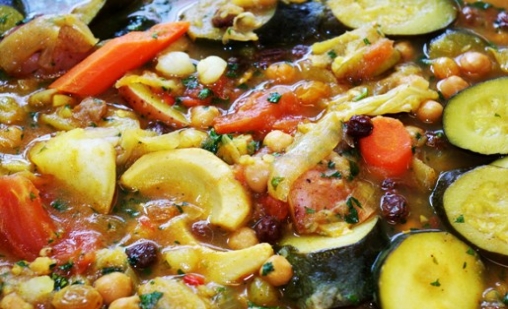 Coming off of an incredible 4 week marathon, I'm staring at my website. Yikes; I'm falling behind in posting recipes! Last night, at my final event before turning the kitchen for Passover next week, a reader asks when I'm updating my Passover recipes. Soon....and, thanks for reading my blog. And, thanks to all of you for hanging in there with me.
We've made some amazing things in the past weeks and this recipe is from our Moroccan themed Shabbat dinner at Hillel. The undergrads and JConnect groups are so fun to cook for; one week Moroccan and the next "Big Easy" gumbo and jambalaya. I hear I made a mean challah bread pudding. All of that coming soon. Meanwhile, I want to post this beautiful vegetable dish we served over quick and easy couscous along with salmon made with capers and olive oil.
Recently, before the mad catering schedule began, my friend Harvey and I jump into my car and start driving north on the Interstate. Just wanting a break from the city, we're a good hour out of Seattle before anything remotely looks like 'country'. We figure we'll grab a cup of Starbucks (all roads lead to Starbucks) and head back home. Before too long, we're in Bellingham. A small, progressive college town in Whatcom County nearing the Canadian border, Bellingham is a great place to stop. Parking at a meter that still requires coins, we buy ourselves time and start to wander. Happening upon a bookstore, I'm lost in the cookbooks and pick up a few Jewish/Mediterranean classics still neatly wrapped in their jackets. This recipe comes from Claudia Roden's "Mediterranean Cookery". Printed in Italy in 1987, it is a lovely book of '250 superb recipes'. What a bargain at $12.50.
Reading the recipe now, I see that I didn't do anything it says! No meat and mostly different vegetables, I think I captured the subtle and delicate essence of the broth. No matter, I thank Claudia Roden for her inspiration.
Kosher Status:
Parve
Number of servings:
10 or more
Main Ingredient(s):
Preparation Time:
00:40
Cooking Time:
02:00
Skill Level:
1 - Easy

(1 Easy - 5 Hard)

Estimated POINT value:
Average Rating:
3/5


Ingredients:


1/4 cup canola oil

2 large onions, thickly sliced from top to bottom (like orange segments)

3 garlic cloves, sliced

3 quarts vegetable or chicken stock (or, mock chicken stock)

1/2 teaspoon saffron (yes, I use the real thing - no tumeric)

1 teaspoon cinnamon (or to taste - I like it subtle)

1 teaspoon paprika

1/2 teaspoon ground ginger

a pinch of cayenne if you like it a little hot (optional)

1 - 15 oz. canned chickpeas, drained and rinsed

salt and pepper to taste

1 pound carrots, peeled and cut into lengthwise pieces

1 small cabbage, rough sliced

1 canned artichoke bottoms, drained and rinsed, cut in halves

1 pound small new potatoes, quartered or halved

1 pound zuchini, cut into thick slices

1 pound tomatoes, cut into chunks

1 cup of golden or dark raisins
Recipe suggests other options: turnips, broad beans, pumpkin, eggplant ~ so, 7 vegetables you prefer fulfill the mitzvah!
handful of chopped parsley

handful of chopped cilantro


Steps:


In a large stock pot, heat the canola oil and add the onions. Saute until tender and add the garlic. Cook until fragrant; just a minute or so.

Add the vegetable or chicken stock to the pot.

Add the rinsed chickpeas. Bring to a boil and then lower the heat.

Put the saffron threads into a little hot water and set aside. Add the other spices to the broth. Add the saffon and stir.

As you prep the vegetables, add them to the simmering pot. The longer cooking vegetables are added first followed by the softer vegetables, like the zucchini and tomatoes.

Add the raisins. And then, when everything is tender, add the fresh herbs. Taste and adjust the salt and pepper.

I make the 5 minute couscous as per the manufacturer's directions. Make it in a separate pot during the final moments of simmering the vegetables. The vegetable dish is a great make ahead and reheat menu item. Just reheat adding more water or vegetable stock if it is too thick.


Recently viewed recipes:



Couscous with Seven Vegetables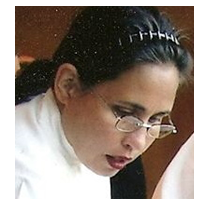 About Leah
Hi! Thank you for stopping by to watch me, Leah, cook kosher. I've been the owner operator of my boutique catering firm in Seattle, Leah's Catering, for the past 14 years.
Read more...
Leah's Blog

Aviva Makes Aliyah and The Sandwich Generation

Happy Chinese New Year! Happy Super Bowl! Go Hawks!

Tradition! Fun with the Seattle International Film Festival

Where Have I Been in My Life???

Making Kosher Salads

Blog Categories
Leah's Kosher Pantry

View what is in the pantry
Recipes

Appetizers
(44)

Appetizers - Dips and Sauces
(11)

Appetizers - Starter Courses
(10)

Beverages - Cold
(1)

Breads - Yeast
(10)

Breakfast Pastries
(7)

Dessert - Frostings
(6)

Desserts - Cakes
(13)

Desserts - Cookies and Brownies
(29)

Desserts - Dairy
(42)

Desserts - Pareve
(71)

Desserts - Pies and Tarts
(14)

Desserts - Tea Breads, Quick Breads
(8)

Desserts and Baked Goods - Gluten Free
(18)

Main Dish - Beef
(7)

Main Dish - Dairy
(3)

Main Dish - Eggs and Fritattas
(6)

Main Dish - Fish
(11)

Main Dish - Poultry
(14)

Main Dish - Vegetarian and Vegan
(9)

Salads - Dressing
(8)

Salads - Fruit
(4)

Salads - Grains & Legumes
(7)

Salads - Green
(1)

Salads - Pasta and Rice
(10)

Salads - Potatoes and Eggs
(5)

Salads - Vegetable
(15)

Side Dishes - Kugels and Souffles
(7)

Side Dishes - Potatoes and Vegetables
(17)

Side Dishes - Rice, Grains and Pasta
(7)

Soups, Stews and Cholent
(9)
Special Considerations

Dairy-Free Recipes
(230)

Gluten-Free Recipes
(134)

High Fiber Recipes
(18)

Low-fat Recipes
(11)

Nut-Free Desserts Recipes
(48)

Vegan Recipes
(101)

Vegetarian Recipes
(207)
Holidays

Rosh Hashana Recipes
(23)

Yom Kippur Recipes
(3)

Sukkot Recipes
(26)

Simchat Torah Recipes
(9)

Chanukah Recipes
(20)

Tu B'shevat Recipes
(16)

Purim Recipes
(9)

Passover Recipes
(44)

Lag Ba'omer Recipes
(6)

Shavuot Recipes
(24)

Shabbat Recipes
(34)
Cookbook Library

New Releases

Jewish Classics

Other Favorites
Kitchen Gadgets

Essentials

Small Appliances
Chef Of The Week

Barbara Williamson
Congratulations to our chef of the week.