Tri-colored Quinoa with White Corn and Black Beans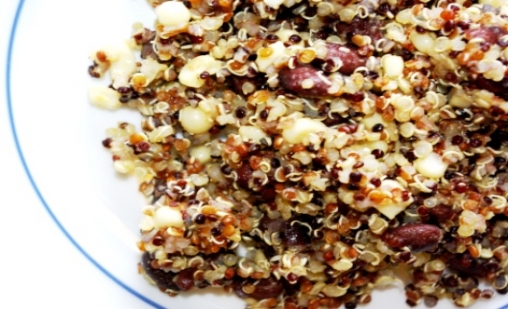 In my 14 year career as a caterer, I have maybe done a dozen tastings. They are time consuming and expensive to produce. I could do the entire event in just a little more time than a tasting. And, as the saying goes, "There is no such thing as a free lunch." The cost of the tasting is rolled into the cost of catering an event. Not doing one keeps the cost down. Most people have either eaten my food or heard about it from someone who has raved about it. If not, they trust my perfectionist streak or look at pictures on this website. That said, I did a tasting yesterday.
Catering Hillelfest, Hillel UW's now biennial fundraising event, is a call to push the limits of creativity within a theme. In year's past, Gil Mark's came to town to speak for the event. I created a menu out of his cookbook's to great success. I made "7-layer cakes", or Dobos Torte as it is originally called, replete with the caramel layer. I made 20 of them. 20 x 7 = 140 layers of spongecake. Kris reminded me yesterday that I had made the 7-layer cakes for the student Shabbat dinner at that same time. I made them in large slabs like the bakeries back East, cutting thin longs and pouring ganache over the top. Gil Marks came into the kitchen to meet me and saw THOSE, not the beautiful buttercream, ganache and caramel Dobos Tortes I had made. Looking like he wanted to cut and run, I confidently assured him that I wasn't about to shame him and his books. I love his books.
Another year, I made an Italian themed buffet spread. I was proud that the only bit of pasta was small tortellini on skewers. That was the year I discovered salmon wrapped in tarragon crepes and ling cod with leeks. These Hillelfest events require taste testing; its all new to me.
I'm not going to spoil Hillelfest this year by telling the entire menu YET. Suffice to say I made 17 different items yesterday and we're changing the salad dressing. We also opted do do away with the imitation whipped topping dessert. I had researched the menu items for hours and felt good about the assortment. I forgot how slowly cooking goes with unfamiliar recipes and ingredients. Reading and rereading directions, imagining what I'm attempting to duplicate all the while making notations so I can do it again the same way. Not only does each item have to work, they all need to work together. I looked like heck and the kitchen looked like a bomb went off as the committee approached the dining room.
I'm sharing this one item because it is so good. Surprisingly quinoa, subtle but substantial, flavorful yet inconspicuous, it is a must add to your repertoire of sides. As I scrounge time to upload recipes, it is important to me that they are noteworthy. Quantity vs. quality; I'll take quality. This is a keeper!
Kosher Status:
Parve
Number of servings:
about 8
Main Ingredient(s):
Quinoa
Preparation Time:
00:20
Cooking Time:
00:20
Skill Level:
1 - Easy

(1 Easy - 5 Hard)

Estimated POINT value:


Ingredients:


2/3 cup regular quinoa

2/3 cup red quinoa

2/3 cup black quinoa

4 cups 'no chicken' chicken stock (or real if meat is okay)

1/4 teaspoon salt, or to taste

1/4 teaspoon black pepper, or to taste

1/4 cup fresh lime juice, or to taste

1 cup sweet white corn

1 15 oz. can black beans, rinsed and drained

1/2 cup cilantro, chopped ~ optional


Steps:


In a medium sauce pan, place the quinoa and stock. Bring to boil and turn the heat down to a slow simmer. Every now and then, give it a gentle stir. It is better to let it steam covered with the heat off than to burn it. So, when it is just about done, turn it off and keep the lid on the pot. The quinoa will absorb the water.

Add the rest of the ingredients and heat through. Adjust salt, pepper and lime juice to taste. Add chopped cilantro if using just before serving.

How easy is that?


Recently viewed recipes:



Tri-colored Quinoa with White Corn and Black Beans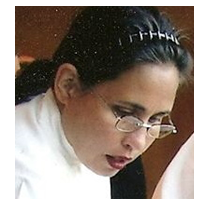 About Leah
Hi! Thank you for stopping by to watch me, Leah, cook kosher. I've been the owner operator of my boutique catering firm in Seattle, Leah's Catering, for the past 14 years.
Read more...
Leah's Blog

Aviva Makes Aliyah and The Sandwich Generation

Happy Chinese New Year! Happy Super Bowl! Go Hawks!

Tradition! Fun with the Seattle International Film Festival

Where Have I Been in My Life???

Making Kosher Salads

Blog Categories
Leah's Kosher Pantry

View what is in the pantry
Recipes

Appetizers
(44)

Appetizers - Dips and Sauces
(11)

Appetizers - Starter Courses
(10)

Beverages - Cold
(1)

Breads - Yeast
(10)

Breakfast Pastries
(7)

Dessert - Frostings
(6)

Desserts - Cakes
(13)

Desserts - Cookies and Brownies
(29)

Desserts - Dairy
(42)

Desserts - Pareve
(71)

Desserts - Pies and Tarts
(14)

Desserts - Tea Breads, Quick Breads
(8)

Desserts and Baked Goods - Gluten Free
(18)

Main Dish - Beef
(7)

Main Dish - Dairy
(3)

Main Dish - Eggs and Fritattas
(6)

Main Dish - Fish
(11)

Main Dish - Poultry
(14)

Main Dish - Vegetarian and Vegan
(9)

Salads - Dressing
(8)

Salads - Fruit
(4)

Salads - Grains & Legumes
(7)

Salads - Green
(1)

Salads - Pasta and Rice
(10)

Salads - Potatoes and Eggs
(5)

Salads - Vegetable
(15)

Side Dishes - Kugels and Souffles
(7)

Side Dishes - Potatoes and Vegetables
(17)

Side Dishes - Rice, Grains and Pasta
(7)

Soups, Stews and Cholent
(9)
Special Considerations

Dairy-Free Recipes
(230)

Gluten-Free Recipes
(134)

High Fiber Recipes
(18)

Low-fat Recipes
(11)

Nut-Free Desserts Recipes
(48)

Vegan Recipes
(101)

Vegetarian Recipes
(207)
Holidays

Rosh Hashana Recipes
(23)

Yom Kippur Recipes
(3)

Sukkot Recipes
(26)

Simchat Torah Recipes
(9)

Chanukah Recipes
(20)

Tu B'shevat Recipes
(16)

Purim Recipes
(9)

Passover Recipes
(44)

Lag Ba'omer Recipes
(6)

Shavuot Recipes
(24)

Shabbat Recipes
(34)
Cookbook Library

New Releases

Jewish Classics

Other Favorites
Kitchen Gadgets

Essentials

Small Appliances
Chef Of The Week

Barbara Williamson
Congratulations to our chef of the week.