Moroccan Chicken with Dried Fruit and Almonds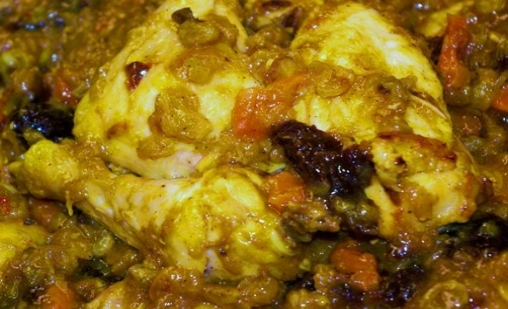 A couple of years ago while in a small town north of Seattle, my radar hones in on the local bookstore. Depression glass and cookbooks; I'm always on the prowl. This trip, I score Faye Levy's "International Chicken Cookbook" adding another 300 recipes for chicken, turkey and fowl to my collection. Tu B'Shevat dinner at Hillel gets rolled into Shabbat this week. Its a great time to try a new recipe.
Finding one in Levy's book, I run around shopping for dried fruits and nuts with acceptable hechshers. Saffron is a little harder but I find it. I've already changed "Moroccan Chicken with Prunes and Almonds" to prunes, apricots and golden raisins. Aviva and a friend were chuckling about prune hamentachen the other day so I am sensitive to what will be acceptable to young adults. This quiets that nagging voice I get when I know I'm heading in the wrong direction; the one I ignored when I put mashed potatoes and roasted veggies in enchiladas last week! (In my defense, 45,000 people had saved that recipe on a popular cooking website.)
I'm cooking 25 chickens in 4 batches on the stove top. I don't usually make braised chicken for 120 people as the oven is quicker. I'm trying something new. Chicken is cooked with a ton of minced onions. Saffron and subtle spices infuse the bird with a delicate hint of places less damp than Seattle. Dried fruit and honey finish the thick sauce. I plan on serving this chicken over Israeli Couscous with the nuts as an optional garnish. It is far more beautiful than this picture.
When I look at this photo I realize that there is another step I would add to this recipe. I want more color on the skin of the chicken. This is hard to achieve as the recipe is written. I'm going to suggest a quick browning before adding the onions. A little more work, lots more color...and, hopefully, a less flabby feel to the skin (which those "Chopped" judges can't stand!).
So, hats of to Faye Levy who got the recipe from Timgad in Paris. It is saffron beautiful and now, young adult friendly. I imagine that dried figs and dates would be fabulous, especially for Tu B'Shevat. But for this meal, I catch those in the dessert...and make a fabulous pomegranate salad dressing.
Kosher Status:
Meat
Number of servings:
2 chickens, 8 - 12 servings
Main Ingredient(s):
Chicken
Preparation Time:
00:20
Cooking Time:
00:50
Skill Level:
2

(1 Easy - 5 Hard)

Estimated POINT value:
Average Rating:
5/5


Ingredients:


2 chickens, 3 - 3 1/2 pounds each

4 cups finely chopped onions (about 3 - 4 onions)

salt and pepper

4 tablespoons margarine

1/4 teaspoon saffron

1/2 cup hot water

4 inches cinnamon stick

1 teaspoon ground ginger

1 1/2 cups vegetable or chicken stock

1 cup moist dried prunes

1/2 cup dried apricots

1/2 cup golden raisins

1/4 cup honey

1/2 cup whole blanched almonds, toasted


Steps:


Working in batches in your largest casserole or skillet that has a lid, melt a proportional amount of margarine. Place the chicken, skin side down, until it is browned. We are trying to get color here, not really cook the chicken. Remove chicken to a baking pan and repeat until you have cooked all the chicken.

Since we are working with 2 chickens, you may need to continue working in 2 batches. If so, split all the ingredients in 1/2 as you go.

After the chicken is browned, add the onions to the pan and return the chicken. Sprinkle with salt and pepper. Cover and cook over low heat, turning and stirring up the onions every once in a while, about 15 minutes.

Meanwhile, soak the saffron in the hot water. Set aside.
| | |
| --- | --- |
| | Add the saffron mixture, vegetable or chicken stock, cinnamon stick, and ginger to the pan. Bring to a boil, reduce the heat, cover and simmer until chicken is just done. This could take 25 minutes. I say until just done as I'm planning to reheat and keep on a blech until serving. We don't want to dry out the chicken. |
| | |
| --- | --- |
| | Remove the cooked chicken leaving as much of the onion mixture as you can in the pan. Add the dried fruit to the pan and cook uncovered over medium heat until the fruit is just tender. Add the honey and continue to cook, uncovered, until the sauce thickens. |
Okay, now I'm going all kosher caterer on you since rarely is food going from stove to table. Nope. We are either schlepping it somewhere for events or, in the case of Shabbat or holiday meals, leaving the food on a blech until everyone arrives for dinner. So, I suggest and have done this for Shabbat, that the chicken pieces are transferred to a large 9" x 13" baking pan or large roasting pan. Leave behind any fat that may have drained from the cooked chicken.

If there is an obvious layer of fat on the fruit sauce, skim it off. Then, ladle it over the cooked chicken. Cover the chicken and either put it on the blech or refrigerate for up to 2 days. Then, reheat covered in the oven and then place on a the blech. You should never go from fridge to blech as it is too slow of a method to reheat. This will breed bacteria. So, the key to remember during all of this process is that you want to cook your chicken first JUST until done so that it will survive the reheating and the blech.

When serving, garnish with the toasted almonds. I'm conscious of people's nut allergies so I often just serve them on the side. That's it...and, it seems much simpler after doing 25 chickens.


Recently viewed recipes:



Moroccan Chicken with Dried Fruit and Almonds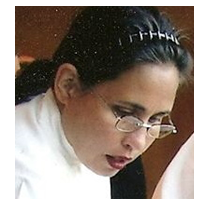 About Leah
Hi! Thank you for stopping by to watch me, Leah, cook kosher. I've been the owner operator of my boutique catering firm in Seattle, Leah's Catering, for the past 14 years.
Read more...
Leah's Blog

Aviva Makes Aliyah and The Sandwich Generation

Happy Chinese New Year! Happy Super Bowl! Go Hawks!

Tradition! Fun with the Seattle International Film Festival

Where Have I Been in My Life???

Making Kosher Salads

Blog Categories
Leah's Kosher Pantry

View what is in the pantry
Recipes

Appetizers
(44)

Appetizers - Dips and Sauces
(11)

Appetizers - Starter Courses
(10)

Beverages - Cold
(1)

Breads - Yeast
(10)

Breakfast Pastries
(7)

Dessert - Frostings
(6)

Desserts - Cakes
(13)

Desserts - Cookies and Brownies
(29)

Desserts - Dairy
(42)

Desserts - Pareve
(71)

Desserts - Pies and Tarts
(14)

Desserts - Tea Breads, Quick Breads
(8)

Desserts and Baked Goods - Gluten Free
(18)

Main Dish - Beef
(7)

Main Dish - Dairy
(3)

Main Dish - Eggs and Fritattas
(6)

Main Dish - Fish
(11)

Main Dish - Poultry
(14)

Main Dish - Vegetarian and Vegan
(9)

Salads - Dressing
(8)

Salads - Fruit
(4)

Salads - Grains & Legumes
(7)

Salads - Green
(1)

Salads - Pasta and Rice
(10)

Salads - Potatoes and Eggs
(5)

Salads - Vegetable
(15)

Side Dishes - Kugels and Souffles
(7)

Side Dishes - Potatoes and Vegetables
(17)

Side Dishes - Rice, Grains and Pasta
(7)

Soups, Stews and Cholent
(9)
Special Considerations

Dairy-Free Recipes
(230)

Gluten-Free Recipes
(134)

High Fiber Recipes
(18)

Low-fat Recipes
(11)

Nut-Free Desserts Recipes
(48)

Vegan Recipes
(101)

Vegetarian Recipes
(207)
Holidays

Rosh Hashana Recipes
(23)

Yom Kippur Recipes
(3)

Sukkot Recipes
(26)

Simchat Torah Recipes
(9)

Chanukah Recipes
(20)

Tu B'shevat Recipes
(16)

Purim Recipes
(9)

Passover Recipes
(44)

Lag Ba'omer Recipes
(6)

Shavuot Recipes
(24)

Shabbat Recipes
(34)
Cookbook Library

New Releases

Jewish Classics

Other Favorites
Kitchen Gadgets

Essentials

Small Appliances
Chef Of The Week

Barbara Williamson
Congratulations to our chef of the week.