Classic Potato Latkes - Oven baked (REVISED*)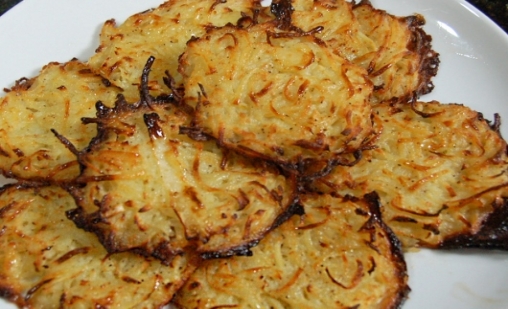 *Check out the new video on how to make oven baked latkes! Less time, fuss and oil - more time to party! Scroll below to watch video now.
I made these last night for an event. We have a saying in the kitchen these days: "Twelve years later....." Yeah, even for us pros, we continue to learn new tricks. Or, at least, keep thinking about ways to make life easier. My original post is below. What I noticed last night is that I could cut back the eggs from 6 to 4. I decided to use my new best friend 'potato flakes' to help thicken the mixture. Since I want to just scoop the mixture onto well oiled sheet pans, I don't want the egg to run all over. Potato flakes were the perfect way to absorb any extra liquid. These latkes come out crisp on the outside and soft and creamy on the inside.
I just nuked a couple for Aviva's breakfast (good mom!). As she says, "These are soooo good!"
Original 2010 post: These great potato latkes are made in the oven....great for a large crowd like we had today. In the past, I've used 'muffin top' pans to oven bake the thousands of latkes we'd produce at the bakery. Back then, we simply used our potato kugel recipe and filled the well greased cups and baked. Today, we thickened the potato mixture with additional flour and scooped it onto well greased cookie sheets. They baked beautifully and quickly.
Kosher Status:
Parve
Number of servings:
12
Main Ingredient(s):
Potatoes - Russet
Preparation Time:
00:30
Cooking Time:
00:30
Skill Level:
2

(1 Easy - 5 Hard)

Estimated POINT value:


Ingredients:


3 pounds potatoes, peeled weight (about 3 1/2 pounds with peel)

1 pound onions, peeled weight

4 eggs

1/4 cup canola oil, plus about 1/2 cup more for brushing during baking

1 cup flour (use potato or rice flour for gluten free - or just potato flakes)

1/2 teaspoon baking powder

1 tablespoon salt

1 teaspoon black pepper

about 1/2 cup pareve potato flakes
You'll need a good pan spray and shortening for the cookie sheet. And, a little more canola oil for brushing on the latkes.


Steps:


Preheat the oven to 400' F.

In a large bowl, combine the eggs, oil, flour, baking powder, salt and pepper. Set aside.

Peel and chunk onions, set aside. Peel the potatoes, rinse and cut into chunks that will fit into the food processor chute. The food processor should be fitted with a grating attachment.

Grate the potato and onion (together) in the food processor. Empty the grated mixture directly into the egg mixture and toss to coat. This keeps the potato from turning color. Repeat until you have used up all the potatoes and onions. Toss. Add potato flakes so that the egg mixture is absorbed enough so it doesn't run. Don't over do it!

If grating by hand, yeah.....it'll take a little longer!
Make sure your oven is nice and hot. Potatoes like heat!

Take a jelly roll pan, or cookie sheet, and spray with cooking spray. Or, you can smear shortening on the pan. I did both and either worked great.

Using a portion scoop (I used #12 - about 1/4 cup), put mixture onto cookie sheet. Leave a couple of inches between them to allow for spreading. Gently tap the top down if your mixture is in a heap. The latke should be about 1/2" thick.
Bake the latkes for about 6 - 7 minutes (depending on your oven, time overall will vary). Remove the cookie sheet from the oven and set on a hot pad. Brush the top of the latke with canola oil. Return the cookie sheet to the oven. Bake until golden brown around the edges and colored on top. You can test for doneness by cutting with a knife.

These really are simple.....12 years later!


Recently viewed recipes:



Classic Potato Latkes - Oven baked (REVISED*)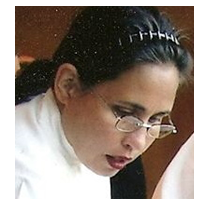 About Leah
Hi! Thank you for stopping by to watch me, Leah, cook kosher. I've been the owner operator of my boutique catering firm in Seattle, Leah's Catering, for the past 14 years.
Read more...
Leah's Blog

Aviva Makes Aliyah and The Sandwich Generation

Happy Chinese New Year! Happy Super Bowl! Go Hawks!

Tradition! Fun with the Seattle International Film Festival

Where Have I Been in My Life???

Making Kosher Salads

Blog Categories
Leah's Kosher Pantry

View what is in the pantry
Recipes

Appetizers
(44)

Appetizers - Dips and Sauces
(11)

Appetizers - Starter Courses
(10)

Beverages - Cold
(1)

Breads - Yeast
(10)

Breakfast Pastries
(7)

Dessert - Frostings
(6)

Desserts - Cakes
(13)

Desserts - Cookies and Brownies
(29)

Desserts - Dairy
(42)

Desserts - Pareve
(71)

Desserts - Pies and Tarts
(14)

Desserts - Tea Breads, Quick Breads
(8)

Desserts and Baked Goods - Gluten Free
(18)

Main Dish - Beef
(7)

Main Dish - Dairy
(3)

Main Dish - Eggs and Fritattas
(6)

Main Dish - Fish
(11)

Main Dish - Poultry
(14)

Main Dish - Vegetarian and Vegan
(9)

Salads - Dressing
(8)

Salads - Fruit
(4)

Salads - Grains & Legumes
(7)

Salads - Green
(1)

Salads - Pasta and Rice
(10)

Salads - Potatoes and Eggs
(5)

Salads - Vegetable
(15)

Side Dishes - Kugels and Souffles
(7)

Side Dishes - Potatoes and Vegetables
(17)

Side Dishes - Rice, Grains and Pasta
(7)

Soups, Stews and Cholent
(9)
Special Considerations

Dairy-Free Recipes
(230)

Gluten-Free Recipes
(134)

High Fiber Recipes
(18)

Low-fat Recipes
(11)

Nut-Free Desserts Recipes
(48)

Vegan Recipes
(101)

Vegetarian Recipes
(207)
Holidays

Rosh Hashana Recipes
(23)

Yom Kippur Recipes
(3)

Sukkot Recipes
(26)

Simchat Torah Recipes
(9)

Chanukah Recipes
(20)

Tu B'shevat Recipes
(16)

Purim Recipes
(9)

Passover Recipes
(44)

Lag Ba'omer Recipes
(6)

Shavuot Recipes
(24)

Shabbat Recipes
(34)
Cookbook Library

New Releases

Jewish Classics

Other Favorites
Kitchen Gadgets

Essentials

Small Appliances
Chef Of The Week

Barbara Williamson
Congratulations to our chef of the week.