Cinnamon Walnut Babka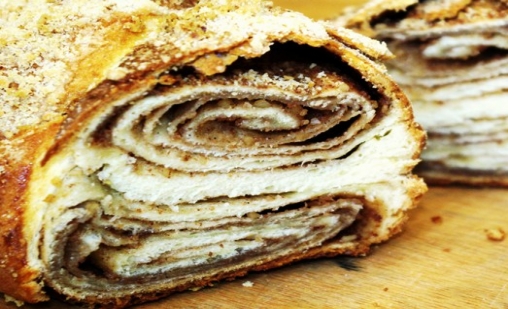 I haven't a clue as to how the filling for this Cinnamon Walnut Babka evolved but it is good. Thanks to Indiegogo contributors and the talents, skills and patience of videographer Gordon Modin, we have a video to illustrate how to make this classic treat. Check it out here! Master the Yeasted Sweet Dough and the rest is downhill. Everyone loves a babka and there are very few homemade ones in the neighborhood.
Rabbi Kornfeld always used to say "You should sell these nationally!" Whoa, the last time someone said I should sell something I did, gazillions of challots. I don't think I have it in me to manage coast-to-coast babka. But, it would sell tons!
Kosher Status:
Parve
Number of servings:
Makes 2 x 8 1/2" loaves
Main Ingredient(s):
Flour - Unbleached All Purpose
Preparation Time:
00:30
Cooking Time:
00:30
Skill Level:
1 - Easy

(1 Easy - 5 Hard)

Estimated POINT value:


Ingredients:


2 cups ground walnuts + 1/2 cup for tops of babka

1 cup brown sugar

1/2 cup white sugar

1 cup unsalted margarine (or unsalted butter for dairy)

1 teaspoon cinnamon


Steps:


Make the Yeasted Sweet Dough as directed.

Please note that the following photos are industrial strength!
Mix the filling ingredients until well blended. Set aside until ready to use.

Preheat the oven to 325'.
| | |
| --- | --- |
| | Divide the dough in half. Roll each half into a long strip about 8" x 20". Spread filling over each half and roll up tightly. |
| | |
| --- | --- |
| | Twist the 2 strands together to form a long coil. Cut in half. |
Place each piece into sprayed 8" loaf pans. Let rest for 10 minutes and then bake until golden brown, about 30 - 35 minutes. An insta-read thermometer will read about 175' - 180'. The bottom of the loaf will sound hollow when tapped.

Cool completely before slicing.


Recently viewed recipes:



Cinnamon Walnut Babka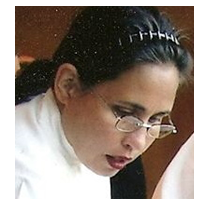 About Leah
Hi! Thank you for stopping by to watch me, Leah, cook kosher. I've been the owner operator of my boutique catering firm in Seattle, Leah's Catering, for the past 14 years.
Read more...
Leah's Blog

Aviva Makes Aliyah and The Sandwich Generation

Happy Chinese New Year! Happy Super Bowl! Go Hawks!

Tradition! Fun with the Seattle International Film Festival

Where Have I Been in My Life???

Making Kosher Salads

Blog Categories
Leah's Kosher Pantry

View what is in the pantry
Recipes

Appetizers
(44)

Appetizers - Dips and Sauces
(11)

Appetizers - Starter Courses
(10)

Beverages - Cold
(1)

Breads - Yeast
(10)

Breakfast Pastries
(7)

Dessert - Frostings
(6)

Desserts - Cakes
(13)

Desserts - Cookies and Brownies
(29)

Desserts - Dairy
(42)

Desserts - Pareve
(71)

Desserts - Pies and Tarts
(14)

Desserts - Tea Breads, Quick Breads
(8)

Desserts and Baked Goods - Gluten Free
(18)

Main Dish - Beef
(7)

Main Dish - Dairy
(3)

Main Dish - Eggs and Fritattas
(6)

Main Dish - Fish
(11)

Main Dish - Poultry
(14)

Main Dish - Vegetarian and Vegan
(9)

Salads - Dressing
(8)

Salads - Fruit
(4)

Salads - Grains & Legumes
(7)

Salads - Green
(1)

Salads - Pasta and Rice
(10)

Salads - Potatoes and Eggs
(5)

Salads - Vegetable
(15)

Side Dishes - Kugels and Souffles
(7)

Side Dishes - Potatoes and Vegetables
(17)

Side Dishes - Rice, Grains and Pasta
(7)

Soups, Stews and Cholent
(9)
Special Considerations

Dairy-Free Recipes
(230)

Gluten-Free Recipes
(134)

High Fiber Recipes
(18)

Low-fat Recipes
(11)

Nut-Free Desserts Recipes
(48)

Vegan Recipes
(101)

Vegetarian Recipes
(207)
Holidays

Rosh Hashana Recipes
(23)

Yom Kippur Recipes
(3)

Sukkot Recipes
(26)

Simchat Torah Recipes
(9)

Chanukah Recipes
(20)

Tu B'shevat Recipes
(16)

Purim Recipes
(9)

Passover Recipes
(44)

Lag Ba'omer Recipes
(6)

Shavuot Recipes
(24)

Shabbat Recipes
(34)
Cookbook Library

New Releases

Jewish Classics

Other Favorites
Kitchen Gadgets

Essentials

Small Appliances
Chef Of The Week

Barbara Williamson
Congratulations to our chef of the week.