Leah's Famous Chocolate Babka

Chocolate babka rules, rocks and was the most popular item after challah in the bakery. It is also the most requested 'next video' and you can now see it here! Putting up an Indiegogo campaign to raise funds for video production, I didn't expend the effort required to solicite my readers for their dollars. That said, we'll launch the campaign again. Meanwhile, Gordon Modin worked his magic filming and editing a series of yeasted dough items, highlighting both chocolate and cinnamon/walnut babkas. A thousand thanks, Gordon!
My recipes are for large quantities and it is an interesting process to reduce them back down for household use. And, the exercise necessitates that I reach back into my memory bank to where I first discovered a particular recipe. Chocolate babka filling is no different. Pulling Gil Mark's "The World of Jewish Desserts" from the shelf, I see many yellow post-its, dog-eared and cocoa stained marking pages. Hand scribbled notes in the margin affirm my suspicions; Gil Mark's is THE MAN. I love his books, recipes and think he deserves more recognition for his contribution in recording Jewish culinary history. My chocolate filling is slightly different but close enough to call out the good Rabbi.
Learn to make the Yeasted Sweet Dough, easy as challah dough, and you're on your way to making a variety of stunning desserts. Be a hero, go for it. There is nothing like homemade babka!
The step photos are from catering production. Don't be alarmed by the quantities used.
Kosher Status:
Parve
Number of servings:
2 x 8 1/2" loaves
Main Ingredient(s):
Flour - Unbleached All Purpose, Chocolate Chips
Preparation Time:
00:40
Cooking Time:
00:30
Skill Level:
2

(1 Easy - 5 Hard)

Estimated POINT value:
Average Rating:
5/5


Ingredients:


1 recipe Yeasted Sweet Dough

12 oz. dark chocolate chips

1/4 cup sugar (to 1/2 cup if you like a sweeter chocolate filling)

1/2 cup dark European process cocoa

1/2 cup unsalted margarine (or unsalted butter for dairy)

1 teaspoon vanilla extract


Steps:


| | |
| --- | --- |
| | Make Yeasted Sweet Dough as directed. |
| | |
| --- | --- |
| | Put the chocolate chips and margarine into a glass or metal bowl over a pot of simmering water to melt but don't overheat. When the chips look soft, stir until smooth. Add the remaining ingredients and blend into a smooth filling. Turn the heat off but keep the filling over the heat while you roll the dough. |
| | |
| --- | --- |
| | Divide the dough in half. Roll each half into a long strip, about 8" wide and 20" long. |
| | |
| --- | --- |
| | Slather the filling over both strips into a smooth layer. Roll up the strands to form 2 long, thin rolls. |
| | |
| --- | --- |
| | Overlap the strands and keep lifting and crossing to form a twist. |
| | |
| --- | --- |
| | Cut the twist in half. Spray 2 x 8 1/2" loaf pans. Lift the loaves into the pans. Brush lightly with egg wash and sprinkle with Crumb Topping (see recipe). |
Bake until golden brown. This is tricky. The loaves should be very golden brown and look baked. Wearing oven mitts, turn a loaf out into your hand. The bottom should look set and the loaf will sound hollow when patted. We also used to use an insta-read thermometer to 175'- 180'.

Cool completely before slicing or the loaf will be gummy.


Recently viewed recipes:



Leah's Famous Chocolate Babka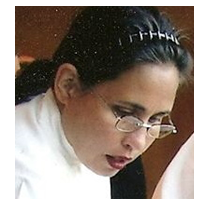 About Leah
Hi! Thank you for stopping by to watch me, Leah, cook kosher. I've been the owner operator of my boutique catering firm in Seattle, Leah's Catering, for the past 14 years.
Read more...
Leah's Blog

Aviva Makes Aliyah and The Sandwich Generation

Happy Chinese New Year! Happy Super Bowl! Go Hawks!

Tradition! Fun with the Seattle International Film Festival

Where Have I Been in My Life???

Making Kosher Salads

Blog Categories
Leah's Kosher Pantry

View what is in the pantry
Recipes

Appetizers
(44)

Appetizers - Dips and Sauces
(11)

Appetizers - Starter Courses
(10)

Beverages - Cold
(1)

Breads - Yeast
(10)

Breakfast Pastries
(7)

Dessert - Frostings
(6)

Desserts - Cakes
(13)

Desserts - Cookies and Brownies
(29)

Desserts - Dairy
(42)

Desserts - Pareve
(71)

Desserts - Pies and Tarts
(14)

Desserts - Tea Breads, Quick Breads
(8)

Desserts and Baked Goods - Gluten Free
(18)

Main Dish - Beef
(7)

Main Dish - Dairy
(3)

Main Dish - Eggs and Fritattas
(6)

Main Dish - Fish
(11)

Main Dish - Poultry
(14)

Main Dish - Vegetarian and Vegan
(9)

Salads - Dressing
(8)

Salads - Fruit
(4)

Salads - Grains & Legumes
(7)

Salads - Green
(1)

Salads - Pasta and Rice
(10)

Salads - Potatoes and Eggs
(5)

Salads - Vegetable
(15)

Side Dishes - Kugels and Souffles
(7)

Side Dishes - Potatoes and Vegetables
(17)

Side Dishes - Rice, Grains and Pasta
(7)

Soups, Stews and Cholent
(9)
Special Considerations

Dairy-Free Recipes
(230)

Gluten-Free Recipes
(134)

High Fiber Recipes
(18)

Low-fat Recipes
(11)

Nut-Free Desserts Recipes
(48)

Vegan Recipes
(101)

Vegetarian Recipes
(207)
Holidays

Rosh Hashana Recipes
(23)

Yom Kippur Recipes
(3)

Sukkot Recipes
(26)

Simchat Torah Recipes
(9)

Chanukah Recipes
(20)

Tu B'shevat Recipes
(16)

Purim Recipes
(9)

Passover Recipes
(44)

Lag Ba'omer Recipes
(6)

Shavuot Recipes
(24)

Shabbat Recipes
(34)
Cookbook Library

New Releases

Jewish Classics

Other Favorites
Kitchen Gadgets

Essentials

Small Appliances
Chef Of The Week

Barbara Williamson
Congratulations to our chef of the week.