Chinese Sesame Balls ~ Gluten-free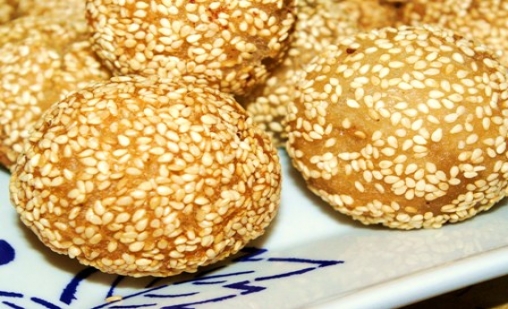 I've only made sesame balls twice in my life. Yesterday and today. I watched a video online, found a recipe in my Maui Extension Cookbook and pulled a recipe from About.com. Yeah, wish me luck just the same. 3 ingredients and I've met my nemesis.
The note at the beginning of About.com version says: "This is one of the more difficult Chinese recipes. The problem comes during deep-frying - the sesame seed balls need to be turned continually to expand. It takes practice to skillfully maneuver the balls in the hot oil. Even with practice, you may not have the perfectly shaped, large sesame seed balls sold at Chinese bakeries." Couldn't have said it better myself. Would have helped if I had 1) read it before I started and, 2) wasn't so stubborn. I may make more every day of Chanukah!
It isn't just continually turning that matters. The balls, after frying for a couple of minutes, then need to be pressed with a chopstick (yes, spoon and spatula did not work). Pressed, as in sort of flattening and then flattening the flattened side. I couldn't take a picture; all hands were busy with 1 or 2 balls in the oil. Yesterday's batch, while tasty, were timid, lacked confidence and were tight balls. My first one today expanded and floated, with constant turning. The rest weren't as beautiful but close.
Today's dough was also more tacky. I think that is key, too. Oil temperature is key, everything is key.....unreasonable determination is helpful, too. This is officially the only recipe on this website rated 5 for most difficult.
So, in a nod to the custom of Chinese food on the 25th, I offer Chinese sesame balls....gluten-free!
Kosher Status:
Parve
Number of servings:
makes 18 balls
Main Ingredient(s):
Preparation Time:
00:20
Cooking Time:
00:40
Skill Level:
5 - Hard

(1 Easy - 5 Hard)

Estimated POINT value:


Ingredients:


1 1/2 cups sweet rice flours

6 tablespoons brown sugar

10 tablespoons hot water

about 1/2 cup sesame seeds

oil to fry
Red Bean Paste Filling:
1 can red azuki beans

1/2 cup sugar

1/2 cup vegetable oil


Steps:


To make the bean paste, rinse and drain the canned beans. Put into a small sauce pan and cover with water. Boil for about 15 minutes to get the beans really soft. Drain and mash. Return to the pan and over a very low heat, dry the mashed beans. Then add the sugar and a little oil. Stir well. Continue to add the oil a little at a time. Cook over the low heat until the paste is shiny and rolls up away from the side of the pan when stirred. Cool.

Put the flour into a bowl. Heat the water and sugar to dissolve. Make a well in the center of the flour and pour in the sugar water. Stir well to combine. The dough should be tacky and best handled with slightly damp fingers.

Place the dough, a small bowl of water, the bean paste and sesame seeds near the stove.
Heat the oil slowly to 325' on a deep fry thermometer. The frying is best between 318' and 325' as the balls are traditionally light in color.

While the oil heats, with damp fingers, take a piece of dough about the size of a walnut. Place it on a damp left palm and with your right fingers, press into a disk shaped bowl.

Place a teaspoon of the bean paste onto the disk and pinch the circle closed around the filling. Dampen the ball and roll it gently in the sesame seeds. It is easier to make all the balls before frying. Be careful to not forget about your hot oil, though. If you are moving slowly, wait a bit before heating the oil.

Carefully lower 1 or 2 balls into the hot oil. With a chopstick, move the ball around so it doesn't settle on the bottom and burn. After about 2 minutes, the sesame seeds will start to become light brown. Now you can start pressing the ball against the side of the pot to sort of flatten. Don't break the ball open. Just press and rotate, press and rotate. At about the 5 minute mark, hold the ball under the oil. It'll puff and round even more. Let go and when it floats and is round, lift out and drain on paper towels. Repeat until all the balls are done.

What a trip!


Recently viewed recipes:



Chinese Sesame Balls ~ Gluten-free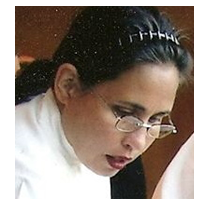 About Leah
Hi! Thank you for stopping by to watch me, Leah, cook kosher. I've been the owner operator of my boutique catering firm in Seattle, Leah's Catering, for the past 14 years.
Read more...
Leah's Blog

Aviva Makes Aliyah and The Sandwich Generation

Happy Chinese New Year! Happy Super Bowl! Go Hawks!

Tradition! Fun with the Seattle International Film Festival

Where Have I Been in My Life???

Making Kosher Salads

Blog Categories
Leah's Kosher Pantry

View what is in the pantry
Recipes

Appetizers
(44)

Appetizers - Dips and Sauces
(11)

Appetizers - Starter Courses
(10)

Beverages - Cold
(1)

Breads - Yeast
(10)

Breakfast Pastries
(7)

Dessert - Frostings
(6)

Desserts - Cakes
(13)

Desserts - Cookies and Brownies
(29)

Desserts - Dairy
(42)

Desserts - Pareve
(71)

Desserts - Pies and Tarts
(14)

Desserts - Tea Breads, Quick Breads
(8)

Desserts and Baked Goods - Gluten Free
(18)

Main Dish - Beef
(7)

Main Dish - Dairy
(3)

Main Dish - Eggs and Fritattas
(6)

Main Dish - Fish
(11)

Main Dish - Poultry
(14)

Main Dish - Vegetarian and Vegan
(9)

Salads - Dressing
(8)

Salads - Fruit
(4)

Salads - Grains & Legumes
(7)

Salads - Green
(1)

Salads - Pasta and Rice
(10)

Salads - Potatoes and Eggs
(5)

Salads - Vegetable
(15)

Side Dishes - Kugels and Souffles
(7)

Side Dishes - Potatoes and Vegetables
(17)

Side Dishes - Rice, Grains and Pasta
(7)

Soups, Stews and Cholent
(9)
Special Considerations

Dairy-Free Recipes
(230)

Gluten-Free Recipes
(134)

High Fiber Recipes
(18)

Low-fat Recipes
(11)

Nut-Free Desserts Recipes
(48)

Vegan Recipes
(101)

Vegetarian Recipes
(207)
Holidays

Rosh Hashana Recipes
(23)

Yom Kippur Recipes
(3)

Sukkot Recipes
(26)

Simchat Torah Recipes
(9)

Chanukah Recipes
(20)

Tu B'shevat Recipes
(16)

Purim Recipes
(9)

Passover Recipes
(44)

Lag Ba'omer Recipes
(6)

Shavuot Recipes
(24)

Shabbat Recipes
(34)
Cookbook Library

New Releases

Jewish Classics

Other Favorites
Kitchen Gadgets

Essentials

Small Appliances
Chef Of The Week

Barbara Williamson
Congratulations to our chef of the week.