Crusted Acorn Squash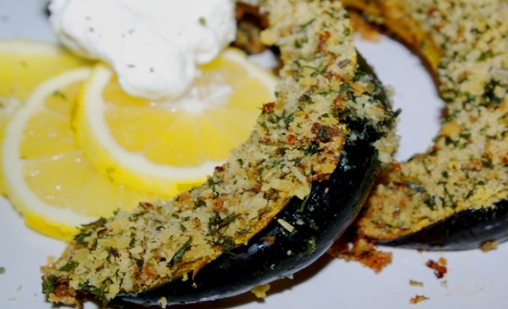 Chanukah begins tonight. Taking a break from taste testing deep fried doughnuts of various cultures, I want to make something savory that is simple with less oil. Picking up my newest cookbook, Yotam Ottolenghi's "Plenty", I see page after page of vegetarian recipes worth exploring. One calls for pumpkin; apparently they are out of fashion post Thanksgiving. I can't find a pumpkin anywhere. Acorn squash will have to do.
I've changed the herbs a bit and definitely opt for dried. I'm feeling frugal and don't want to spend a few bucks for a tablespoon of this or that. Judging by how many slices I've just eaten, dried herbs are just fine. The generous brush of olive oil is nod enough to Chanukah; a dollop of sour cream links the theme. I just ate a wedge with applesauce. Whew, that is good!
I'm thinking oven roasted salmon, wild rice and a green salad with dried fruit would make a great dinner with this squash. Too bad it won't last past lunch time! Oh...don't forget to serve the crumbs that bake onto the pan; love the crunch.
Kosher Status:
Dairy
Number of servings:
6 - 8 as a side
Main Ingredient(s):
Preparation Time:
00:20
Cooking Time:
00:30
Skill Level:
2

(1 Easy - 5 Hard)

Estimated POINT value:


Ingredients:


1 acorn squash, about 1 1/2 pounds

1/2 cup finely grated Parmesan cheese

3 tablespoons panko bread crumbs (I love the crunch)

2 tablespoons dried parsley

2 1/2 teaspoons herbs de Provence (or whatever you like)

zest of 2 lemons

2 cloves of garlic, finely minced

salt and pepper

1/4 cup olive oil

sour cream or applesauce as a garnish if desired, maybe a squeeze of lemon juice


Steps:


Preheat the oven to 375'.

Wash the squash. Cut it in half and remove the seeds. Cut about 1' thick wedges. I found that if I put the knife into the squash, I could lift the knife and squash together and bang it on the cutting board to slice it.
| | |
| --- | --- |
| | In a small bowl, combine the Parmesan cheese, panko, herbs, garlic and lemon zest. |
Spray a baking sheet lined with foil well. Place the squash wedges onto the pan. Brush liberally with most of the olive oil. Sprinkle with salt and pepper.

Place crumb mixture onto the slices. Drizzle the rest of the olive oil onto top.

Bake for about 30 minutes or until tender.


Recently viewed recipes:



Crusted Acorn Squash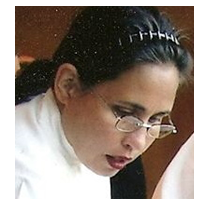 About Leah
Hi! Thank you for stopping by to watch me, Leah, cook kosher. I've been the owner operator of my boutique catering firm in Seattle, Leah's Catering, for the past 14 years.
Read more...
Leah's Blog

Aviva Makes Aliyah and The Sandwich Generation

Happy Chinese New Year! Happy Super Bowl! Go Hawks!

Tradition! Fun with the Seattle International Film Festival

Where Have I Been in My Life???

Making Kosher Salads

Blog Categories
Leah's Kosher Pantry

View what is in the pantry
Recipes

Appetizers
(44)

Appetizers - Dips and Sauces
(11)

Appetizers - Starter Courses
(10)

Beverages - Cold
(1)

Breads - Yeast
(10)

Breakfast Pastries
(7)

Dessert - Frostings
(6)

Desserts - Cakes
(13)

Desserts - Cookies and Brownies
(29)

Desserts - Dairy
(42)

Desserts - Pareve
(71)

Desserts - Pies and Tarts
(14)

Desserts - Tea Breads, Quick Breads
(8)

Desserts and Baked Goods - Gluten Free
(18)

Main Dish - Beef
(7)

Main Dish - Dairy
(3)

Main Dish - Eggs and Fritattas
(6)

Main Dish - Fish
(11)

Main Dish - Poultry
(14)

Main Dish - Vegetarian and Vegan
(9)

Salads - Dressing
(8)

Salads - Fruit
(4)

Salads - Grains & Legumes
(7)

Salads - Green
(1)

Salads - Pasta and Rice
(10)

Salads - Potatoes and Eggs
(5)

Salads - Vegetable
(15)

Side Dishes - Kugels and Souffles
(7)

Side Dishes - Potatoes and Vegetables
(17)

Side Dishes - Rice, Grains and Pasta
(7)

Soups, Stews and Cholent
(9)
Special Considerations

Dairy-Free Recipes
(230)

Gluten-Free Recipes
(134)

High Fiber Recipes
(18)

Low-fat Recipes
(11)

Nut-Free Desserts Recipes
(48)

Vegan Recipes
(101)

Vegetarian Recipes
(207)
Holidays

Rosh Hashana Recipes
(23)

Yom Kippur Recipes
(3)

Sukkot Recipes
(26)

Simchat Torah Recipes
(9)

Chanukah Recipes
(20)

Tu B'shevat Recipes
(16)

Purim Recipes
(9)

Passover Recipes
(44)

Lag Ba'omer Recipes
(6)

Shavuot Recipes
(24)

Shabbat Recipes
(34)
Cookbook Library

New Releases

Jewish Classics

Other Favorites
Kitchen Gadgets

Essentials

Small Appliances
Chef Of The Week

Barbara Williamson
Congratulations to our chef of the week.