Malasadas ~ Portuguese Doughnuts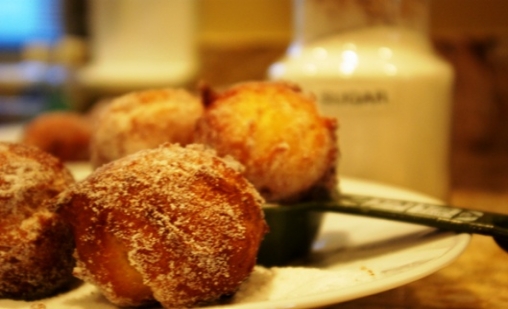 Chanukah is a time of dreidels and sufganyot, latkes. As a convert, hitching a ride on the turnip cart of culinary traditions feels often times like riding shotgun with the real McKleins. Whatever I cook with painstaking authenticity can seem disingenuous to the ritual of lining up at the local deli or bakery. I lack a dreidel face. Having been married to a religious Jewish secular intellectual; the commercialism of Chanukah is exposed leaving me with focus on the miracle of oil...and, everything fried.
My father was born in Kauai in 1927. His parents were from the Philippines. Living in Hawaii myself between 3 and 5 years of age, I vaguely remember my grandmother. I saw her for about 5 minutes when I was 19 while visiting my father on Oahu. She was in the kitchen frying what I believe to be malasadas. Taking 1 look at me, she said I looked just like my mother and told me to sit in the living room. She gave me $20 and a few malasadas. That was it. She passed away 22 years ago. My father had a small folder my cousin had put together talking about my grandmother's life. I pull it out tonight.
One point that stands out; every Sunday, rain or shine, my grandmother sold Filipino pastries in Honolulu at Aala Park for over 50 years. People lined up waiting for her; no shop, no cart. She was cooking when I visited her and she didn't really have time to entertain. I get that. I've thought about those malasadas often but never attempted to make them. They are deep fried. Chanukah begs for me to give it a try.
Since this dough needs to rise, I make it before making the Sephardic bumwelos batter. The only recipe I have is from a Maui Extension Homemaker's Council cookbook I picked up in 1980. I realize from the start that the recipe is very homestyle, "8 or 12 eggs, 1 or 1 1/2 cups sugar, 1 block of butter (size?)". I decide to wing it. Frying the first few in the same oil used for the bumwelos, something is amiss.
Just then my youngest sister arrives. She remembers more about my grandmother having spent more time in Hawaii. She also has an uncanny recall of voices, names and people. She sees what I'm doing and says that to her, a malasada is like a jelly filled donut. She talks about Leonard's Bakery, very famous in Hawaii. I've never heard of it. I'm describing what I ate 37 years ago. I show her my posting of sufganyot looking suspiciously like a jelly filled donut; a Bismark. We find a recipe online for Leonard's malasada....practically like my recipe for sufganyot.
I continue to describe my recollection of a malasada; a Portuguese import to Hawaii. She thinks I'm talking about binangkal, a Filipino specialty with sesame seeds. Probably an hour passes and I realize that my soft malasada dough has risen. I heat fresh oil to 335' and drop spoonfuls of dough into the oil. Perfect temperature, the balls cook through without over browning. After a quick draining on paper towels, they get a dusting of granulated sugar. YES! Exactly what I remember.
Thanks, Dawn for taking such a beautiful photo!
Kosher Status:
Parve
Number of servings:
about 24 pieces
Main Ingredient(s):
Flour - Unbleached All Purpose
Preparation Time:
00:20
Cooking Time:
00:30
Skill Level:
3

(1 Easy - 5 Hard)

Estimated POINT value:


Ingredients:


4 1/2 cups of flour

2 1/2 teaspoons dry yeast (1 package)

1/2 cup warm water

6 eggs

3/4 cups sugar + more for rolling finished malasadas

1/2 cup soy milk (or milk for dairy)

1/2 teaspoon salt

1/2 cup margarine (or butter for dairy)

oil for frying


Steps:


| | |
| --- | --- |
| | Dissolve the yeast in the warm water and sugar. Let rest for 5 minutes. |
Put all the dough ingredients into a bowl. Stir well. The dough is very soft. You won't be able to pick it up and knead it. Cover and let rise until double. The eggs and margarine weigh the dough down so it'll take a while.

After the dough has risen, reach under it and flip it over. It is sort of sticky. Don't punch it down. Let it rise again.
The dough is very soft. I used a scoop to take out walnut sized pieces of dough. I didn't punch the dough down. I also decided to scoop the balls and place them on the counter top to wait their turn in the oil.

Heat the oil to 335'.
| | |
| --- | --- |
| | Using a spatula, lift the dough off the counter and drop it gently into the oil. Add 2 more. The dough will sink and then rise to the top of the oil. Let cook until lightly browned. |
| | |
| --- | --- |
| | Turn the malasadas over and fry on the other side. Watch that the oil doesn't over heat. Fry until golden brown. Remove and drain on paper towels. |
| | |
| --- | --- |
| | When mostly cooled, roll in granulated sugar. Serve very fresh. |


Recently viewed recipes:



Malasadas ~ Portuguese Doughnuts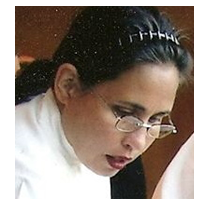 About Leah
Hi! Thank you for stopping by to watch me, Leah, cook kosher. I've been the owner operator of my boutique catering firm in Seattle, Leah's Catering, for the past 14 years.
Read more...
Leah's Blog

Aviva Makes Aliyah and The Sandwich Generation

Happy Chinese New Year! Happy Super Bowl! Go Hawks!

Tradition! Fun with the Seattle International Film Festival

Where Have I Been in My Life???

Making Kosher Salads

Blog Categories
Leah's Kosher Pantry

View what is in the pantry
Recipes

Appetizers
(44)

Appetizers - Dips and Sauces
(11)

Appetizers - Starter Courses
(10)

Beverages - Cold
(1)

Breads - Yeast
(10)

Breakfast Pastries
(7)

Dessert - Frostings
(6)

Desserts - Cakes
(13)

Desserts - Cookies and Brownies
(29)

Desserts - Dairy
(42)

Desserts - Pareve
(71)

Desserts - Pies and Tarts
(14)

Desserts - Tea Breads, Quick Breads
(8)

Desserts and Baked Goods - Gluten Free
(18)

Main Dish - Beef
(7)

Main Dish - Dairy
(3)

Main Dish - Eggs and Fritattas
(6)

Main Dish - Fish
(11)

Main Dish - Poultry
(14)

Main Dish - Vegetarian and Vegan
(9)

Salads - Dressing
(8)

Salads - Fruit
(4)

Salads - Grains & Legumes
(7)

Salads - Green
(1)

Salads - Pasta and Rice
(10)

Salads - Potatoes and Eggs
(5)

Salads - Vegetable
(15)

Side Dishes - Kugels and Souffles
(7)

Side Dishes - Potatoes and Vegetables
(17)

Side Dishes - Rice, Grains and Pasta
(7)

Soups, Stews and Cholent
(9)
Special Considerations

Dairy-Free Recipes
(230)

Gluten-Free Recipes
(134)

High Fiber Recipes
(18)

Low-fat Recipes
(11)

Nut-Free Desserts Recipes
(48)

Vegan Recipes
(101)

Vegetarian Recipes
(207)
Holidays

Rosh Hashana Recipes
(23)

Yom Kippur Recipes
(3)

Sukkot Recipes
(26)

Simchat Torah Recipes
(9)

Chanukah Recipes
(20)

Tu B'shevat Recipes
(16)

Purim Recipes
(9)

Passover Recipes
(44)

Lag Ba'omer Recipes
(6)

Shavuot Recipes
(24)

Shabbat Recipes
(34)
Cookbook Library

New Releases

Jewish Classics

Other Favorites
Kitchen Gadgets

Essentials

Small Appliances
Chef Of The Week

Barbara Williamson
Congratulations to our chef of the week.