Bumwelos ~ South African Style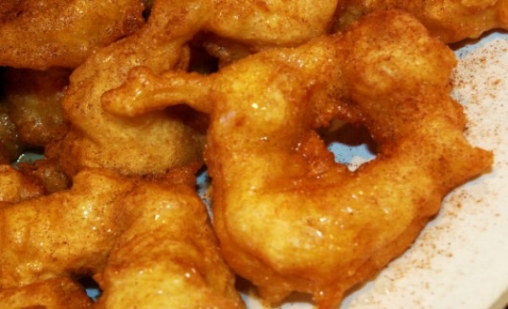 Thinking I'd keep my mother company as she recoups from a chest cold, I load my car with a pantry of ingredients and equipment. I figure I can make Chanukah treats for the website and visit at the same time. Since her Alzheimer's diagnosis last summer, we siblings are trying to rotate days checking in to be sure all is as well as to be expected. After Mom retired she became a fixture in the bakery, working the counter on busy Thursdays and Fridays. She has a cookbook library with hundreds of titles of all sorts of foods. Making new recipes for Chanukah sounds like a good time with her as a taste tester.
I forget my local community Sephardic cookbook but grab my gorgeous book from South Africa. "The Sephardi Culinary Tradition" is written by Elsie Menasce with chapter dividers of beautifully displayed Sephardic specialties. I bought the book online for $125...much more than the original 1984 price tag. I find a recipe for 'bumwelos', not 'birmuelos' but it sounds close enough; 'crisp doughnuts'.
The dough is very soft, "almost liquid" it says in the directions. I resist the urge to add much more flour and follow the instructions with a shrug. Investing in a heavy duty deep frying thermometer is a smart move. Staring at the heating oil, I realize I can't accurately guess at the temperature. I'm also able to fiddle with the stove controls to maintain an even 325'. This is about 25' lower than most recipes say but I find that I can actually leave the dough in the oil longer without getting overly dark donuts; or in this case, bumwelos.
Everything about this recipe is news to me. Only 1 teaspoon of sugar in the dough, hardly any flour for the amount of water and the unusual way to form the rounds....damp fingers dropping irregular circles into hot oil. In the end, the light drizzle of honey/sugar syrup and light dust of cinnamon creates quite a miracle of perfection. Crisp, light and delicately sweet.
I can't say that these are like anything anyone I know makes. Haven't asked around! My mom ate about 10 of them, seriously. I hear her from the living room saying, "Wow. These are enough to make you forget your name....not your name, my name." We laugh but for different reasons, I think. Quietly, I finish frying the bumwelos all the time wondering if that is a compliment from someone with Alzheimer's.
Kosher Status:
Parve
Number of servings:
makes 24 pieces
Main Ingredient(s):
Flour - Unbleached All Purpose
Preparation Time:
00:20
Cooking Time:
00:20
Skill Level:
2

(1 Easy - 5 Hard)

Estimated POINT value:


Ingredients:


1 tablespoons dry yeast (about 1 1/2 packets)

1 teaspoon sugar

pinch of salt

2 cups warm water

3 cups flour

oil to fry (I like the industrial deep fry oils; never see them at grocery stores)

2 teaspoons cinnamon
Syrup:
3 tablespoons honey

3 tablespoons sugar

3 tablespoons water


Steps:


| | |
| --- | --- |
| | Mix yeast, sugar and salt with 1 cup of the warm water. Allow the yeast to bubble, about 10 minutes. |
| | |
| --- | --- |
| | Add remaining cup of water and enough flour to make a very soft sticky dough, almost liquid. Set aside to rise for about 15 - 20 minutes. |
| | |
| --- | --- |
| | Heat the oil over medium high heat until the thermometer reads 325' - 335'. |
| | |
| --- | --- |
| | Put a bowl of of water near the bowl of dough. Dampen fingers and spoon out about a walnut size piece of dough with your right hand. Drop this very loose dough onto the left fingers and gently put a whole in the center of the dough. Stretch slightly as you hover and then gently lay the dough ring into hot oil. Don't wet your fingers too much or the water will drip into the hot oil and splatter. Don't drop more than 3 at a time into the oil. |
The dough will sink and then float to the top. When it is light golden brown, turn the bumwelo over to fry until golden brown. Lift with a slotted utensil and drain on a paper towel.

Make the sryup by bringing the honey, sugar and water to a boil. Drizzle over the bumwelos and dust lightly with the cinnamon. Best eaten very fresh.


Recently viewed recipes:



Bumwelos ~ South African Style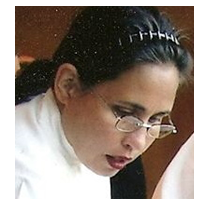 About Leah
Hi! Thank you for stopping by to watch me, Leah, cook kosher. I've been the owner operator of my boutique catering firm in Seattle, Leah's Catering, for the past 14 years.
Read more...
Leah's Blog

Aviva Makes Aliyah and The Sandwich Generation

Happy Chinese New Year! Happy Super Bowl! Go Hawks!

Tradition! Fun with the Seattle International Film Festival

Where Have I Been in My Life???

Making Kosher Salads

Blog Categories
Leah's Kosher Pantry

View what is in the pantry
Recipes

Appetizers
(44)

Appetizers - Dips and Sauces
(11)

Appetizers - Starter Courses
(10)

Beverages - Cold
(1)

Breads - Yeast
(10)

Breakfast Pastries
(7)

Dessert - Frostings
(6)

Desserts - Cakes
(13)

Desserts - Cookies and Brownies
(29)

Desserts - Dairy
(42)

Desserts - Pareve
(71)

Desserts - Pies and Tarts
(14)

Desserts - Tea Breads, Quick Breads
(8)

Desserts and Baked Goods - Gluten Free
(18)

Main Dish - Beef
(7)

Main Dish - Dairy
(3)

Main Dish - Eggs and Fritattas
(6)

Main Dish - Fish
(11)

Main Dish - Poultry
(14)

Main Dish - Vegetarian and Vegan
(9)

Salads - Dressing
(8)

Salads - Fruit
(4)

Salads - Grains & Legumes
(7)

Salads - Green
(1)

Salads - Pasta and Rice
(10)

Salads - Potatoes and Eggs
(5)

Salads - Vegetable
(15)

Side Dishes - Kugels and Souffles
(7)

Side Dishes - Potatoes and Vegetables
(17)

Side Dishes - Rice, Grains and Pasta
(7)

Soups, Stews and Cholent
(9)
Special Considerations

Dairy-Free Recipes
(230)

Gluten-Free Recipes
(134)

High Fiber Recipes
(18)

Low-fat Recipes
(11)

Nut-Free Desserts Recipes
(48)

Vegan Recipes
(101)

Vegetarian Recipes
(207)
Holidays

Rosh Hashana Recipes
(23)

Yom Kippur Recipes
(3)

Sukkot Recipes
(26)

Simchat Torah Recipes
(9)

Chanukah Recipes
(20)

Tu B'shevat Recipes
(16)

Purim Recipes
(9)

Passover Recipes
(44)

Lag Ba'omer Recipes
(6)

Shavuot Recipes
(24)

Shabbat Recipes
(34)
Cookbook Library

New Releases

Jewish Classics

Other Favorites
Kitchen Gadgets

Essentials

Small Appliances
Chef Of The Week

Barbara Williamson
Congratulations to our chef of the week.