Cinnamon Rolls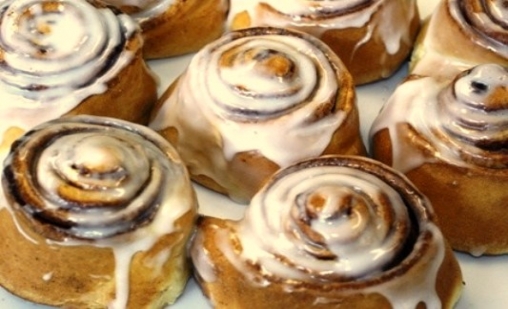 Not too long after my father passed away, I drove to Seward Park for a meeting with one of the Rabbis. I had only been catering for a year or so and was going to help with his son's bar mitzvah party. Getting off the freeway, I decide to zigzag my way through the old neighborhood past the houses I grew up in on Beacon Hill. Slowing down in front of my grade school friend's old house, I see a figure on the front porch. I hadn't seen Sabrina in about 30 years. I stop the van, roll down the window and say, "Sabrina?" She responds, "Is that you, Leslie? Are you still making those cinnamon rolls?"
Ha, as she has come to find out, I've been making a lot more than just cinnamon rolls. My Rebbitzen Chanie Levitin, after eating my cinnamon rolls, tells me that I can use the same dough to make babka. That's all I needed to know.
I'd seen the corner of a homemade babka once. A friend from Boro Park had brought one his mother made back to Seattle. I got to taste exactly 1 bite and peek under the foil wrapping to see the babka. One bite, one peek and I filed it in my memory bank. Researching a bit more, I develop the babka fillings....but, that is for another posting!
Want to see how to roll the cinnamon rolls? Check this out; http://www.leahcookskosher.com/videos.php Want to see how to make a babka? Check this out; http://www.indiegogo.com/Traditional-Jewish-Recipes-Video-Production. The video is shot; editing in progress. Support the cause....please!
Kosher Status:
Parve
Number of servings:
8 - 10
Main Ingredient(s):
Flour - Unbleached Bread
Preparation Time:
01:00
Cooking Time:
00:20
Skill Level:
2

(1 Easy - 5 Hard)

Estimated POINT value:
Average Rating:
5/5


Ingredients:


1/2 cup warm water

2 packages yeast

1/2 cup lukewarm soy milk (or real milk if diary is okay)

1/2 cup sugar

1 teaspoon salt

2 eggs

1/2 cup margarine, room temperature

4 1/2 - 5 cups of all purpose or bread flour
For filling:
1/4 melted margarine

1/3 cup sugar

1 tablespoon cinnamon

1/2 cup raisins, optional
Glaze:
2 cups powdered sugar

1/4 cup soy milk or enough to form a spreadable glaze


Steps:


Make the Yeasted Sweet Dough as directed. Let rise until double in bulk.

Punch down and let rest 10 minutes. Roll into a rectangle about 18" x 12".
| | |
| --- | --- |
| | Brush with melted margarine, sprinkle with cinnamon sugar mixture and raisins. |
| | |
| --- | --- |
| | Roll up and pinch the edge closed. Slice the roll into 1 1/2" pieces, place on oiled pan about 1/2" apart. Let rise until almost double in bulk. |
| | |
| --- | --- |
| | Bake at 350' until light golden brown, about 15 - 20 minutes. When almost cooled, brush with the glaze. Great served warm. |


Recently viewed recipes:



Cinnamon Rolls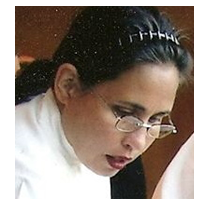 About Leah
Hi! Thank you for stopping by to watch me, Leah, cook kosher. I've been the owner operator of my boutique catering firm in Seattle, Leah's Catering, for the past 14 years.
Read more...
Leah's Blog

Aviva Makes Aliyah and The Sandwich Generation

Happy Chinese New Year! Happy Super Bowl! Go Hawks!

Tradition! Fun with the Seattle International Film Festival

Where Have I Been in My Life???

Making Kosher Salads

Blog Categories
Leah's Kosher Pantry

View what is in the pantry
Recipes

Appetizers
(44)

Appetizers - Dips and Sauces
(11)

Appetizers - Starter Courses
(10)

Beverages - Cold
(1)

Breads - Yeast
(10)

Breakfast Pastries
(7)

Dessert - Frostings
(6)

Desserts - Cakes
(13)

Desserts - Cookies and Brownies
(29)

Desserts - Dairy
(42)

Desserts - Pareve
(71)

Desserts - Pies and Tarts
(14)

Desserts - Tea Breads, Quick Breads
(8)

Desserts and Baked Goods - Gluten Free
(18)

Main Dish - Beef
(7)

Main Dish - Dairy
(3)

Main Dish - Eggs and Fritattas
(6)

Main Dish - Fish
(11)

Main Dish - Poultry
(14)

Main Dish - Vegetarian and Vegan
(9)

Salads - Dressing
(8)

Salads - Fruit
(4)

Salads - Grains & Legumes
(7)

Salads - Green
(1)

Salads - Pasta and Rice
(10)

Salads - Potatoes and Eggs
(5)

Salads - Vegetable
(15)

Side Dishes - Kugels and Souffles
(7)

Side Dishes - Potatoes and Vegetables
(17)

Side Dishes - Rice, Grains and Pasta
(7)

Soups, Stews and Cholent
(9)
Special Considerations

Dairy-Free Recipes
(230)

Gluten-Free Recipes
(134)

High Fiber Recipes
(18)

Low-fat Recipes
(11)

Nut-Free Desserts Recipes
(48)

Vegan Recipes
(101)

Vegetarian Recipes
(207)
Holidays

Rosh Hashana Recipes
(23)

Yom Kippur Recipes
(3)

Sukkot Recipes
(26)

Simchat Torah Recipes
(9)

Chanukah Recipes
(20)

Tu B'shevat Recipes
(16)

Purim Recipes
(9)

Passover Recipes
(44)

Lag Ba'omer Recipes
(6)

Shavuot Recipes
(24)

Shabbat Recipes
(34)
Cookbook Library

New Releases

Jewish Classics

Other Favorites
Kitchen Gadgets

Essentials

Small Appliances
Chef Of The Week

Barbara Williamson
Congratulations to our chef of the week.