Italian Lentil Soup with Escarole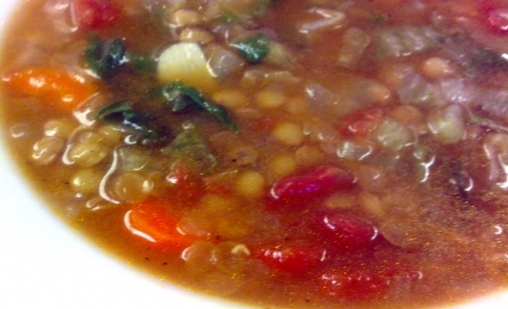 Making Shabbat dinner at Hillel gives me an opportunity to try new recipes. The JConnect group, young adults 22 to 32, are a little more sophisticated than the undergraduates. They'll eat 'stuff' in their foods. I think escarole sounds like a nice way to change up lentil soup. Spinach would work just as well and is less expensive. Escarole sounds like I'm trying a little harder!
In general, lentil soup is so easy to make and it freezes great. Make a huge pot and freeze in quart containers. I love pulling out ready made soup on a cold winter day.
I decide to make this soup when I see a recipe in April 2011 "Cook's Illustrated". I like this magazine with its tested recipes, black and white photos and interesting recipe introductions. As I finish the soup, I realize that I'm not thrilled. It strikes me as flat, "one note" as they like to say on the cooking competitions. Possibly, leaving off the Parmesan cheese garnish makes a big difference. I'm making a meat meal so cheese is not an option.
As I start doctoring up the soup, I realize that I'm heading in my usual direction. I like the tang of lemon juice, a hint of balsamic vinegar. During the bakery and cafe days, we served lentil soup regularly. Vintage "Laurel's Kitchen" a la the 80's was my recipe of choice. This batch of soup is a concoction based on that recipe and the "Cook's Illustrated" version. It is beautiful in the bowl when served. I put the wilted greens in the bowls and ladle the soup on top. I don't recommend leaving the greens in the soup on a blech for hours....you'll lose the vibrant contrast of colors.
Kosher Status:
Parve
Number of servings:
6 - 8
Main Ingredient(s):
Lentils
Preparation Time:
00:20
Cooking Time:
01:20
Skill Level:
1 - Easy

(1 Easy - 5 Hard)

Estimated POINT value:


Ingredients:


1/4 cup olive oil

1 medium carrot, peeled and cut in half lengthwise, and then crosswise into 1/2 moons

1 medium onion, fine diced

1 celery stalk, split in half and then sliced thin

6 medium garlic cloves, sliced thin (love the way this looks in the soup)

2 tablespoons minced fresh parsley

1 (14.5 oz.) can diced tomatoes

8 ounces brown lentils, sorted and rinsed

4 cups chicken broth (or pareve vegetable stock for vegan or dairy meals)

3 cups water

2 bay leaves

1 tablespoon balsamic vinegar

1 tablespoon fresh lemon juice

salt and pepper to taste

1 head escarole, washed and checked, slice into 1/2" strips, wilted (or 5 oz. baby spinach)
For dairy option: use vegetable stock and add grated Parmesan cheese when serving


Steps:


In a stock pot, combine the oil, sliced carrot, diced onions, sliced celery and garlic, chopped parsley and 1 teaspoon of salt. Over medium heat, cook until the vegetables are very wilted. Stir occasionally so they don't stick to the bottom of the pot.

When the vegetables are soft, add the tomatoes, lentils, broth, water, bay leaves, vinegar and lemon juice. Bring to a boil over medium high heat. Cover, turn down the heat and simmer until the lentils are just tender. Be sure to check periodically so they don't turn mushy.

While the soup cooks, prep the escarole or spinach and wilt. Set aside until serving.

When the lentils are tender, taste the soup. Adjust the salt, pepper, and lemon juice. There should be a vibrancy about the flavor as it bounces around your taste buds. You don't want a dull, flat, lentil soup.

Place a little of the greens in the bottom of each bowl. Ladle the soup on top. Add grated Parmesan cheese if making a diary soup.


Recently viewed recipes:



Italian Lentil Soup with Escarole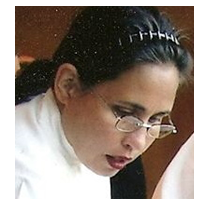 About Leah
Hi! Thank you for stopping by to watch me, Leah, cook kosher. I've been the owner operator of my boutique catering firm in Seattle, Leah's Catering, for the past 14 years.
Read more...
Leah's Blog

Aviva Makes Aliyah and The Sandwich Generation

Happy Chinese New Year! Happy Super Bowl! Go Hawks!

Tradition! Fun with the Seattle International Film Festival

Where Have I Been in My Life???

Making Kosher Salads

Blog Categories
Leah's Kosher Pantry

View what is in the pantry
Recipes

Appetizers
(44)

Appetizers - Dips and Sauces
(11)

Appetizers - Starter Courses
(10)

Beverages - Cold
(1)

Breads - Yeast
(10)

Breakfast Pastries
(7)

Dessert - Frostings
(6)

Desserts - Cakes
(13)

Desserts - Cookies and Brownies
(29)

Desserts - Dairy
(42)

Desserts - Pareve
(71)

Desserts - Pies and Tarts
(14)

Desserts - Tea Breads, Quick Breads
(8)

Desserts and Baked Goods - Gluten Free
(18)

Main Dish - Beef
(7)

Main Dish - Dairy
(3)

Main Dish - Eggs and Fritattas
(6)

Main Dish - Fish
(11)

Main Dish - Poultry
(14)

Main Dish - Vegetarian and Vegan
(9)

Salads - Dressing
(8)

Salads - Fruit
(4)

Salads - Grains & Legumes
(7)

Salads - Green
(1)

Salads - Pasta and Rice
(10)

Salads - Potatoes and Eggs
(5)

Salads - Vegetable
(15)

Side Dishes - Kugels and Souffles
(7)

Side Dishes - Potatoes and Vegetables
(17)

Side Dishes - Rice, Grains and Pasta
(7)

Soups, Stews and Cholent
(9)
Special Considerations

Dairy-Free Recipes
(230)

Gluten-Free Recipes
(134)

High Fiber Recipes
(18)

Low-fat Recipes
(11)

Nut-Free Desserts Recipes
(48)

Vegan Recipes
(101)

Vegetarian Recipes
(207)
Holidays

Rosh Hashana Recipes
(23)

Yom Kippur Recipes
(3)

Sukkot Recipes
(26)

Simchat Torah Recipes
(9)

Chanukah Recipes
(20)

Tu B'shevat Recipes
(16)

Purim Recipes
(9)

Passover Recipes
(44)

Lag Ba'omer Recipes
(6)

Shavuot Recipes
(24)

Shabbat Recipes
(34)
Cookbook Library

New Releases

Jewish Classics

Other Favorites
Kitchen Gadgets

Essentials

Small Appliances
Chef Of The Week

Barbara Williamson
Congratulations to our chef of the week.