Chicken Adobo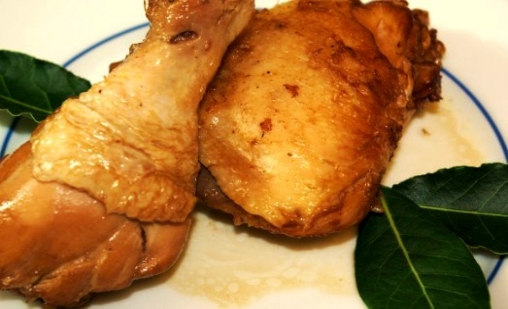 My grandparents came from the Philippines to Kauai in the 1920's. My grandfather died at 22, 6 months prior to my father's birth, in 1927. I really never knew my grandmother, seeing her a few times in my life, even though she only passed away 15 years ago. It only now strikes me as odd when I contrast my experience with the connectedness I see in the Jewish community. Life-cycle events are all-inclusive, everyone flying far and wide to attend a simcha. My history is disconnected from an unexplored lineage.
Growing up mainland American has a certain stigma from the local Hawaiian perspective, even if as transplanted Filipinos. It is very similar to 'marrying out'....living out of the eclectic community comprising the 'Hawaiian' experience. My paternal side of the family tree has been rooted out of me as I spend my life state-side. Only a few dishes of my childhood survive, most in memory only. Tonight I feel like making adobo.
Tentative, uncertain, I feel the need to double-check, research even, adobo. Finding a Filipino cookbook at my mom's, I skim the pages. Most are outside the realm of kosher imitation. I decide to make adobo but my recollection is different from anything in the book. We'll go with my family recipe as I think I remember it.
Adobo is basically a vinegar based marinade used in cooking many types of meat and vegetables. My father always added a bouquet garni of mixed pickling spice. In the middle of cooking, I reach into my cupboard for pickling spice and there isn't any! Dodging traffic, I run across the street wearing my apron, hoping they sell it. Score ~ and I'm panting at the top of 3 flights of stairs heading towards the kitchen. Pulling out a drawer, I discover I don't have any cheese cloth. This is why I cook at work....I spy a mesh tea ball; works for me!
Pickling spice consists of cinnamon, allspice, mustard seed, coriander, bay leaves, ginger, chillies, cloves, black pepper, mace, and cardamon. Who knew? For good measure, I use fresh bay leaves, ginger root and garlic. What could be bad?
Kosher Status:
Meat
Number of servings:
8 - 10
Main Ingredient(s):
Chicken
Preparation Time:
00:20
Cooking Time:
00:50
Skill Level:
2

(1 Easy - 5 Hard)

Estimated POINT value:


Ingredients:


2 whole chickens, cut into pieces or the equivalent in parts (I use leg/thigh pieces)

2 tablespoons vegetable oil

1 piece ginger root, about 1/4 cup worth, peeled and cut into rounds and crushed

9 cloves of garlic, sliced

1/2 cup apple cider vinegar

1/2 cup water

1/4 cup soy sauce or wheat-free tamari

4 bay leaves

1/2 teaspoon black pepper

1/2 teaspoon paprika

1 tablespoon mixed pickling spice tied in cheese cloth


Steps:


| | |
| --- | --- |
| | Wash and prep the chicken by cutting it into pieces. Pat dry and set aside. |
| | |
| --- | --- |
| | In a large pan or pot that has a fitted lid, heat the vegetable oil. Brown the chicken pieces on both sides. If you have more pieces than will fit into the pan, do batches. |
| | |
| --- | --- |
| | While the chicken browns, peel the ginger root and cut into rounds. With the handle or side of the knife blade, crush the ginger to release the juices. |
Slice the garlic.

When the chicken is almost browned, add the ginger and garlic to the pot. Keep the heat low enough so the garlic doesn't burn.
| | |
| --- | --- |
| | When the chicken is browned, add all of it back to the pan or pot. Add the remaining ingredients and stir. Cover and cook over a medium low heat until the chicken is tender. |
| | |
| --- | --- |
| | Every 10 minutes or so, stir the chicken to evenly color the chicken. During the last 10 minutes, remove the lid to reduce the liquid in the pot. |
| | |
| --- | --- |
| | Chicken adobo can be eaten immediately after cooking. It also develops a richer flavor if allowed to sit in the refrigerator overnight after cooking. |


Recently viewed recipes:



Chicken Adobo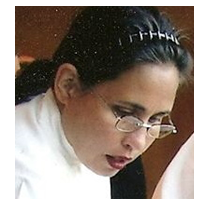 About Leah
Hi! Thank you for stopping by to watch me, Leah, cook kosher. I've been the owner operator of my boutique catering firm in Seattle, Leah's Catering, for the past 14 years.
Read more...
Leah's Blog

Aviva Makes Aliyah and The Sandwich Generation

Happy Chinese New Year! Happy Super Bowl! Go Hawks!

Tradition! Fun with the Seattle International Film Festival

Where Have I Been in My Life???

Making Kosher Salads

Blog Categories
Leah's Kosher Pantry

View what is in the pantry
Recipes

Appetizers
(44)

Appetizers - Dips and Sauces
(11)

Appetizers - Starter Courses
(10)

Beverages - Cold
(1)

Breads - Yeast
(10)

Breakfast Pastries
(7)

Dessert - Frostings
(6)

Desserts - Cakes
(13)

Desserts - Cookies and Brownies
(29)

Desserts - Dairy
(42)

Desserts - Pareve
(71)

Desserts - Pies and Tarts
(14)

Desserts - Tea Breads, Quick Breads
(8)

Desserts and Baked Goods - Gluten Free
(18)

Main Dish - Beef
(7)

Main Dish - Dairy
(3)

Main Dish - Eggs and Fritattas
(6)

Main Dish - Fish
(11)

Main Dish - Poultry
(14)

Main Dish - Vegetarian and Vegan
(9)

Salads - Dressing
(8)

Salads - Fruit
(4)

Salads - Grains & Legumes
(7)

Salads - Green
(1)

Salads - Pasta and Rice
(10)

Salads - Potatoes and Eggs
(5)

Salads - Vegetable
(15)

Side Dishes - Kugels and Souffles
(7)

Side Dishes - Potatoes and Vegetables
(17)

Side Dishes - Rice, Grains and Pasta
(7)

Soups, Stews and Cholent
(9)
Special Considerations

Dairy-Free Recipes
(230)

Gluten-Free Recipes
(134)

High Fiber Recipes
(18)

Low-fat Recipes
(11)

Nut-Free Desserts Recipes
(48)

Vegan Recipes
(101)

Vegetarian Recipes
(207)
Holidays

Rosh Hashana Recipes
(23)

Yom Kippur Recipes
(3)

Sukkot Recipes
(26)

Simchat Torah Recipes
(9)

Chanukah Recipes
(20)

Tu B'shevat Recipes
(16)

Purim Recipes
(9)

Passover Recipes
(44)

Lag Ba'omer Recipes
(6)

Shavuot Recipes
(24)

Shabbat Recipes
(34)
Cookbook Library

New Releases

Jewish Classics

Other Favorites
Kitchen Gadgets

Essentials

Small Appliances
Chef Of The Week

Barbara Williamson
Congratulations to our chef of the week.