Parve Chocolate Pecan Pie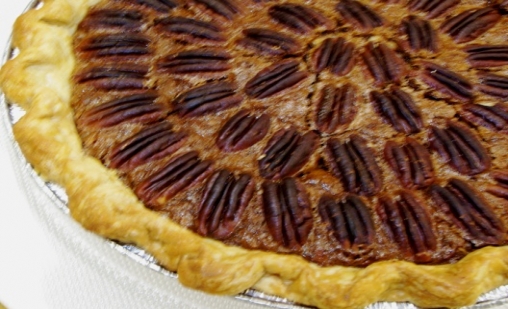 For pecan pie lovers, the good news is that this is so easy to make. I'm not a fan of pecan pie but repeated orders tell me this must taste good. I tried a different technique last night; pre-baking the crust. I don't think that is necessary and causes the pie to brown too quickly. So, back to being REALLY simple to make.....
I feel compelled to tell a story about pecan pie. The only one I can think of made me have one of my 'artistic' temper tantrums....not, too flattering, not too over-the-top. Needing to whip one of these up a couple years back, I can't find MY recipe. I ask my chef of many years what goes into the chocolate pecan pie. She names the ingredients but not chocolate. What about the chocolate? What chocolate....I use dark corn syrup. No, no, no.....chocolate is chocolate!!! Anyway, I made these with chocolate....
Kosher Status:
Parve
Number of servings:
1 9" pie, 8 - 10 servings
Main Ingredient(s):
Preparation Time:
00:30
Cooking Time:
00:40
Skill Level:
1 - Easy

(1 Easy - 5 Hard)

Estimated POINT value:


Ingredients:


4 eggs, lightly beaten

1 cup golden brown sugar

1/2 teaspoon salt

3/4 cup light corn syrup

4 tablespoons margarine

1/2 cup pareve chocolate chips

1 teaspoon vanilla

1 cup chopped pecans

1 cup pecan halves


Steps:


Preheat the oven to 400'.

In a medium bowl, mix eggs, brown sugar, corn syrup and salt.
| | |
| --- | --- |
| | In the microwave, melt the margarine and chocolate chips until just soft. Stir to finish melting. Add to the egg mixture. |
| | |
| --- | --- |
| | Stir in the chopped nuts. |
Pour into the pie shell. Arrange the pecan halves around the top of the pie.

(I had tried a prebaked pie shell technique in this photo....don't like it.)
Bake the pie for 10 minutes on the middle rack of the oven.

Reduce the heat to 325' and bake for another 25 minutes or so. The filling will puff a bit but the center should still be a bit jiggly but set.

Cool to room temperature before serving.


Recently viewed recipes:



Parve Chocolate Pecan Pie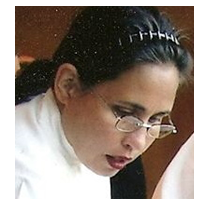 About Leah
Hi! Thank you for stopping by to watch me, Leah, cook kosher. I've been the owner operator of my boutique catering firm in Seattle, Leah's Catering, for the past 14 years.
Read more...
Leah's Blog

Aviva Makes Aliyah and The Sandwich Generation

Happy Chinese New Year! Happy Super Bowl! Go Hawks!

Tradition! Fun with the Seattle International Film Festival

Where Have I Been in My Life???

Making Kosher Salads

Blog Categories
Leah's Kosher Pantry

View what is in the pantry
Recipes

Appetizers
(44)

Appetizers - Dips and Sauces
(11)

Appetizers - Starter Courses
(10)

Beverages - Cold
(1)

Breads - Yeast
(10)

Breakfast Pastries
(7)

Dessert - Frostings
(6)

Desserts - Cakes
(13)

Desserts - Cookies and Brownies
(29)

Desserts - Dairy
(42)

Desserts - Pareve
(71)

Desserts - Pies and Tarts
(14)

Desserts - Tea Breads, Quick Breads
(8)

Desserts and Baked Goods - Gluten Free
(18)

Main Dish - Beef
(7)

Main Dish - Dairy
(3)

Main Dish - Eggs and Fritattas
(6)

Main Dish - Fish
(11)

Main Dish - Poultry
(14)

Main Dish - Vegetarian and Vegan
(9)

Salads - Dressing
(8)

Salads - Fruit
(4)

Salads - Grains & Legumes
(7)

Salads - Green
(1)

Salads - Pasta and Rice
(10)

Salads - Potatoes and Eggs
(5)

Salads - Vegetable
(15)

Side Dishes - Kugels and Souffles
(7)

Side Dishes - Potatoes and Vegetables
(17)

Side Dishes - Rice, Grains and Pasta
(7)

Soups, Stews and Cholent
(9)
Special Considerations

Dairy-Free Recipes
(230)

Gluten-Free Recipes
(134)

High Fiber Recipes
(18)

Low-fat Recipes
(11)

Nut-Free Desserts Recipes
(48)

Vegan Recipes
(101)

Vegetarian Recipes
(207)
Holidays

Rosh Hashana Recipes
(23)

Yom Kippur Recipes
(3)

Sukkot Recipes
(26)

Simchat Torah Recipes
(9)

Chanukah Recipes
(20)

Tu B'shevat Recipes
(16)

Purim Recipes
(9)

Passover Recipes
(44)

Lag Ba'omer Recipes
(6)

Shavuot Recipes
(24)

Shabbat Recipes
(34)
Cookbook Library

New Releases

Jewish Classics

Other Favorites
Kitchen Gadgets

Essentials

Small Appliances
Chef Of The Week

Barbara Williamson
Congratulations to our chef of the week.