Turkey in a Bag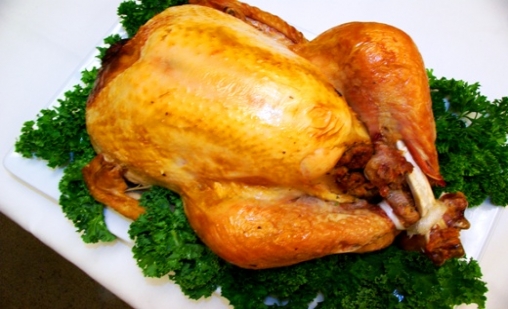 I always use an oven turkey bag when I make turkey. Always. Turkeys I cook are usually sliced and put into aluminum pans for take-out orders. This translates into cooking, cooling, slicing, packaging, chilling, transporting, continued chilling and finally, getting heated by someone in an uncertain oven for an indeterminate amount of time. And, after all of that, I still want (and get) rave reviews for my very moist turkey.
For the sake of artistic expression, I've hastily placed this bird on a platter with kale. Bear with me.....
To roast a turkey, I rinse the bird and rub it with olive oil. That is all I use. Placing it into the bag as per the instructions, I pop it into the oven, rotating as necessary to keep the color and cooking even. With an instant read thermometer, I pull the turkey at 155'. There is usually a lot of juice in the bottom of the bag and the turkey is starting to really steam. At this point, I tear open the bag exposing the bird. Back into the oven, it gets a little brown until I pull it at 165'. I let the bird rest with the bag torn open until it cools.
Most clients don't want to wrestle with a whole turkey. I cut the meat from the bones, arrange in the pan and then (this is important), I pour off the juice from the bag onto the turkey. This juice isn't to be confused with gravy. That is something else. This juice helps keep the meat moist when it is reheated. Also, before putting the foil lid onto the pan, I stretch a piece of plastic wrap over the pan. It can go into the oven this way. This layer of plastic also seals in moisture.
What is lost is a crispy skin but I'd rather have a moist turkey. Gravy and stuffing is another recipe posting. (But, not tonight ~ I'm beat!)
Kosher Status:
Meat
Number of servings:
12 - 14
Main Ingredient(s):
Turkey
Preparation Time:
00:20
Cooking Time:
02:30
Skill Level:
1 - Easy

(1 Easy - 5 Hard)

Estimated POINT value:


Ingredients:


14 - 16# turkey

olive oil to rub on the turkey

Turkey sized oven bag

1 tablespoon flour (rice flour for gluten-free)


Steps:


| | |
| --- | --- |
| | Please read my introduction for directions. |


Recently viewed recipes:



Turkey in a Bag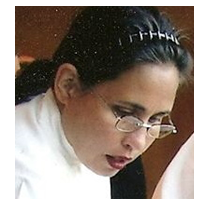 About Leah
Hi! Thank you for stopping by to watch me, Leah, cook kosher. I've been the owner operator of my boutique catering firm in Seattle, Leah's Catering, for the past 14 years.
Read more...
Leah's Blog

Aviva Makes Aliyah and The Sandwich Generation

Happy Chinese New Year! Happy Super Bowl! Go Hawks!

Tradition! Fun with the Seattle International Film Festival

Where Have I Been in My Life???

Making Kosher Salads

Blog Categories
Leah's Kosher Pantry

View what is in the pantry
Recipes

Appetizers
(44)

Appetizers - Dips and Sauces
(11)

Appetizers - Starter Courses
(10)

Beverages - Cold
(1)

Breads - Yeast
(10)

Breakfast Pastries
(7)

Dessert - Frostings
(6)

Desserts - Cakes
(13)

Desserts - Cookies and Brownies
(29)

Desserts - Dairy
(42)

Desserts - Pareve
(71)

Desserts - Pies and Tarts
(14)

Desserts - Tea Breads, Quick Breads
(8)

Desserts and Baked Goods - Gluten Free
(18)

Main Dish - Beef
(7)

Main Dish - Dairy
(3)

Main Dish - Eggs and Fritattas
(6)

Main Dish - Fish
(11)

Main Dish - Poultry
(14)

Main Dish - Vegetarian and Vegan
(9)

Salads - Dressing
(8)

Salads - Fruit
(4)

Salads - Grains & Legumes
(7)

Salads - Green
(1)

Salads - Pasta and Rice
(10)

Salads - Potatoes and Eggs
(5)

Salads - Vegetable
(15)

Side Dishes - Kugels and Souffles
(7)

Side Dishes - Potatoes and Vegetables
(17)

Side Dishes - Rice, Grains and Pasta
(7)

Soups, Stews and Cholent
(9)
Special Considerations

Dairy-Free Recipes
(230)

Gluten-Free Recipes
(134)

High Fiber Recipes
(18)

Low-fat Recipes
(11)

Nut-Free Desserts Recipes
(48)

Vegan Recipes
(101)

Vegetarian Recipes
(207)
Holidays

Rosh Hashana Recipes
(23)

Yom Kippur Recipes
(3)

Sukkot Recipes
(26)

Simchat Torah Recipes
(9)

Chanukah Recipes
(20)

Tu B'shevat Recipes
(16)

Purim Recipes
(9)

Passover Recipes
(44)

Lag Ba'omer Recipes
(6)

Shavuot Recipes
(24)

Shabbat Recipes
(34)
Cookbook Library

New Releases

Jewish Classics

Other Favorites
Kitchen Gadgets

Essentials

Small Appliances
Chef Of The Week

Barbara Williamson
Congratulations to our chef of the week.