Apple Chestnut Stuffing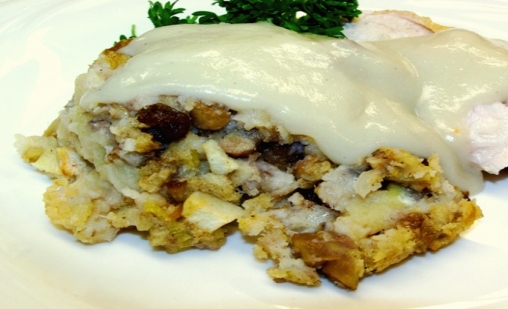 Rushing through early Thanksgiving shoppers at the grocery store, I spy chestnuts. Growing up in the Northwest, hazelnuts and black walnuts are nuts that get people excited, especially if you know someone with a tree. Chestnuts are foreign to me. Bing Crosby, New Canaan, CT are chestnutty. Today, I'm intrigued. I buy 1 1/2 pounds for $10 and think I'll figure something out for Thanksgiving.
Rabbi Aryeh, mashgiach as I cook turkey, looks at the directions to work with chestnuts. He's thinking what I'm thinking, "What a hassle." Lacking an open fire, we roast them on a sheet pan for 20 minutes at 500'. Shelling them, I wonder that the phrase 'chestnut brain' hasn't gained traction. Sure, a pea is smaller but these look like brains; a couple of hairy ones make me jump. Rabbi walks by and says, "Those look like brains." We're out of our element.
Once sliced, roasted, and shelled, they get simmered for 20 minutes. Then, drained and chopped. Alternately, the directions suggest buying canned chestnuts. Hmm, didn't look for any with a hechsher. There is a certain satisfaction doing something so labor intensive....yet another thing labor intensive.
I read that chestnuts have twice as much starch as potatoes. After simmering, they have a creamy texture, a subtle flavor. Combined with tart Granny Smith apples and a hint of cinnamon and nutmeg, a lovely stuffing comes together. I use fluffy challah bread crumbs and golden raisins, along with the requisite celery and onions. So different from my usual stuffing, I like the contrast in textures. Definitely a keeper.
Kosher Status:
Parve
Number of servings:
10 - 12, enough for a 12 pound turkey
Main Ingredient(s):
Apples
Preparation Time:
00:30
Cooking Time:
00:30
Skill Level:
1 - Easy

(1 Easy - 5 Hard)

Estimated POINT value:


Ingredients:


1/4 cup margarine

1/2 cup finely chopped onion

1 cup thinly sliced celery

1/2 cup golden raisins

4 cups Granny Smith apples, peeled and diced (about 4 - 5 apples)

6 cups challah bread crumbs, light and fluffy

1 1/2 pounds chestnuts in shell

1 tablespoon salt

*1 - 2 cups turkey stock
*If you aren't putting the stuffing into the turkey, ladle a little turkey broth over the stuffing before baking in the oven, uncovered.
1 teaspoon cinnamon

1/4 teaspoon nutmeg


Steps:


| | |
| --- | --- |
| | In a saute pan, melt the margarine. Add the celery and onion. Cook until wilted and tender, about 5 minutes. Empty into a bowl and set aside. |
Rinse the chestnuts. With a sharp paring knife, slit the shell. Place onto a baking pan and roast at 500' for about 15 minutes. When cool enough to handle, peel the shell and remove the outer skin.

Place the chestnuts into a small sauce pan. Cover with water. Simmer for 20 minutes. Drain and rough chop. Add to onion mixture.
Peel the apples and cut away the core. Dice the apples into small pieces. Add to the onion mixture.

Trim the outer crust from challah. Tear and place into the bowl of a food processor. Pulse to fluffy crumbs. Add to the onion mixture.
Place the raisins in a small bowl. Add a little water and toss to dampen. Drain water not absorbed and add raisins to the mixture.

Add remaining ingredients.
Stuff the turkey, close and roast until turkey is 165' at the meaty point of the thigh. I also test on the breast. Be careful to avoid the bone or you'll get a hotter read on your thermometer. Let the turkey rest 10 minutes before carving. Remove stuffing and serve. Be sure to remove all the stuffing before refrigerating leftover turkey.

*If you aren't stuffing the turkey, make a little turkey stock and spoon over the stuffing before baking. Bake until it is lightly browned.


Recently viewed recipes:



Apple Chestnut Stuffing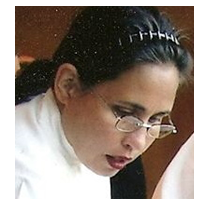 About Leah
Hi! Thank you for stopping by to watch me, Leah, cook kosher. I've been the owner operator of my boutique catering firm in Seattle, Leah's Catering, for the past 14 years.
Read more...
Leah's Blog

Aviva Makes Aliyah and The Sandwich Generation

Happy Chinese New Year! Happy Super Bowl! Go Hawks!

Tradition! Fun with the Seattle International Film Festival

Where Have I Been in My Life???

Making Kosher Salads

Blog Categories
Leah's Kosher Pantry

View what is in the pantry
Recipes

Appetizers
(44)

Appetizers - Dips and Sauces
(11)

Appetizers - Starter Courses
(10)

Beverages - Cold
(1)

Breads - Yeast
(10)

Breakfast Pastries
(7)

Dessert - Frostings
(6)

Desserts - Cakes
(13)

Desserts - Cookies and Brownies
(29)

Desserts - Dairy
(42)

Desserts - Pareve
(71)

Desserts - Pies and Tarts
(14)

Desserts - Tea Breads, Quick Breads
(8)

Desserts and Baked Goods - Gluten Free
(18)

Main Dish - Beef
(7)

Main Dish - Dairy
(3)

Main Dish - Eggs and Fritattas
(6)

Main Dish - Fish
(11)

Main Dish - Poultry
(14)

Main Dish - Vegetarian and Vegan
(9)

Salads - Dressing
(8)

Salads - Fruit
(4)

Salads - Grains & Legumes
(7)

Salads - Green
(1)

Salads - Pasta and Rice
(10)

Salads - Potatoes and Eggs
(5)

Salads - Vegetable
(15)

Side Dishes - Kugels and Souffles
(7)

Side Dishes - Potatoes and Vegetables
(17)

Side Dishes - Rice, Grains and Pasta
(7)

Soups, Stews and Cholent
(9)
Special Considerations

Dairy-Free Recipes
(230)

Gluten-Free Recipes
(134)

High Fiber Recipes
(18)

Low-fat Recipes
(11)

Nut-Free Desserts Recipes
(48)

Vegan Recipes
(101)

Vegetarian Recipes
(207)
Holidays

Rosh Hashana Recipes
(23)

Yom Kippur Recipes
(3)

Sukkot Recipes
(26)

Simchat Torah Recipes
(9)

Chanukah Recipes
(20)

Tu B'shevat Recipes
(16)

Purim Recipes
(9)

Passover Recipes
(44)

Lag Ba'omer Recipes
(6)

Shavuot Recipes
(24)

Shabbat Recipes
(34)
Cookbook Library

New Releases

Jewish Classics

Other Favorites
Kitchen Gadgets

Essentials

Small Appliances
Chef Of The Week

Barbara Williamson
Congratulations to our chef of the week.