Funfetti Cake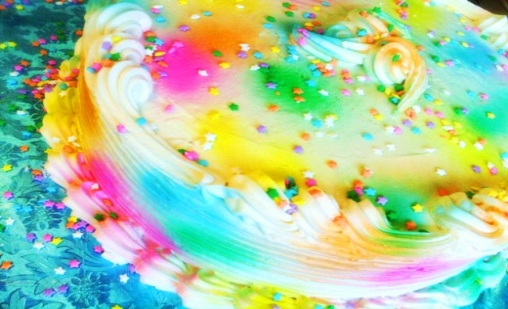 Part of me is procrastinating. I should be working on Thanksgiving recipes. Only one glitch; fresh turkeys haven't arrive at the market and mashgiach can't come until this afternoon. I love when the universe supports my decision to do anything but what I ought to be doing.
This past Shabbat was "Dream Shabbat", a menu requested by the undergrad students for their dinner at Hillel UW. In addition to challah, garlic bread, 4 cheese lasagna, Israeli salad and green beans. Talk about a dream, how easy is this? Keeping with the mostly Italian theme, I add "Lentil Soup with Escarole" for the heck of it. Always playing mom and spoiling the fun! That said, I do cave to making the Funfetti Cake.
My initial reaction to the email request is "What the heck it that?" A quick Google search reveals a Pillsbury cake mix; white cake with sprinkles. Thank G-d for Pillsbury being kosher! A little nervous as I don't do mixes very well, I buy 6 boxes and shrug. Baking the cake in 2 x 14" round cake pans, this is going to be a giant cake. I'm not sure I love the artificial scents permeating the air but it turns out light and fluffy.
I make my basic buttercream frosting using a whopping 8 pounds of powdered sugar and 2 pounds of butter. I end up using about 2/3 of it as I stack the layers and swirl the borders with a flourish. I have the Wilton spray on colors in the same colors as the sprinkles baked into the cake. Creating a cake of many colors, I top it all off with more sprinkles. The huge cake, as I move it, feels incredibly light. Expecting more weight, I lift with a heft that almost sends it flying across the kitchen.
Putting the cake on a cart, I wheel it out to the dessert table. It is fun, and I think it is what the kids asked for....but, I have my doubts; it's a mix! Judging from what was left in the kitchen on Sunday, the cake was a big hit. Everyone seems to know about Funfetti but me. Oh well, I still use a Walkman!
Kosher Status:
Dairy
Number of servings:
Main Ingredient(s):
Preparation Time:
01:00
Cooking Time:
00:30
Skill Level:
2

(1 Easy - 5 Hard)

Estimated POINT value:


Ingredients:


Funfetti cake mix by Pillsbury. I used 6 boxes for 2 x 14" layers.
Basic Confectioner's Sugar Frosting Recipe (see archives)
Wilton's Cake Spray on Colors
Sprinkles


Steps:




Recently viewed recipes:



Funfetti Cake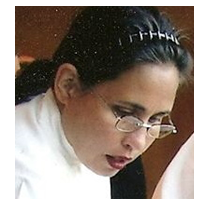 About Leah
Hi! Thank you for stopping by to watch me, Leah, cook kosher. I've been the owner operator of my boutique catering firm in Seattle, Leah's Catering, for the past 14 years.
Read more...
Leah's Blog

Aviva Makes Aliyah and The Sandwich Generation

Happy Chinese New Year! Happy Super Bowl! Go Hawks!

Tradition! Fun with the Seattle International Film Festival

Where Have I Been in My Life???

Making Kosher Salads

Blog Categories
Leah's Kosher Pantry

View what is in the pantry
Recipes

Appetizers
(44)

Appetizers - Dips and Sauces
(11)

Appetizers - Starter Courses
(10)

Beverages - Cold
(1)

Breads - Yeast
(10)

Breakfast Pastries
(7)

Dessert - Frostings
(6)

Desserts - Cakes
(13)

Desserts - Cookies and Brownies
(29)

Desserts - Dairy
(42)

Desserts - Pareve
(71)

Desserts - Pies and Tarts
(14)

Desserts - Tea Breads, Quick Breads
(8)

Desserts and Baked Goods - Gluten Free
(18)

Main Dish - Beef
(7)

Main Dish - Dairy
(3)

Main Dish - Eggs and Fritattas
(6)

Main Dish - Fish
(11)

Main Dish - Poultry
(14)

Main Dish - Vegetarian and Vegan
(9)

Salads - Dressing
(8)

Salads - Fruit
(4)

Salads - Grains & Legumes
(7)

Salads - Green
(1)

Salads - Pasta and Rice
(10)

Salads - Potatoes and Eggs
(5)

Salads - Vegetable
(15)

Side Dishes - Kugels and Souffles
(7)

Side Dishes - Potatoes and Vegetables
(17)

Side Dishes - Rice, Grains and Pasta
(7)

Soups, Stews and Cholent
(9)
Special Considerations

Dairy-Free Recipes
(230)

Gluten-Free Recipes
(134)

High Fiber Recipes
(18)

Low-fat Recipes
(11)

Nut-Free Desserts Recipes
(48)

Vegan Recipes
(101)

Vegetarian Recipes
(207)
Holidays

Rosh Hashana Recipes
(23)

Yom Kippur Recipes
(3)

Sukkot Recipes
(26)

Simchat Torah Recipes
(9)

Chanukah Recipes
(20)

Tu B'shevat Recipes
(16)

Purim Recipes
(9)

Passover Recipes
(44)

Lag Ba'omer Recipes
(6)

Shavuot Recipes
(24)

Shabbat Recipes
(34)
Cookbook Library

New Releases

Jewish Classics

Other Favorites
Kitchen Gadgets

Essentials

Small Appliances
Chef Of The Week

Barbara Williamson
Congratulations to our chef of the week.