Fruit Cocktail Salad a la 1960's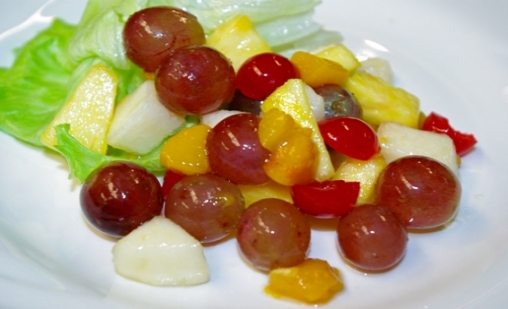 Occupy Wall Street is at the forefront of the news these past 2 months. Everyone is making the connection between the sit-ins of the 1960's and the firmly rooted crowds in cities across the nation. I tell myself repeatedly that this is a food blog, not a soapbox for my political leanings. Besides, while 99% is my piece of the pie, I'm not about to bite the hand I feed. Many of my clients are 1%'ers actively involved in the community, their good works contributing much to the general 100%. No, the 1960's are in my consciousness for 2 other reasons; 1) food, and 2) I wish I had bangs.
I'm having a great time rockin' Shabbat dinners at Hillel. There is the parsha, the weekly Torah portion read, and there is the THEME of Shabbat dinner. A couple of weeks ago, we decide on an "All You Can Eat Buffet". Public school lunches come to mind, the hot cafeteria at the old Woolworth's back in the day. Fried chicken, meatloaf, mashed potatoes, succotash (yep, sufferin' succotash....from the Depression to the 60's), and lemon meringue pie grace the Shabbat table. And, for the salad, I'm groovin' on fruit cocktail.
Running up and down the supermarket aisle, there isn't any fruit cocktail with a hechsher. Ruchie Farkash, rebbitzen of the Eastside Torah Center, is approaching from the opposite end of the aisle. Ruchie! What's up with the fruit cocktail. Admittedly, I haven't tried to buy any in the 19 years since I converted...why should they make it? She says it has something to do with the red cherries so there isn't any. Hmmm.
Undeterred, I calculate that I should be able to figure out how to make fruit cocktail....something like fruit and simple syrup. It isn't peach season and so I buy some canned diced peaches. Other than that, I can come up with pears, grapes, pineapple and maraschino cherries. I'm kind of excited. Growing up with 5 siblings, the odds of being the kid to get a maraschino cherry from the fruit cocktail was slim. Odds improved when my older sisters moved out of the house at the end of the 60's. Now, I can buy JARS of maraschino cherries and liberally sprinkle them into the fruit cocktail. Oh, and key to a fruit cocktail salad is the iceberg lettuce. Usually, I reserve that tasteless, water-logged piece of fiber for tacos. It is a must for this salad.
Waiting in line to check out, I see the most recent issue of "Fall Entertaining" from Cook's Illustrated. I toss it into the cart. Later, taking a break, I browse the publication and happen upon a recipe, REVIVING FRUIT COCKTAIL. Can you believe it....I've got my finger on the pulse of what's happening!
I make family style bowls of iceberg lettuce sprinkled with fruit cocktail. I'm totally jazzed about the whole meal. Reminds me of the meals I grew up with, what school lunch was made of, what sat in warming steam tables at Woolworth's for anyone who had a couple of bucks. The following Monday, I ask Erez, the student mashgiach, how dinner went. Everyone loved everything.....except, they weren't quite sure how to eat the fruit cocktail salad!! Ah, the olden days......
Kosher Status:
Parve
Number of servings:
8 - 10
Main Ingredient(s):
Preparation Time:
00:20
Cooking Time:
00:10
Skill Level:
1 - Easy

(1 Easy - 5 Hard)

Estimated POINT value:


Ingredients:


2 ripe peaches (if not in season, add canned diced peaches at the end)

2 ripe but firm pears

1/2 pineapple, cut into small wedges

1 cup seedless grapes (I left them whole, you can half them if you want)

3 tablespoons brown sugar

1/4 cup lemon juice

dash of vanilla

1/2 cup maraschino cherries, halved


Steps:


| | |
| --- | --- |
| | Prep the fruit as described and put into a bow. Toss with 2 tablespoons of brown sugar. Gently empty the fruit into a colander and place the bowl underneath. Let the fruit drain for 30 minutes. |
| | |
| --- | --- |
| | Set the fruit aside. Put the fruit juice into a small sauce pan. Add the remaining 1 tablespoon of brown sugar and lemon juice. Simmer to reduce the liquid to 1/4 cup. It'll turn to a simple syrup. Remove from the heat and add vanilla. Stir to blend and set aside to cool. |
| | |
| --- | --- |
| | Add the fruit syrup to the fruit and gently toss. Add the marachino cherries just before serving. |


Recently viewed recipes:



Fruit Cocktail Salad a la 1960's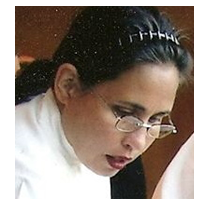 About Leah
Hi! Thank you for stopping by to watch me, Leah, cook kosher. I've been the owner operator of my boutique catering firm in Seattle, Leah's Catering, for the past 14 years.
Read more...
Leah's Blog

Aviva Makes Aliyah and The Sandwich Generation

Happy Chinese New Year! Happy Super Bowl! Go Hawks!

Tradition! Fun with the Seattle International Film Festival

Where Have I Been in My Life???

Making Kosher Salads

Blog Categories
Leah's Kosher Pantry

View what is in the pantry
Recipes

Appetizers
(44)

Appetizers - Dips and Sauces
(11)

Appetizers - Starter Courses
(10)

Beverages - Cold
(1)

Breads - Yeast
(10)

Breakfast Pastries
(7)

Dessert - Frostings
(6)

Desserts - Cakes
(13)

Desserts - Cookies and Brownies
(29)

Desserts - Dairy
(42)

Desserts - Pareve
(71)

Desserts - Pies and Tarts
(14)

Desserts - Tea Breads, Quick Breads
(8)

Desserts and Baked Goods - Gluten Free
(18)

Main Dish - Beef
(7)

Main Dish - Dairy
(3)

Main Dish - Eggs and Fritattas
(6)

Main Dish - Fish
(11)

Main Dish - Poultry
(14)

Main Dish - Vegetarian and Vegan
(9)

Salads - Dressing
(8)

Salads - Fruit
(4)

Salads - Grains & Legumes
(7)

Salads - Green
(1)

Salads - Pasta and Rice
(10)

Salads - Potatoes and Eggs
(5)

Salads - Vegetable
(15)

Side Dishes - Kugels and Souffles
(7)

Side Dishes - Potatoes and Vegetables
(17)

Side Dishes - Rice, Grains and Pasta
(7)

Soups, Stews and Cholent
(9)
Special Considerations

Dairy-Free Recipes
(230)

Gluten-Free Recipes
(134)

High Fiber Recipes
(18)

Low-fat Recipes
(11)

Nut-Free Desserts Recipes
(48)

Vegan Recipes
(101)

Vegetarian Recipes
(207)
Holidays

Rosh Hashana Recipes
(23)

Yom Kippur Recipes
(3)

Sukkot Recipes
(26)

Simchat Torah Recipes
(9)

Chanukah Recipes
(20)

Tu B'shevat Recipes
(16)

Purim Recipes
(9)

Passover Recipes
(44)

Lag Ba'omer Recipes
(6)

Shavuot Recipes
(24)

Shabbat Recipes
(34)
Cookbook Library

New Releases

Jewish Classics

Other Favorites
Kitchen Gadgets

Essentials

Small Appliances
Chef Of The Week

Barbara Williamson
Congratulations to our chef of the week.