Garnet Yam Kugel with Maple Sugar Streusel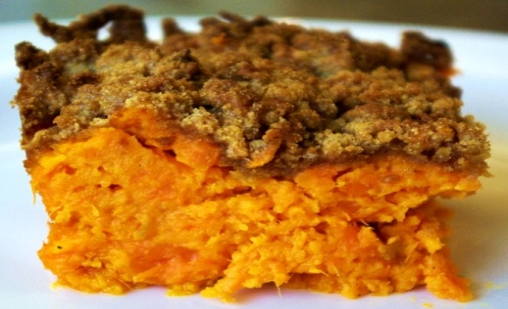 Making Shabbat dinner last week, a full homemade challah to dessert production for a family getting up from shiva, I want to make yams. While making a recipe last month, I knew exactly how I to change it. Friday was the perfect opportunity to try my version. It worked as planned. I love the contrast in color and texture between the base and the streusel topping. And, more importantly, I love the maple flavor.
I admit to being unfamiliar with maple sugar. I did find it with a hechsher and it is expensive! That said, I think it worth the expense. The maple taste and aroma while baking reminds me of crunching fall leaves. I'm on the opposite side of the country from maple syrup production. Doesn't stop me from seeing lumberjack plaid, heavy woolen socks in boots.....Martha Stewart feeding the birds.
Raving about this recipe to someone yesterday, they asked, with a certain amount of sarcasm, if I'd manage to get it posted before Thanksgiving. Ha! I missed it for Sukkot. I'm right on time for Thanksgiving!...even if you eat the traditional dinner on Friday.
Kosher Status:
Parve
Number of servings:
12 - 16 servings
Main Ingredient(s):
Yams - Red Garnet
Preparation Time:
00:30
Cooking Time:
00:50
Skill Level:
2

(1 Easy - 5 Hard)

Estimated POINT value:


Ingredients:


3 pounds of red garnet yams, peeled and cut into chunks

1/4 cup maple syrup

1/4 cup margarine

1 tablespoon apple cider vinegar

1 teaspoon salt

1/2 teaspoon pepper

3 eggs, slightly beaten (optional but makes a lighter kugel)
Streusel Topping:
1 cup of flour

1/2 cup maple sugar

1/3 cup firmly packed brown sugar

3/4 teaspoon cinnamon

6 tablespoons margarine


Steps:


Peel the yams and rinse them. Using a hand held grater, grate one yam until you have about 1/2 cup of medium shreds. Set aside.

Cut the remaining yams into 1" chunks and place into a 4 quart sauce pan. Add water to just cover. Bring to a boil and reduce the heat to medium. Cook until just fork tender.

Drain the water from the cooked yams.
Mash the yams. Add the remaining ingredients and mash to blend.

Preheat the oven to 350'.
| | |
| --- | --- |
| | Make the streusel topping by combining the dry ingredients in a bowl. Add the grated yams. Add the melted butter and toss to form a light crumb. |
| | |
| --- | --- |
| | Grease a 9" x 13" baking dish. Add the mashed yams and spread evenly. |
| | |
| --- | --- |
| | Sprinkle the streusel over the top of the mashed yams. |
| | |
| --- | --- |
| | Bake until golden brown and the center is set. Cool slightly before cutting and serving. |


Recently viewed recipes:



Garnet Yam Kugel with Maple Sugar Streusel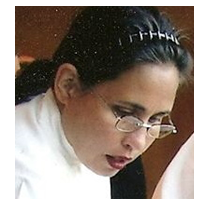 About Leah
Hi! Thank you for stopping by to watch me, Leah, cook kosher. I've been the owner operator of my boutique catering firm in Seattle, Leah's Catering, for the past 14 years.
Read more...
Leah's Blog

Aviva Makes Aliyah and The Sandwich Generation

Happy Chinese New Year! Happy Super Bowl! Go Hawks!

Tradition! Fun with the Seattle International Film Festival

Where Have I Been in My Life???

Making Kosher Salads

Blog Categories
Leah's Kosher Pantry

View what is in the pantry
Recipes

Appetizers
(44)

Appetizers - Dips and Sauces
(11)

Appetizers - Starter Courses
(10)

Beverages - Cold
(1)

Breads - Yeast
(10)

Breakfast Pastries
(7)

Dessert - Frostings
(6)

Desserts - Cakes
(13)

Desserts - Cookies and Brownies
(29)

Desserts - Dairy
(42)

Desserts - Pareve
(71)

Desserts - Pies and Tarts
(14)

Desserts - Tea Breads, Quick Breads
(8)

Desserts and Baked Goods - Gluten Free
(18)

Main Dish - Beef
(7)

Main Dish - Dairy
(3)

Main Dish - Eggs and Fritattas
(6)

Main Dish - Fish
(11)

Main Dish - Poultry
(14)

Main Dish - Vegetarian and Vegan
(9)

Salads - Dressing
(8)

Salads - Fruit
(4)

Salads - Grains & Legumes
(7)

Salads - Green
(1)

Salads - Pasta and Rice
(10)

Salads - Potatoes and Eggs
(5)

Salads - Vegetable
(15)

Side Dishes - Kugels and Souffles
(7)

Side Dishes - Potatoes and Vegetables
(17)

Side Dishes - Rice, Grains and Pasta
(7)

Soups, Stews and Cholent
(9)
Special Considerations

Dairy-Free Recipes
(230)

Gluten-Free Recipes
(134)

High Fiber Recipes
(18)

Low-fat Recipes
(11)

Nut-Free Desserts Recipes
(48)

Vegan Recipes
(101)

Vegetarian Recipes
(207)
Holidays

Rosh Hashana Recipes
(23)

Yom Kippur Recipes
(3)

Sukkot Recipes
(26)

Simchat Torah Recipes
(9)

Chanukah Recipes
(20)

Tu B'shevat Recipes
(16)

Purim Recipes
(9)

Passover Recipes
(44)

Lag Ba'omer Recipes
(6)

Shavuot Recipes
(24)

Shabbat Recipes
(34)
Cookbook Library

New Releases

Jewish Classics

Other Favorites
Kitchen Gadgets

Essentials

Small Appliances
Chef Of The Week

Barbara Williamson
Congratulations to our chef of the week.