Futomaki - American Style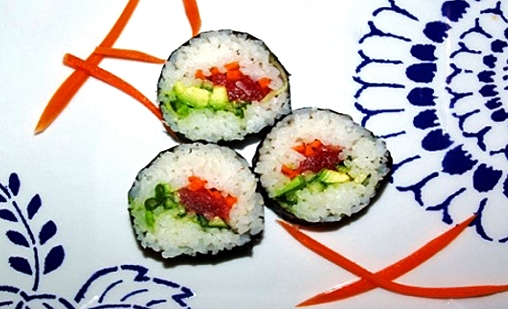 It's been a tough couple of weeks catering; 14 days non-stop. We've served up all manner of foods to great reviews. Only one tough customer remains, my daughter Aviva. She complains that I make the same 2 things; roasted chicken and steak. Yeah, easy stuff! Feeling guilty today, I gather up ingredients from work to make sushi at home. I hit QFC for some fresh tuna.
Sushi is easy to make. It's also easy to buy kosher at QFC. Growing up where I did, the Japanese influence was neck and neck with Chinese food. The now so-called "International District", or ID, used to be called Chinatown. However, the north side of Jackson Street is actually Japantown. Closer to Rainier Avenue is now Little Saigon, a hint of Thailand in the middle. I know all of this as my mom lives not too far away. I marvel every time I drive through the 'hood. New influences are advertised by the signage, many I can't decipher at all.
Anyway, back in the day, in high school, my girlfriends would pile into a car and head to the ID for sushi, futomaki rolls to be exact. I don't know what futomaki means; maybe something like "Big Mac" or "the Whopper".....it is the biggest roll I'd ever seen. Most kosher roll varieties have avocado, cucumber, fake crab, and such. I remember the futomaki as having some sweetened egg, some long thin kombu, thin shreds of carrot, and cucumber. Tonight, I roll up avocado, cucumber, carrot and tuna.
I know that sushi and sashimi making is an ancient and respected art. Years ago, I hired a Japanese master chef to come and make hundreds of pieces for an event. I had to prep ingredients before he came. Apparently, the sweetened egg is usually made in a special rectangular pan. I don't have such a thing and a quarter sheet cake pan had to do. I think the chef cringed but hey, who'll know? He made beautiful sushi.
Years ago while in design school, we are told that we have to live, breathe and sleep fashion. I thought that excessive. Apparently, passion is doing just that. I debate if really, I mean really.....does our dinner have to be exposed to a website getting hits from around the world. Yes, I live, breathe and EAT food.....sleep, I'll get to it soon enough!
Kosher Status:
Parve
Number of servings:
Varies, see ingredients
Main Ingredient(s):
Rice - Short Grain White
Preparation Time:
00:20
Cooking Time:
00:30
Skill Level:
1 - Easy

(1 Easy - 5 Hard)

Estimated POINT value:


Ingredients:


1/2 cup raw short grain rice per person eating

sweetened rice wine vinegar

1 - 2 Nori sheets per person

Ingredients of choice for filling. I've used raw tuna, avocado, cucumber, and carrot. Vegetables should be very thinly sliced.


Steps:


In a rice cooker or small sauce pan, cook the rice as per directions for water lines. If using a pot, water should be above the rice about an inch. Use the first joint of your middle finger for a guide.

Remove the rice from the pot after cooking. It is best to empty it to a flat large surface. Fan to cool. Add seasoned rice vinegar to the rice and gently toss. Flavor it to your taste but not too sweet.
| | |
| --- | --- |
| | Prep vegetables. If you have a mandolin, use it to make very fine shreds of carrot and cucumber. I soak my carrots to soften them. Peel and slice the avocado. |
| | |
| --- | --- |
| | Thinly slice the tuna. |
| | |
| --- | --- |
| | Lay the bamboo sushi mat onto the work surface. Lay a piece of nori onto the mat. Add about 3/4 cup rice and spread over the middle area of the nori sheet. Layer the filling ingredients on top of the rice. |
| | |
| --- | --- |
| | Working from the edge closest to you, roll up the sushi. Tuck the vegetables into the rice as you firmly roll the mat. The rice should meet. Roll the sushi closed. The nori should overlap. If it doesn't want to stick, moisten a bit with water. |
| | |
| --- | --- |
| | Firmly give the roll even pressure to smooth the log. |
| | |
| --- | --- |
| | Slice the roll and serve with wasabi and soy sauce, pickled ginger. |


Recently viewed recipes:



Futomaki - American Style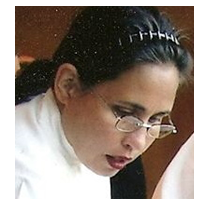 About Leah
Hi! Thank you for stopping by to watch me, Leah, cook kosher. I've been the owner operator of my boutique catering firm in Seattle, Leah's Catering, for the past 14 years.
Read more...
Leah's Blog

Aviva Makes Aliyah and The Sandwich Generation

Happy Chinese New Year! Happy Super Bowl! Go Hawks!

Tradition! Fun with the Seattle International Film Festival

Where Have I Been in My Life???

Making Kosher Salads

Blog Categories
Leah's Kosher Pantry

View what is in the pantry
Recipes

Appetizers
(44)

Appetizers - Dips and Sauces
(11)

Appetizers - Starter Courses
(10)

Beverages - Cold
(1)

Breads - Yeast
(10)

Breakfast Pastries
(7)

Dessert - Frostings
(6)

Desserts - Cakes
(13)

Desserts - Cookies and Brownies
(29)

Desserts - Dairy
(42)

Desserts - Pareve
(71)

Desserts - Pies and Tarts
(14)

Desserts - Tea Breads, Quick Breads
(8)

Desserts and Baked Goods - Gluten Free
(18)

Main Dish - Beef
(7)

Main Dish - Dairy
(3)

Main Dish - Eggs and Fritattas
(6)

Main Dish - Fish
(11)

Main Dish - Poultry
(14)

Main Dish - Vegetarian and Vegan
(9)

Salads - Dressing
(8)

Salads - Fruit
(4)

Salads - Grains & Legumes
(7)

Salads - Green
(1)

Salads - Pasta and Rice
(10)

Salads - Potatoes and Eggs
(5)

Salads - Vegetable
(15)

Side Dishes - Kugels and Souffles
(7)

Side Dishes - Potatoes and Vegetables
(17)

Side Dishes - Rice, Grains and Pasta
(7)

Soups, Stews and Cholent
(9)
Special Considerations

Dairy-Free Recipes
(230)

Gluten-Free Recipes
(134)

High Fiber Recipes
(18)

Low-fat Recipes
(11)

Nut-Free Desserts Recipes
(48)

Vegan Recipes
(101)

Vegetarian Recipes
(207)
Holidays

Rosh Hashana Recipes
(23)

Yom Kippur Recipes
(3)

Sukkot Recipes
(26)

Simchat Torah Recipes
(9)

Chanukah Recipes
(20)

Tu B'shevat Recipes
(16)

Purim Recipes
(9)

Passover Recipes
(44)

Lag Ba'omer Recipes
(6)

Shavuot Recipes
(24)

Shabbat Recipes
(34)
Cookbook Library

New Releases

Jewish Classics

Other Favorites
Kitchen Gadgets

Essentials

Small Appliances
Chef Of The Week

Barbara Williamson
Congratulations to our chef of the week.