Chattanooga Beets with Pomegranate Pips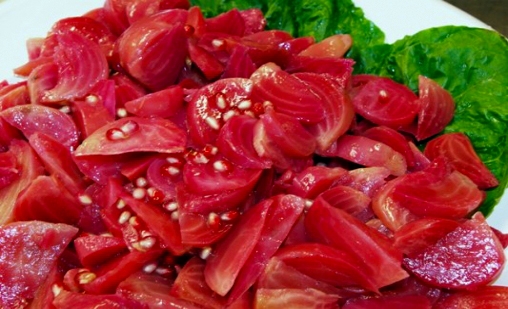 Shabbat dinner this week at Hillel is inspired by "Breast Cancer Awareness" month. Dinner is all things pink: cream of tomato soup, spinach salad with strawberries, pink salmon, roasted pink new potatoes...and, Chattanooga beets. Originally, I plan to use red and golden beets and hope for some sort of compromise of color. Whole Foods sells golden beets in bulk. While picking up a few, I spy "Chattanooga Beets". They are a more vibrant red than standard beets with a hint of fuchsia. I ask the produce person what's up with them.
He graciously cuts one open and it is pink and white stripes! PERFECT. Apparently, an heirloom beet out of Tennessee, this Chattanooga gem is going to tie my dinner together perfectly. I tend towards passionate outbursts when I think something rocks. Resisting the urge to do some sort of end zone victory dance, I quietly fill my bag of beets.
I opt to boil the beets instead of oven roasting them. As I peel and slice, I see that the pinky orange and white stripes are nicely defined. I slice from top to bottom to maintain the pattern. Benoit has to endure my repeated entreaties to "check this out!" Tasting the beets, I find them a tad bitter. Nothing a little sugar won't cure. I decide to use my dressing of canola oil and rice wine vinegar. Simple, sweet it brings up a nice shine and enhances the flavor. I have a pomegranate in the fridge. With an eye on the clock, I decide I can seed it and sprinkle the pips onto the beets. I'm all happy!
While finishing up dinner, various people come into the kitchen. I have to show off the beets. Pulling the bowl from the fridge, I see the color have bled and formed the most beautiful PINK. The stripes are more subtle but the color is fab; perfect for our "Pink Shabbat" theme.
So here I am on Sunday morning, typing this up before I run back to Hillel to prepare for a dedication they are having later. I can't wait to show you the pink beets!
Kosher Status:
Parve
Number of servings:
8 - 12
Main Ingredient(s):
Beets
Preparation Time:
00:20
Cooking Time:
00:40
Skill Level:
1 - Easy

(1 Easy - 5 Hard)

Estimated POINT value:


Ingredients:


2 pounds Chattanooga Beets

1 pomegranate, seeds removed

1/4 cup canola oil

1/4 cup sweetened rice wine vinegar

1 tablespoon sugar (optional)

1/2 teaspoon salt

1/4 teaspoon pepper


Steps:


| | |
| --- | --- |
| | Wash the beets and place them in a pot. Cover with cold water at least 2" above the beets. Boil until just tender. A bamboo skewer, when inserted, will glide in with only a tad of pressure and the beet will fall off with a gentle shake. |
| | |
| --- | --- |
| | When the beets are cooked, carefully empty the pot into a colander that is place in the sink. Run cold water over the beets. |
| | |
| --- | --- |
| | Peel the beets while running a little cold water over the beet as you work. The skin should slide away but you can use a vegetable peeler or paring knife if you need help. |
| | |
| --- | --- |
| | Slice the beets into wedges from top to bottom. If you slice across the beet, you'll get a ring pattern. Up and down maintains the striped pattern. Place the beets into a bowl and set aside. |
| | |
| --- | --- |
| | In a small bowl, combine the dressing ingredients and whisk. Pour over the beets, toss. |
| | |
| --- | --- |
| | Peel and seed the pomegranate. Add the pips to the beets, toss. Serve chilled or at room temperature. |


Recently viewed recipes:



Chattanooga Beets with Pomegranate Pips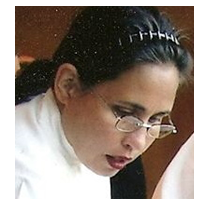 About Leah
Hi! Thank you for stopping by to watch me, Leah, cook kosher. I've been the owner operator of my boutique catering firm in Seattle, Leah's Catering, for the past 14 years.
Read more...
Leah's Blog

Aviva Makes Aliyah and The Sandwich Generation

Happy Chinese New Year! Happy Super Bowl! Go Hawks!

Tradition! Fun with the Seattle International Film Festival

Where Have I Been in My Life???

Making Kosher Salads

Blog Categories
Leah's Kosher Pantry

View what is in the pantry
Recipes

Appetizers
(44)

Appetizers - Dips and Sauces
(11)

Appetizers - Starter Courses
(10)

Beverages - Cold
(1)

Breads - Yeast
(10)

Breakfast Pastries
(7)

Dessert - Frostings
(6)

Desserts - Cakes
(13)

Desserts - Cookies and Brownies
(29)

Desserts - Dairy
(42)

Desserts - Pareve
(71)

Desserts - Pies and Tarts
(14)

Desserts - Tea Breads, Quick Breads
(8)

Desserts and Baked Goods - Gluten Free
(18)

Main Dish - Beef
(7)

Main Dish - Dairy
(3)

Main Dish - Eggs and Fritattas
(6)

Main Dish - Fish
(11)

Main Dish - Poultry
(14)

Main Dish - Vegetarian and Vegan
(9)

Salads - Dressing
(8)

Salads - Fruit
(4)

Salads - Grains & Legumes
(7)

Salads - Green
(1)

Salads - Pasta and Rice
(10)

Salads - Potatoes and Eggs
(5)

Salads - Vegetable
(15)

Side Dishes - Kugels and Souffles
(7)

Side Dishes - Potatoes and Vegetables
(17)

Side Dishes - Rice, Grains and Pasta
(7)

Soups, Stews and Cholent
(9)
Special Considerations

Dairy-Free Recipes
(230)

Gluten-Free Recipes
(134)

High Fiber Recipes
(18)

Low-fat Recipes
(11)

Nut-Free Desserts Recipes
(48)

Vegan Recipes
(101)

Vegetarian Recipes
(207)
Holidays

Rosh Hashana Recipes
(23)

Yom Kippur Recipes
(3)

Sukkot Recipes
(26)

Simchat Torah Recipes
(9)

Chanukah Recipes
(20)

Tu B'shevat Recipes
(16)

Purim Recipes
(9)

Passover Recipes
(44)

Lag Ba'omer Recipes
(6)

Shavuot Recipes
(24)

Shabbat Recipes
(34)
Cookbook Library

New Releases

Jewish Classics

Other Favorites
Kitchen Gadgets

Essentials

Small Appliances
Chef Of The Week

Barbara Williamson
Congratulations to our chef of the week.