Mixed Fruit Challah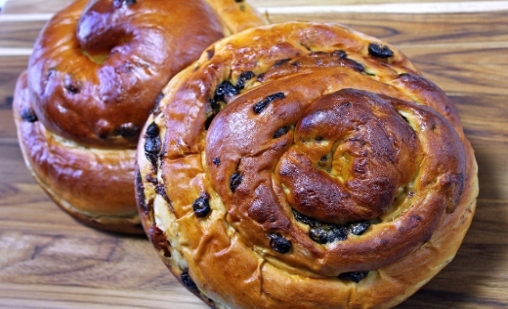 (Note: This was originally posted last year; and nothing has changed ~ it's still my all time favorite challah!)
This is my favorite Rosh Hashana challah; the mixed fruit challah. Back in the days of the bakery, we offer it as fourth place runner up to plain, raisin, whole wheat challah. This particular photo is taken after I have an over zealous, cold turkey desire to make mixed fruit challah for Sukkot. I hadn't made any this year and craving got the best of me. This challah is somewhat over-the-top as my dried fruit inventory is varied and abundant. I toss in dried cranberries, raisins, dates, mango, blueberries, cherries and my favorite slab apricots. A little of this and a lot of that got out of hand quickly.
No matter, I let the crowns rise and bake them when they are almost double in bulk. I didn't get the height I usually get as the fruit weighs the dough down a bit. Who cares? This is premium, can't buy it anywhere challah ~ custom made. Use the classic challah recipe and decide how many loaves you'd like to make. For the entire recipe, you need about 1 1/2 pounds of dried mixed fruit, 1/4 pound of this and that.
Key is to rough chop the bigger pieces of fruit. And you absolutely need to moisten the fruit to put some life back into it. Otherwise, as with the raisin challah, dried fruit will suck the moisture out of the dough and you'll have a very dry challah.
So, I know it is the end of the holiday season but there is no reason not to have this challah during the fall and winter months ahead. Well, there is one reason ~ I eat an entire loaf by myself. YUM!
Kosher Status:
Parve
Number of servings:
makes 4 - 6 loaves depending on the size
Main Ingredient(s):
Preparation Time:
00:30
Cooking Time:
00:30
Skill Level:
2

(1 Easy - 5 Hard)

Estimated POINT value:


Ingredients:


1 recipe of Classic Egg Challah

1 - 2 pounds mixed fruit, rough chop the bigger pieces

Egg wash for the top


Steps:


Make a batch of Classic Egg Challah.

Put your desired fruit into a bowl. Moisten with water and let stand a few minutes.
| | |
| --- | --- |
| | Drain any extra water off the fruit. Add the dough. |
| | |
| --- | --- |
| | Knead dough until fruit is well combined. |
Divide the dough into the number of loaves you want. Shape each piece into a long strand and coil. Place into an oiled pan. Brush with egg wash. Set aside to rise.

Preheat the oven to 350'. Bake about 30 - 35 minutes depending on the size of your loaves. The top should be golden brown. The bottom should have color. And, when the bottom of the loaf is patted, the loaf should sound hollow. Mine would have retained its height if I had baked it another 5 minutes or so. Oh well, tasted great just the same.


Recently viewed recipes:



Mixed Fruit Challah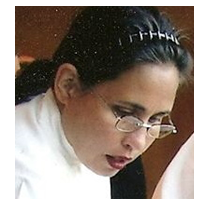 About Leah
Hi! Thank you for stopping by to watch me, Leah, cook kosher. I've been the owner operator of my boutique catering firm in Seattle, Leah's Catering, for the past 14 years.
Read more...
Leah's Blog

Aviva Makes Aliyah and The Sandwich Generation

Happy Chinese New Year! Happy Super Bowl! Go Hawks!

Tradition! Fun with the Seattle International Film Festival

Where Have I Been in My Life???

Making Kosher Salads

Blog Categories
Leah's Kosher Pantry

View what is in the pantry
Recipes

Appetizers
(44)

Appetizers - Dips and Sauces
(11)

Appetizers - Starter Courses
(10)

Beverages - Cold
(1)

Breads - Yeast
(10)

Breakfast Pastries
(7)

Dessert - Frostings
(6)

Desserts - Cakes
(13)

Desserts - Cookies and Brownies
(29)

Desserts - Dairy
(42)

Desserts - Pareve
(71)

Desserts - Pies and Tarts
(14)

Desserts - Tea Breads, Quick Breads
(8)

Desserts and Baked Goods - Gluten Free
(18)

Main Dish - Beef
(7)

Main Dish - Dairy
(3)

Main Dish - Eggs and Fritattas
(6)

Main Dish - Fish
(11)

Main Dish - Poultry
(14)

Main Dish - Vegetarian and Vegan
(9)

Salads - Dressing
(8)

Salads - Fruit
(4)

Salads - Grains & Legumes
(7)

Salads - Green
(1)

Salads - Pasta and Rice
(10)

Salads - Potatoes and Eggs
(5)

Salads - Vegetable
(15)

Side Dishes - Kugels and Souffles
(7)

Side Dishes - Potatoes and Vegetables
(17)

Side Dishes - Rice, Grains and Pasta
(7)

Soups, Stews and Cholent
(9)
Special Considerations

Dairy-Free Recipes
(230)

Gluten-Free Recipes
(134)

High Fiber Recipes
(18)

Low-fat Recipes
(11)

Nut-Free Desserts Recipes
(48)

Vegan Recipes
(101)

Vegetarian Recipes
(207)
Holidays

Rosh Hashana Recipes
(23)

Yom Kippur Recipes
(3)

Sukkot Recipes
(26)

Simchat Torah Recipes
(9)

Chanukah Recipes
(20)

Tu B'shevat Recipes
(16)

Purim Recipes
(9)

Passover Recipes
(44)

Lag Ba'omer Recipes
(6)

Shavuot Recipes
(24)

Shabbat Recipes
(34)
Cookbook Library

New Releases

Jewish Classics

Other Favorites
Kitchen Gadgets

Essentials

Small Appliances
Chef Of The Week

Barbara Williamson
Congratulations to our chef of the week.