Pumpkin Borekas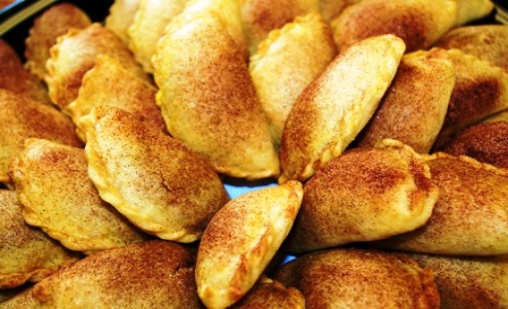 I love Sukkot. It is like Thanksgiving a month early....and, for 8 days. For me, that means all things apple and all things pumpkin. Catering a couple of sukkah parties is a opportunity to make pumpkin borekas. Delicate pastries, it's like eating hand held pumpkin pie. A Sephardic treat, I'm not sure who's recipe I pirated. It may simply be the recipe for pumpkin pie on the Libby can. Recently thumbing through Sephardic cookbooks, I see that some recipes have feta cheese. For a second, I doubt my authenticity. I NEVER doubt the taste.
I use the same boreka dough recipe for all my borekas; potato/feta, eggplant and pumpkin. Look for the dough in the potato/feta recipe. I apologize for the hassle but I'm beat. I've been cooking and baking like a crazy woman for weeks....for hundreds.
Working with pumpkin filling is a little tricky. You have to handle the boreka very carefully or the filling oozes into the edge. I often crimp the edges while the boreka is still on the table, bringing the edges straight up together. Then, I carefully lift it off the table and form the rope edge. I've made so many thousand borekas that "it's easy" rolls off my tongue. It is easy with a little practice.
Make lots of these at a time. Nobody can eat just one.......
Kosher Status:
Parve
Number of servings:
makes 48 pieces
Main Ingredient(s):
Preparation Time:
01:00
Cooking Time:
00:20
Skill Level:
3

(1 Easy - 5 Hard)

Estimated POINT value:


Ingredients:


1 29 oz. can pumpkin

1 egg

1 3/4 teaspoon cinnamon

1/2 teaspoon cloves

1 teaspoon ground ginger

3/4 teaspoon salt

3/4 cup sugar

1/2 cup brown sugar

2 - 3 tablespoons flour

1 teaspoon xanthan gum (helps stabilize the filling)
For the topping:
2 beaten eggs for brushing the tops

Cinnamon/Sugar for dusting the tops (3 tablespoons cinnamon mixed with 6 tablespoons sugar.


Steps:


Make the boreka dough as per the Boreka recipe. This filling recipe makes 48 pieces so make sure you make enough dough for 48 pieces.

Mix all the filling ingredients in a bowl.
Form walnut sized balls of dough. Flatten them onto the table top in a wide oblong shape. Scoop filling (should be a bit larger than the dough ball amount) and place it on flattened dough.

Form the rope edge (see Potato Borekas for instructions).
| | |
| --- | --- |
| | Place the boreka onto a parchment lined baking sheet. Brush with beaten egg and sprinkle with cinnamon sugar. |
Preheat the oven to 350'.

Bake until golden brown, about 12 - 15 minutes. Set aside to cool. Best served at room temperature. Wrap in foil if you must cover them. Plastic will make them soggy (so don't do it!).


Recently viewed recipes:



Pumpkin Borekas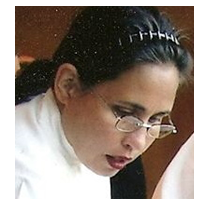 About Leah
Hi! Thank you for stopping by to watch me, Leah, cook kosher. I've been the owner operator of my boutique catering firm in Seattle, Leah's Catering, for the past 14 years.
Read more...
Leah's Blog

Aviva Makes Aliyah and The Sandwich Generation

Happy Chinese New Year! Happy Super Bowl! Go Hawks!

Tradition! Fun with the Seattle International Film Festival

Where Have I Been in My Life???

Making Kosher Salads

Blog Categories
Leah's Kosher Pantry

View what is in the pantry
Recipes

Appetizers
(44)

Appetizers - Dips and Sauces
(11)

Appetizers - Starter Courses
(10)

Beverages - Cold
(1)

Breads - Yeast
(10)

Breakfast Pastries
(7)

Dessert - Frostings
(6)

Desserts - Cakes
(13)

Desserts - Cookies and Brownies
(29)

Desserts - Dairy
(42)

Desserts - Pareve
(71)

Desserts - Pies and Tarts
(14)

Desserts - Tea Breads, Quick Breads
(8)

Desserts and Baked Goods - Gluten Free
(18)

Main Dish - Beef
(7)

Main Dish - Dairy
(3)

Main Dish - Eggs and Fritattas
(6)

Main Dish - Fish
(11)

Main Dish - Poultry
(14)

Main Dish - Vegetarian and Vegan
(9)

Salads - Dressing
(8)

Salads - Fruit
(4)

Salads - Grains & Legumes
(7)

Salads - Green
(1)

Salads - Pasta and Rice
(10)

Salads - Potatoes and Eggs
(5)

Salads - Vegetable
(15)

Side Dishes - Kugels and Souffles
(7)

Side Dishes - Potatoes and Vegetables
(17)

Side Dishes - Rice, Grains and Pasta
(7)

Soups, Stews and Cholent
(9)
Special Considerations

Dairy-Free Recipes
(230)

Gluten-Free Recipes
(134)

High Fiber Recipes
(18)

Low-fat Recipes
(11)

Nut-Free Desserts Recipes
(48)

Vegan Recipes
(101)

Vegetarian Recipes
(207)
Holidays

Rosh Hashana Recipes
(23)

Yom Kippur Recipes
(3)

Sukkot Recipes
(26)

Simchat Torah Recipes
(9)

Chanukah Recipes
(20)

Tu B'shevat Recipes
(16)

Purim Recipes
(9)

Passover Recipes
(44)

Lag Ba'omer Recipes
(6)

Shavuot Recipes
(24)

Shabbat Recipes
(34)
Cookbook Library

New Releases

Jewish Classics

Other Favorites
Kitchen Gadgets

Essentials

Small Appliances
Chef Of The Week

Barbara Williamson
Congratulations to our chef of the week.