Fig and Raspberry Tart with Sesame Almond Crust

This is another favorite of mine from "Baking with Julia" by Dorie Greenspan. Called a "raspberry-fig crostata' in the book, a crostata is a tart in Italian. With Amanda Knox's return to Seattle tonight, we are tip-toeing around all things Italian....let's call it a tart.
Making this around holiday time for years, it wasn't until recently that I actually ate a piece. Expensive ingredients and invariably short on time, there is never an extra tart laying around to try. How did I know it tastes great? How could it not; plus it is fun to make. Recipients, those lucky enough to catch me in a willing mood, let me know what a tasty treat this recipe makes.
Sesame and almond make me think Jewish, Sephardic in particular. Figs, not terribly popular in Seattle, inspire thoughts of exotic Mediterranean destinations. Raspberries, with their strict halachic handling, require cooking or mashing to render any unfortunate bug extinct, or at least, unrecognizable by name. This recipe fits the bill on so many levels. Plus, it is a great addition to the sukkah.
The crust doesn't handle the same as my basic pie dough. It is more of a cookie shortbread and likes to fall apart. The good news is that you can just press it back together. Pretty forgiving. The filling is simple but do taste it after cooking on the stove top. You want the perfect balance of sweet with a tang of lemon. A tiny pinch of salt anchors the flavors. Close your eyes and savor the taste. A few quiet moments in the sukkah with a cup of tea is wonderful, too.
Anyway, Mrs. Benzaquen, I hope you'll give this a try. I think of you whenever I make this and try not to feel guilty.
Kosher Status:
Parve
Number of servings:
12 - 16, 11" tart pan
Main Ingredient(s):
Preparation Time:
00:50
Cooking Time:
00:30
Skill Level:
2

(1 Easy - 5 Hard)

Estimated POINT value:


Ingredients:


For the sesame almond crust:
2 eggs

1 teaspoon vanilla extract

3/4 cup un-blanched almonds, lightly toasted and cooled

1/2 cup sesame seeds, lightly toasted and cooled

1/2 cup sugar

2 cups all purpose flour

1/4 teaspoon cinnamon

1/4 teaspoon salt

1/3 teaspoon lemon zest

1/2 pound (1 cup or 2 sticks) cold unsalted margarine, cut into cubes (or butter)
For the filling:
1 pound fresh figs, quartered

1 pound fresh or frozen raspberries

2/3 cup sugar

1/3 cup light brown sugar

2 tablespoons flour

1 teaspoon grated lemon zest

1 tablespoon unsalted margarine (or butter)

fresh lemon juice to taste
1 egg beaten with 1 tablespoon cold water for egg wash
Coarse or turbinado sugar for sprinkling on top


Steps:


| | |
| --- | --- |
| | To make the crust, beat the eggs with vanilla in a small bowl and set aside. |
| | |
| --- | --- |
| | Put the almonds, sesame seeds, and 1 tablespoon of the sugar in the bowl of a food processor. Pulse until the almonds are very finely chopped. Don't make a paste. Note that my photos are for making multiple tarts. |
Empty the mixture into the bowl of a mixer with a paddle attachment. Add the remaining sugar, flour, cinnamon, salt and zest. Mix on low speed just until combined.

Add the margarine or butter and mix just until the mixture looks like fine crumbs. Note: I think that using a hand held mixer will yield better texture.
| | |
| --- | --- |
| | Add eggs and mix just until the mixture is uniformly moistened and forms curds. Turn out the door onto a lightly floured surface. Knead a few times just to blend the ingredients. |
| | |
| --- | --- |
| | Shape into uneven halves, wrap in plastic and refrigerate while you make the filling. |
| | |
| --- | --- |
| | Prep the fruit. |
| | |
| --- | --- |
| | Put the raspberries and 1/2 the figs into a sauce pan. Add the sugars, flour, lemon zest, and margarine. Bring the mixture to a soft boil over medium heat, stirring constantly so you don't burn the fruit. The fruit will release their juices. |
| | |
| --- | --- |
| | Add the remaining fruit to the cooked mixture. Set aside to cool. |
| | |
| --- | --- |
| | Roll the larger piece of dough into a circle about 1 1/2" bigger around than the bottom of the tart pan. I roll between parchment paper so I can lift the crust. Plop it over the tart shell and most likely it will break a bit. No matter, press into place. |
| | |
| --- | --- |
| | Press the crust into the pan making the top edge smooth with the top edge of the pan. |
| | |
| --- | --- |
| | Fill the crust with the fruit filling. Roll the remaining crust and cut into strips. Form the lattice top by laying strips one direction and another set of strips at a 45' angle to the first set of strips. |
| | |
| --- | --- |
| | When the lattice top is done, brush with egg wash. Sprinkle with the coarse sugar if desired. |
Place the tart onto a baking sheet. Bake at 350' for about 45 minutes until the crust is golden brown and the filling is bubbly.

Remove the tart from the pan after about 10 minutes of cooling. Cool completely and serve at room temperature.


Recently viewed recipes:



Fig and Raspberry Tart with Sesame Almond Crust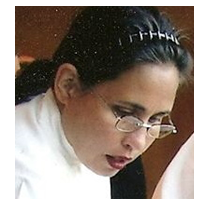 About Leah
Hi! Thank you for stopping by to watch me, Leah, cook kosher. I've been the owner operator of my boutique catering firm in Seattle, Leah's Catering, for the past 14 years.
Read more...
Leah's Blog

Aviva Makes Aliyah and The Sandwich Generation

Happy Chinese New Year! Happy Super Bowl! Go Hawks!

Tradition! Fun with the Seattle International Film Festival

Where Have I Been in My Life???

Making Kosher Salads

Blog Categories
Leah's Kosher Pantry

View what is in the pantry
Recipes

Appetizers
(44)

Appetizers - Dips and Sauces
(11)

Appetizers - Starter Courses
(10)

Beverages - Cold
(1)

Breads - Yeast
(10)

Breakfast Pastries
(7)

Dessert - Frostings
(6)

Desserts - Cakes
(13)

Desserts - Cookies and Brownies
(29)

Desserts - Dairy
(42)

Desserts - Pareve
(71)

Desserts - Pies and Tarts
(14)

Desserts - Tea Breads, Quick Breads
(8)

Desserts and Baked Goods - Gluten Free
(18)

Main Dish - Beef
(7)

Main Dish - Dairy
(3)

Main Dish - Eggs and Fritattas
(6)

Main Dish - Fish
(11)

Main Dish - Poultry
(14)

Main Dish - Vegetarian and Vegan
(9)

Salads - Dressing
(8)

Salads - Fruit
(4)

Salads - Grains & Legumes
(7)

Salads - Green
(1)

Salads - Pasta and Rice
(10)

Salads - Potatoes and Eggs
(5)

Salads - Vegetable
(15)

Side Dishes - Kugels and Souffles
(7)

Side Dishes - Potatoes and Vegetables
(17)

Side Dishes - Rice, Grains and Pasta
(7)

Soups, Stews and Cholent
(9)
Special Considerations

Dairy-Free Recipes
(230)

Gluten-Free Recipes
(134)

High Fiber Recipes
(18)

Low-fat Recipes
(11)

Nut-Free Desserts Recipes
(48)

Vegan Recipes
(101)

Vegetarian Recipes
(207)
Holidays

Rosh Hashana Recipes
(23)

Yom Kippur Recipes
(3)

Sukkot Recipes
(26)

Simchat Torah Recipes
(9)

Chanukah Recipes
(20)

Tu B'shevat Recipes
(16)

Purim Recipes
(9)

Passover Recipes
(44)

Lag Ba'omer Recipes
(6)

Shavuot Recipes
(24)

Shabbat Recipes
(34)
Cookbook Library

New Releases

Jewish Classics

Other Favorites
Kitchen Gadgets

Essentials

Small Appliances
Chef Of The Week

Barbara Williamson
Congratulations to our chef of the week.