Deluxe Honey Cake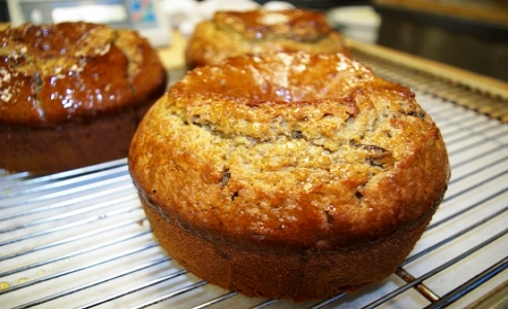 I haven't a clue where this recipe originates. I've been making it for nearly 20 years and in huge quantities since I started catering and baking. I love making this honey cake because when I say deluxe, I mean deluxe. Even back in the bakery days, I would squeeze my own oranges, brew some Starbucks coffee, and run to the liquor store for Canadian whiskey. Between these touches and the price of honey, this honey cake can't help but taste fabulous.
I just wrote the blurb about chocolate honey cake. Ditto on the deluxe honey cake....read that entry and we're good. Isn't funny a second time! What is worth repeating is the need to follow the recipe carefully. It is simple to make but you need to crawl inside the recipe and intuit the romance necessary to make this moist, fragrant honey cake.
These honey cakes remind me of Rabbi Levitin's annual order. Last year I comped the good Rav a few bags full sending him off looking not unlike the guy in the red suit trimmed in white fur. The Rabbi is a purist, although a chocoholic, and he prefers the deluxe honey cake to accompany his best wishes for a sweet new year. Note to self: don't forget the Rabbi ~ I'm not baking this year for the community. This means I'll be in hiding with Elvis and Salmon Rushdie!
On a serious note, I apologize to everyone for not baking this year. I remember the days with orders stretching the block in front of the shop, only letting a few customers in the store at a time. I also remember staying up for 3 days straight, day and night in the same spot! Those days are over but if you know where to eat this year, you'll get to enjoy my challah, honey cake and apple crown cakes. Hint: Kavana and Hillel UW!
Wishing everyone a healthy, prosperous and sweet new year! XO, Leah
Kosher Status:
Parve
Number of servings:
10" tube pan, 16 - 20 servings
Main Ingredient(s):
Honey
Preparation Time:
00:20
Cooking Time:
00:50
Skill Level:
1 - Easy

(1 Easy - 5 Hard)

Estimated POINT value:


Ingredients:


1 cup canola oil

4 eggs

2/3 cup sugar

1 1/4 cup honey + 1/2 cup for brushing the top after baking

1/4 teaspoon orange extract

1/4 cup orange juice

3 tablespoons whiskey

3 2/3 cups flour

1 3/4 teaspoons baking powder

1/2 teaspoon salt

1 1/4 teaspoons baking soda

1 1/4 teaspoons ground cinnamon

3/4 teaspoon ground ginger

3/4 teaspoons ground cloves

3/4 cup strongly brewed coffee

1 1/4 cup raisins


Steps:


Preheat the oven to 325'.

Assemble all the ingredients to make sure you have everything on the list.
| | |
| --- | --- |
| | Combine all the wet ingredients in a mixing bowl. Beat on medium speed until the batter is smooth. |
| | |
| --- | --- |
| | In another bowl, combine the dry ingredients and whisk to blend well. |
| | |
| --- | --- |
| | Measure the raisins in another bowl. Take a handful of the flour mixture and toss on the raisins. This will prevent them from sinking to the bottom of the cake during baking. |
Add the dry ingredients to the wet mixture in 4ths alternating with the coffee in 3rds. When all the ingredients are combined, beat a final minute until smooth.

Stir in the raisins.
| | |
| --- | --- |
| | Prep the pan by removing the center of the tube pan. Spray this center piece with non-stick spray. Don't spray the pan. Outline the bottom of the pan on a piece of parchment. Cut out the circle and place in the bottom of the pan. Put the center tube into the pan. Spoon the batter into the cake pan. |
| | |
| --- | --- |
| | You can also bake this in a 9" x 13" pan. I always put a cake decorating nail inverted into the center of the cake pan. This will allow for more even baking. |
| | |
| --- | --- |
| | Bake the cake for 50 minutes or so. It should rise nicely and set. The cake is done when it springs back when pressed gently in the center. Do not overbake! |
With a sharp knife, scrape around the pan to loosen the cake. Be very careful to scrape the metal and not whack chucks from the cake itself.

With a skewer or fork, poke the top of the cake. Brush with the reserved honey.
| | |
| --- | --- |
| | Cool completely on a wire rack. |


Recently viewed recipes:



Deluxe Honey Cake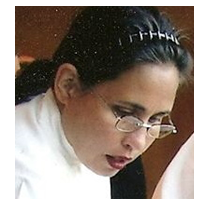 About Leah
Hi! Thank you for stopping by to watch me, Leah, cook kosher. I've been the owner operator of my boutique catering firm in Seattle, Leah's Catering, for the past 14 years.
Read more...
Leah's Blog

Aviva Makes Aliyah and The Sandwich Generation

Happy Chinese New Year! Happy Super Bowl! Go Hawks!

Tradition! Fun with the Seattle International Film Festival

Where Have I Been in My Life???

Making Kosher Salads

Blog Categories
Leah's Kosher Pantry

View what is in the pantry
Recipes

Appetizers
(44)

Appetizers - Dips and Sauces
(11)

Appetizers - Starter Courses
(10)

Beverages - Cold
(1)

Breads - Yeast
(10)

Breakfast Pastries
(7)

Dessert - Frostings
(6)

Desserts - Cakes
(13)

Desserts - Cookies and Brownies
(29)

Desserts - Dairy
(42)

Desserts - Pareve
(71)

Desserts - Pies and Tarts
(14)

Desserts - Tea Breads, Quick Breads
(8)

Desserts and Baked Goods - Gluten Free
(18)

Main Dish - Beef
(7)

Main Dish - Dairy
(3)

Main Dish - Eggs and Fritattas
(6)

Main Dish - Fish
(11)

Main Dish - Poultry
(14)

Main Dish - Vegetarian and Vegan
(9)

Salads - Dressing
(8)

Salads - Fruit
(4)

Salads - Grains & Legumes
(7)

Salads - Green
(1)

Salads - Pasta and Rice
(10)

Salads - Potatoes and Eggs
(5)

Salads - Vegetable
(15)

Side Dishes - Kugels and Souffles
(7)

Side Dishes - Potatoes and Vegetables
(17)

Side Dishes - Rice, Grains and Pasta
(7)

Soups, Stews and Cholent
(9)
Special Considerations

Dairy-Free Recipes
(230)

Gluten-Free Recipes
(134)

High Fiber Recipes
(18)

Low-fat Recipes
(11)

Nut-Free Desserts Recipes
(48)

Vegan Recipes
(101)

Vegetarian Recipes
(207)
Holidays

Rosh Hashana Recipes
(23)

Yom Kippur Recipes
(3)

Sukkot Recipes
(26)

Simchat Torah Recipes
(9)

Chanukah Recipes
(20)

Tu B'shevat Recipes
(16)

Purim Recipes
(9)

Passover Recipes
(44)

Lag Ba'omer Recipes
(6)

Shavuot Recipes
(24)

Shabbat Recipes
(34)
Cookbook Library

New Releases

Jewish Classics

Other Favorites
Kitchen Gadgets

Essentials

Small Appliances
Chef Of The Week

Barbara Williamson
Congratulations to our chef of the week.