Chocolate Honey Cake

(Note: This is a previous post coming to the forefront for the holidays.)
So, let's get one thing straight - I don't have a Jewish mother or grandmother. As a convert, I lack the fond memory of hating honey cake. Very soon after opening the bakery, I realize that I'm required to not only bake hundreds of pounds of honey cake, but I'm required to listen to how everyone hates it. "It's so dry!" Wow, reminds me of the joke with the punch line, "The food is so bad...and, the portions are so small!"
Sometimes Rosh Hashana falls out on very hot days of the year. One year in particular, after making a gazillion crown challahs, we are up all night making honey cakes. Back then, we have the oven where a rack is shoved in and spins while the product bakes. Opening the oven door, the blast of heat adds to the heat of the bakery and is unbearable. Exhausted and giddy, we jokingly rename the place, "Ye ol' Taste of Hell Bakery". Staying up all night to bake cakes that everyone will say they hate....until they taste mine, is worth the effort.
My recipe, small by commercial standards, makes 38 pounds of batter. Happily, I find the book I originally found the recipe in years ago. "A Treasury of Jewish Holiday Baking" by Marcy Goldman is a precious gem. It came out in 1998, about the time I opened the bakery. I've never searched for another chocolate honey cake recipe. I don't think I even embellished her recipe. It is stand alone awesome.
That said, I bring a lot of finesse to the baking table. Every step is important, so much so that I rarely let anyone make the honey cakes. Over beat, under beat, spray the pans incorrectly, over-bake....the pitfalls are there if you aren't careful. Make this perfectly and the only comments you'll have to deal with are the ones about how chocolate honey cake isn't really a honey cake. Ha - what could be better than a sweet new year...a chocolate one!
Thanks Marcy for a great recipe....I feel like I owe you a fortune!
Kosher Status:
Parve
Number of servings:
10" tube pan, 16 - 20 servings
Main Ingredient(s):
Cocoa
Preparation Time:
00:20
Cooking Time:
00:50
Skill Level:
1 - Easy

(1 Easy - 5 Hard)

Estimated POINT value:
Average Rating:
2.5/5


Ingredients:


1 cup vegetable oil

1 cup sugar

2/3 cup brown sugar

1 cup light honey

1 teaspoon vanilla

4 eggs

1/2 cup unsweetened, dark cocoa powder

2 3/4 cups flour

1/2 teaspoon soda

1 tablespoon baking powder

1/2 teaspoon salt

1/4 teaspoon cinnamon

1 cup brewed strong coffee

1/3 cup honey for brushing the top (optional)


Steps:


Preheat the oven to 325'.

Remove the insert of the 10" tube pan and spray it well with non-stick spray. Do not spray the actual pan.

Place the pan on a piece of parchment paper and outline the circle. Cut it out and place it into the bottom of the tube pan. Then place the center insert into the pan. This will prevent any dripping out of the bottom.
| | |
| --- | --- |
| | Combine the dry ingredients and whisk to blend. Set aside. |
| | |
| --- | --- |
| | In a mixing bowl, combine the oil with the sugars, honey and vanilla. |
| | |
| --- | --- |
| | Add the eggs one at a time and blend well after each addition. |
| | |
| --- | --- |
| | Add the dry ingredients and mix until smooth, just a minute or so. |
| | |
| --- | --- |
| | Add the coffee and carefully mix until smooth. |
| | |
| --- | --- |
| | Place the batter into the pan. This recipe makes 1 x 10" tube pan or 2 x 7" tube pans. |
| | |
| --- | --- |
| | You can also make the cake in a 9" x 13" pan. If you do, stand a couple of cake decorating nails upside down in the pan. This will serve as a heat conduit to get the center to cook evenly. |
| | |
| --- | --- |
| | Bake the cake until the top, when pressed gently, just springs back. If the indentation stays, bake a few more minutes. This is key for baking a not dry honey cake! Do not overbake. Better underbaked. |
| | |
| --- | --- |
| | When the cake is baked, remove from the oven and let sit about 10 minutes. Take a sharp paring knife and run it around the outer edge of the cake. Important, when running the knife around, listen for the scraping on the side of the pan. Otherwise, you'll be hacking away at the side of the cake :-(. Apply pressure to the bottom of the cake and pop it from the pan. Let rest a few minutes before trying to remove the center tube. You may need to gently slide a knife along the bottom of the pan. Cool on a wire rack. |
| | |
| --- | --- |
| | For an added sheen, you may brush the top with honey before serving. Or, dust with powdered sugar or cocoa powder. |


Recently viewed recipes:



Chocolate Honey Cake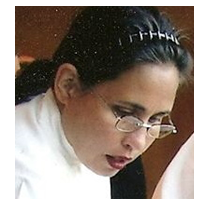 About Leah
Hi! Thank you for stopping by to watch me, Leah, cook kosher. I've been the owner operator of my boutique catering firm in Seattle, Leah's Catering, for the past 14 years.
Read more...
Leah's Blog

Aviva Makes Aliyah and The Sandwich Generation

Happy Chinese New Year! Happy Super Bowl! Go Hawks!

Tradition! Fun with the Seattle International Film Festival

Where Have I Been in My Life???

Making Kosher Salads

Blog Categories
Leah's Kosher Pantry

View what is in the pantry
Recipes

Appetizers
(44)

Appetizers - Dips and Sauces
(11)

Appetizers - Starter Courses
(10)

Beverages - Cold
(1)

Breads - Yeast
(10)

Breakfast Pastries
(7)

Dessert - Frostings
(6)

Desserts - Cakes
(13)

Desserts - Cookies and Brownies
(29)

Desserts - Dairy
(42)

Desserts - Pareve
(71)

Desserts - Pies and Tarts
(14)

Desserts - Tea Breads, Quick Breads
(8)

Desserts and Baked Goods - Gluten Free
(18)

Main Dish - Beef
(7)

Main Dish - Dairy
(3)

Main Dish - Eggs and Fritattas
(6)

Main Dish - Fish
(11)

Main Dish - Poultry
(14)

Main Dish - Vegetarian and Vegan
(9)

Salads - Dressing
(8)

Salads - Fruit
(4)

Salads - Grains & Legumes
(7)

Salads - Green
(1)

Salads - Pasta and Rice
(10)

Salads - Potatoes and Eggs
(5)

Salads - Vegetable
(15)

Side Dishes - Kugels and Souffles
(7)

Side Dishes - Potatoes and Vegetables
(17)

Side Dishes - Rice, Grains and Pasta
(7)

Soups, Stews and Cholent
(9)
Special Considerations

Dairy-Free Recipes
(230)

Gluten-Free Recipes
(134)

High Fiber Recipes
(18)

Low-fat Recipes
(11)

Nut-Free Desserts Recipes
(48)

Vegan Recipes
(101)

Vegetarian Recipes
(207)
Holidays

Rosh Hashana Recipes
(23)

Yom Kippur Recipes
(3)

Sukkot Recipes
(26)

Simchat Torah Recipes
(9)

Chanukah Recipes
(20)

Tu B'shevat Recipes
(16)

Purim Recipes
(9)

Passover Recipes
(44)

Lag Ba'omer Recipes
(6)

Shavuot Recipes
(24)

Shabbat Recipes
(34)
Cookbook Library

New Releases

Jewish Classics

Other Favorites
Kitchen Gadgets

Essentials

Small Appliances
Chef Of The Week

Barbara Williamson
Congratulations to our chef of the week.