Oven Roasted Heirloom Carrots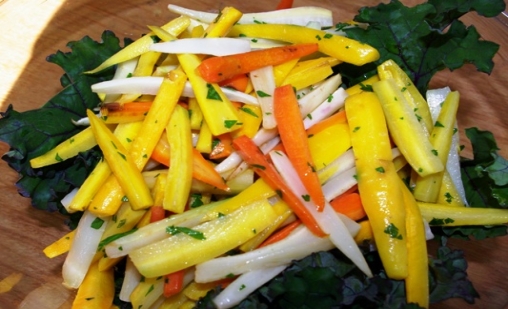 On Thursday nights at Hillel, a CSA display is setup for subscribers to pickup their share of the week's crop. Community Supported Agriculture is a great way to support the farmers in the area produce crops, usually organic. Our Northwest weather, slow to warm, is often a bounty of root vegetables and hearty leafy greens. This year, the crop has included the most beautiful carrots and blood red beets. I love peering into the waxed boxes admiring the beautiful globes of onions, the earthy potatoes, and crisp sturdy leaves of Swiss Chard. Reminds me of my high school days at the Pike Place Market.
A couple weeks back, the young man working the harvest pickup, sat waiting for folks to pickup their shares. I brought him some goodies from the kitchen. In turn, unclaimed Heirloom carrots found their way into the kitchen. I was going to make tzimmes with them but with our heat wave, I thought oven roasting with a simple splash of olive oil, sprinkle of salt and pepper, and a toss of flat-leaf parsley was all they required. I like them with a slight crisp and served at room temperature. Maybe the are too simple to warrant a mention; then again, maybe not. I like fresh simplicity.
This is another of those non-recipes. Just make as many as you need, use a light hand on the olive oil, season to taste with salt and pepper, add parsley for color. I oven roast at a high temperature of 400' until the desired tenderness. Enjoy the last of summer.
Kosher Status:
Parve
Number of servings:
Main Ingredient(s):
Carrots
Preparation Time:
00:10
Cooking Time:
00:20
Skill Level:
1 - Easy

(1 Easy - 5 Hard)

Estimated POINT value:


Ingredients:


Heirloom carrots, peeled, trimmed and sliced into sticks

Olive oil

Salt and Pepper

Flat-leaf Parsley


Steps:


| | |
| --- | --- |
| | Peel and trim the carrots. |
| | |
| --- | --- |
| | Slice the carrots and rinse. Place on baking pan and drizzle with olive oil. Sprinkle with salt and pepper. Roast at 400' until desired tenderness. Remove from the oven and adjust seasoning, toss with some chopped flat-leaf parsley. |


Recently viewed recipes:



Oven Roasted Heirloom Carrots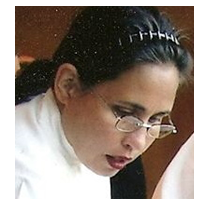 About Leah
Hi! Thank you for stopping by to watch me, Leah, cook kosher. I've been the owner operator of my boutique catering firm in Seattle, Leah's Catering, for the past 14 years.
Read more...
Leah's Blog

Aviva Makes Aliyah and The Sandwich Generation

Happy Chinese New Year! Happy Super Bowl! Go Hawks!

Tradition! Fun with the Seattle International Film Festival

Where Have I Been in My Life???

Making Kosher Salads

Blog Categories
Leah's Kosher Pantry

View what is in the pantry
Recipes

Appetizers
(44)

Appetizers - Dips and Sauces
(11)

Appetizers - Starter Courses
(10)

Beverages - Cold
(1)

Breads - Yeast
(10)

Breakfast Pastries
(7)

Dessert - Frostings
(6)

Desserts - Cakes
(13)

Desserts - Cookies and Brownies
(29)

Desserts - Dairy
(42)

Desserts - Pareve
(71)

Desserts - Pies and Tarts
(14)

Desserts - Tea Breads, Quick Breads
(8)

Desserts and Baked Goods - Gluten Free
(18)

Main Dish - Beef
(7)

Main Dish - Dairy
(3)

Main Dish - Eggs and Fritattas
(6)

Main Dish - Fish
(11)

Main Dish - Poultry
(14)

Main Dish - Vegetarian and Vegan
(9)

Salads - Dressing
(8)

Salads - Fruit
(4)

Salads - Grains & Legumes
(7)

Salads - Green
(1)

Salads - Pasta and Rice
(10)

Salads - Potatoes and Eggs
(5)

Salads - Vegetable
(15)

Side Dishes - Kugels and Souffles
(7)

Side Dishes - Potatoes and Vegetables
(17)

Side Dishes - Rice, Grains and Pasta
(7)

Soups, Stews and Cholent
(9)
Special Considerations

Dairy-Free Recipes
(230)

Gluten-Free Recipes
(134)

High Fiber Recipes
(18)

Low-fat Recipes
(11)

Nut-Free Desserts Recipes
(48)

Vegan Recipes
(101)

Vegetarian Recipes
(207)
Holidays

Rosh Hashana Recipes
(23)

Yom Kippur Recipes
(3)

Sukkot Recipes
(26)

Simchat Torah Recipes
(9)

Chanukah Recipes
(20)

Tu B'shevat Recipes
(16)

Purim Recipes
(9)

Passover Recipes
(44)

Lag Ba'omer Recipes
(6)

Shavuot Recipes
(24)

Shabbat Recipes
(34)
Cookbook Library

New Releases

Jewish Classics

Other Favorites
Kitchen Gadgets

Essentials

Small Appliances
Chef Of The Week

Barbara Williamson
Congratulations to our chef of the week.