French Apple Tart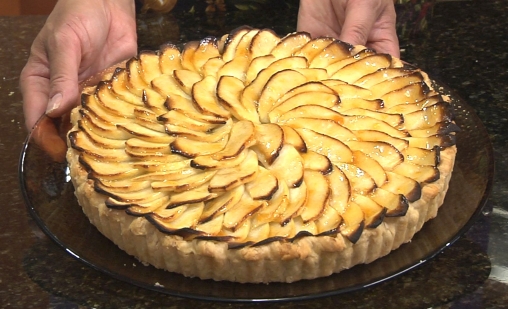 Rosh Hashana and weeks of holidays are fast approaching. I'm crazy busy with catering and want to get more recipes uploaded. Solution at this point: put foods for the holiday onto my catering event menus. 'Tis the season so it should be fine. Tonight's board meeting dinner finished with the never-to-be-omitted chocolate cake. In addition, I usually switch out a seasonal fruit dessert over the course of their quarterly meetings. It's a great opportunity for one of my favorite tarts; the French apple tart.
French apple tarts look impressive. They always strike me as a project; something that I have to get into the groove to make. I realize today that making one tart, not twenty, is easy enough. I don't even need a recipe.....but, maybe YOU want a recipe so here it is.
Like most apple desserts that are baked, using tart apples is best. I use Granny Smiths since they seem to be most readily available. I'm nostalgic for old-fashioned apples, the kind we had growing on numerous trees in our back yard. Believe it or not, the apples in this tart have been in the refrigerator since Passover. I'm afraid at one level because they haven't rotted. Back in the day, "CA" apples were all the rage; 'controlled atmosphere'. Now I'm wondering if they haven't been genetically engineered to never go bad. I think I'll spring for organic apples for future baking and see if there is a difference.
See, I shouldn't write when I'm tired ~ what a downer! Let's get back to how beautiful and impressive a French Apple Tart is when brought to the holiday table. The top is brushed with an apricot glaze after baking. I'm thinking a nice glaze of honey might make it all the more majestic for Rosh Hashana. We have a slew of 3 day yontifs approaching. The good news is that this tart holds for days, even freezes well. Give it a try and you'll be having it for breakfast like I do!
Kosher Status:
Parve
Number of servings:
10 - 16
Main Ingredient(s):
Apples
Preparation Time:
01:00
Cooking Time:
00:40
Skill Level:
1 - Easy

(1 Easy - 5 Hard)

Estimated POINT value:


Ingredients:


1 tart shell, 11" (use the Perfect Pie Dough recipe) blind-baked (see Steps)

6 large tart apples for the filling, 2 - 3 more for the top

3/4 cup sugar, plus a little for sprinkling on top

2 tablespoons lemon juice, plus a little for the top

1 tablespoon flour

1/4 teaspoon cinnamon

2 - 3 tablespoons apricot jam


Steps:


| | |
| --- | --- |
| | Make Perfect Pie Dough (recipe in the archive) and form an 11" tart shell. |
| | |
| --- | --- |
| | Chill the tart shell for about 1/2 hour until very cold. This will help prevent shrinkage during baking. |
| | |
| --- | --- |
| | While the shell chills, peel and roughly chop the apples. Sprinkle with lemon juice so they don't brown. |
| | |
| --- | --- |
| | Sprinkle the apples with the sugar, flour and cinnamon. Spray a baking sheet or pan and add the apples. |
| | |
| --- | --- |
| | Bake the apples until they start to break down. Pull from the oven and potato mash them a bit. I couldn't find the potato masher so I used my pastry cutter. |
| | |
| --- | --- |
| | Return to the oven and bake until tender. Don't let the apples turn to applesauce, you want a little chunky texture. If they are too wet, you can add a little bit of soft bread crumbs. I find that the flour is enough to absorb the liquid of the apples. Once baked, remove from the oven and set aside. |
| | |
| --- | --- |
| | Remove the chilled tart shell from the refrigerator. Line with foil and fill with pie weights or dried beans reserved for this purpose. Bake at 400' until the edge of the crust is a light brown. Remove from the oven and let rest, beans and all, for 5 minutes. Remove the foil and pie weights. |
| | |
| --- | --- |
| | After removing the foil, the bottom of the tart shell will still seem a bit raw and oily. Return to the oven and bake until the bottom is lightly browned, about 5 minutes or so. Remove from the oven. |
| | |
| --- | --- |
| | Gently fill the tart shell with the mashed apple filling. Set aside. |
| | |
| --- | --- |
| | Peel the remaining apples and squeeze a little lemon juice over them. Quarter the apples and slice away the core. Thinly slice from the outer edge to the center of the core side. You are making very thin wedge shaped pieces, not slicing straight up and down. |
| | |
| --- | --- |
| | Arrange the apple slices, overlapping the outer rim of the tart shell, as well as overlapping each apple slice all around the tart. |
| | |
| --- | --- |
| | Finish the outer circle and start again, overlapping the first row. Repeat to fill in the center. Brush with margarine and sprinkle with sugar. |
| | |
| --- | --- |
| | Return to the oven to bake at 375' until the apple edges start to turn black. Remove from the oven. Heat the apricot jam in the microwave with a little water to thin it. Mix with a little whisk until it is just a runny glaze. Brush over the tart. Set aside to cool. |


Recently viewed recipes:



French Apple Tart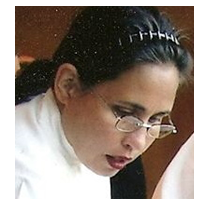 About Leah
Hi! Thank you for stopping by to watch me, Leah, cook kosher. I've been the owner operator of my boutique catering firm in Seattle, Leah's Catering, for the past 14 years.
Read more...
Leah's Blog

Aviva Makes Aliyah and The Sandwich Generation

Happy Chinese New Year! Happy Super Bowl! Go Hawks!

Tradition! Fun with the Seattle International Film Festival

Where Have I Been in My Life???

Making Kosher Salads

Blog Categories
Leah's Kosher Pantry

View what is in the pantry
Recipes

Appetizers
(44)

Appetizers - Dips and Sauces
(11)

Appetizers - Starter Courses
(10)

Beverages - Cold
(1)

Breads - Yeast
(10)

Breakfast Pastries
(7)

Dessert - Frostings
(6)

Desserts - Cakes
(13)

Desserts - Cookies and Brownies
(29)

Desserts - Dairy
(42)

Desserts - Pareve
(71)

Desserts - Pies and Tarts
(14)

Desserts - Tea Breads, Quick Breads
(8)

Desserts and Baked Goods - Gluten Free
(18)

Main Dish - Beef
(7)

Main Dish - Dairy
(3)

Main Dish - Eggs and Fritattas
(6)

Main Dish - Fish
(11)

Main Dish - Poultry
(14)

Main Dish - Vegetarian and Vegan
(9)

Salads - Dressing
(8)

Salads - Fruit
(4)

Salads - Grains & Legumes
(7)

Salads - Green
(1)

Salads - Pasta and Rice
(10)

Salads - Potatoes and Eggs
(5)

Salads - Vegetable
(15)

Side Dishes - Kugels and Souffles
(7)

Side Dishes - Potatoes and Vegetables
(17)

Side Dishes - Rice, Grains and Pasta
(7)

Soups, Stews and Cholent
(9)
Special Considerations

Dairy-Free Recipes
(230)

Gluten-Free Recipes
(134)

High Fiber Recipes
(18)

Low-fat Recipes
(11)

Nut-Free Desserts Recipes
(48)

Vegan Recipes
(101)

Vegetarian Recipes
(207)
Holidays

Rosh Hashana Recipes
(23)

Yom Kippur Recipes
(3)

Sukkot Recipes
(26)

Simchat Torah Recipes
(9)

Chanukah Recipes
(20)

Tu B'shevat Recipes
(16)

Purim Recipes
(9)

Passover Recipes
(44)

Lag Ba'omer Recipes
(6)

Shavuot Recipes
(24)

Shabbat Recipes
(34)
Cookbook Library

New Releases

Jewish Classics

Other Favorites
Kitchen Gadgets

Essentials

Small Appliances
Chef Of The Week

Barbara Williamson
Congratulations to our chef of the week.