Carol Barer's Beloved Blintz Filling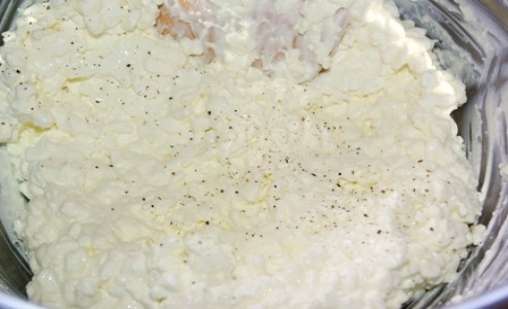 Over the years, many family favorite recipes are sent my way. People love eating their own comfort food, specialties propping up favored members of the clan on stainless steel pedestals. Enthusiastic raves bestow a legendary aura to the cook who labors on behalf of family, extended family and those who claim any association just to get a morsel. Carol Barer's blintz filling has oozed into every crevice of memory in her extended tribe. Her blintz reputation enters a conversation I have with her daughter-in-law, Karyn.
People love our blintzes. This doesn't mean I'm not interested in learning about someone else recipe. I have the pleasure of meeting Carol last week. Blintzes are part of the conversation and as we trade insights into each other's recipes, I realize that I'm a visual learner. How about I come over and you show me what you do? Today was the day. Crossing Lake Washington, the sun is shining and Seattle flaunts all her glory in time for Seafair. Arriving at Carol's, I see that her kitchen captures a view of the city, Lake Washington and the blue, blue sky. What a great space for cooking!
Carol has ingredients ready and proceeds to make short work of the blintz filling demonstration. One giant key distinction between our recipes is that she uses dry curd cottage cheese and I use the standard wet. Since dry curd isn't available with a hechsher (that I've seen) here in Seattle, rinsing and drying the standard cottage cheese is necessary. Carol adds cream cheese and a little sour cream. I don't use sour cream. I add eggs, she doesn't. The sugar and salt is about the same. She adds a dash of pepper, I don't. The resulting texture is creamy yet a little firm, the curds retain their shape. Mine is usually thick but smooth.
I take a taste…wow. The creamy curd texture is nice. Sweet with a slight tang and a hint of pepper, I'm very impressed. I've never eaten a blintz. Seriously, I limit my dairy intake and don't want to fall in love with something I'll need to avoid. It is going to be very difficult to make these blintzes with the challenge of not eating them. Wow.
Kosher Status:
Dairy
Number of servings:
fills about 12 crepes
Main Ingredient(s):
Cheese - Cream, Cheese - Cottage
Preparation Time:
00:20
Cooking Time:
00:00
Skill Level:
1 - Easy

(1 Easy - 5 Hard)

Estimated POINT value:


Ingredients:


16 ounces dry cottage cheese curds

8 ounces block style cream cheese, softened in microwave

3 tablespoons sour cream

1/4 cup sugar

1/8 teaspoon salt

dash of pepper


Steps:


| | |
| --- | --- |
| | Dry the cottage cheese or use dry cottage cheese. |
Add the cream cheese and stir well.

Add the sour cream and mix well.
| | |
| --- | --- |
| | Add sugar and stir well. |
Add salt and pepper. Stir well.

Refrigerate filling until ready to roll the blintzes.


Recently viewed recipes:



Carol Barer's Beloved Blintz Filling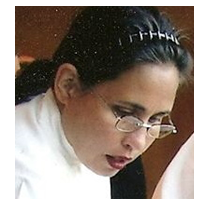 About Leah
Hi! Thank you for stopping by to watch me, Leah, cook kosher. I've been the owner operator of my boutique catering firm in Seattle, Leah's Catering, for the past 14 years.
Read more...
Leah's Blog

Aviva Makes Aliyah and The Sandwich Generation

Happy Chinese New Year! Happy Super Bowl! Go Hawks!

Tradition! Fun with the Seattle International Film Festival

Where Have I Been in My Life???

Making Kosher Salads

Blog Categories
Leah's Kosher Pantry

View what is in the pantry
Recipes

Appetizers
(44)

Appetizers - Dips and Sauces
(11)

Appetizers - Starter Courses
(10)

Beverages - Cold
(1)

Breads - Yeast
(10)

Breakfast Pastries
(7)

Dessert - Frostings
(6)

Desserts - Cakes
(13)

Desserts - Cookies and Brownies
(29)

Desserts - Dairy
(42)

Desserts - Pareve
(71)

Desserts - Pies and Tarts
(14)

Desserts - Tea Breads, Quick Breads
(8)

Desserts and Baked Goods - Gluten Free
(18)

Main Dish - Beef
(7)

Main Dish - Dairy
(3)

Main Dish - Eggs and Fritattas
(6)

Main Dish - Fish
(11)

Main Dish - Poultry
(14)

Main Dish - Vegetarian and Vegan
(9)

Salads - Dressing
(8)

Salads - Fruit
(4)

Salads - Grains & Legumes
(7)

Salads - Green
(1)

Salads - Pasta and Rice
(10)

Salads - Potatoes and Eggs
(5)

Salads - Vegetable
(15)

Side Dishes - Kugels and Souffles
(7)

Side Dishes - Potatoes and Vegetables
(17)

Side Dishes - Rice, Grains and Pasta
(7)

Soups, Stews and Cholent
(9)
Special Considerations

Dairy-Free Recipes
(230)

Gluten-Free Recipes
(134)

High Fiber Recipes
(18)

Low-fat Recipes
(11)

Nut-Free Desserts Recipes
(48)

Vegan Recipes
(101)

Vegetarian Recipes
(207)
Holidays

Rosh Hashana Recipes
(23)

Yom Kippur Recipes
(3)

Sukkot Recipes
(26)

Simchat Torah Recipes
(9)

Chanukah Recipes
(20)

Tu B'shevat Recipes
(16)

Purim Recipes
(9)

Passover Recipes
(44)

Lag Ba'omer Recipes
(6)

Shavuot Recipes
(24)

Shabbat Recipes
(34)
Cookbook Library

New Releases

Jewish Classics

Other Favorites
Kitchen Gadgets

Essentials

Small Appliances
Chef Of The Week

Barbara Williamson
Congratulations to our chef of the week.