Broccoli, Mushroom and Swiss Cheese Quiche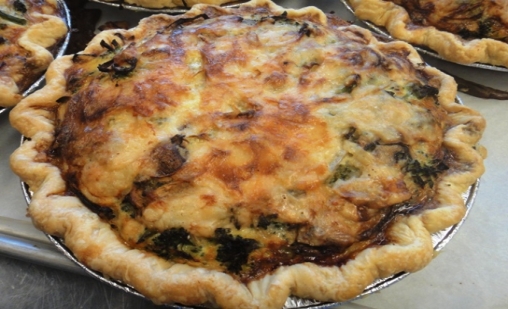 As we enter into the nine days preceding Tisha B'Av, it is customary that dairy meals are served. The beginning of the Hebrew month of Av until the actual anniversary of the destruction of the Temple, is a period spent in ritual mourning. Summer vacation is toned down without music, swimming and BBQ's. It feels more about reflection and less about what's for dinner. Meat, reserved for festivities, is not for dinner.
A couple of thousand years removed, Tisha B'Av doesn't hold the same sense of urgency or disaster for all Jewish communities. For me, Yom Kippur is a more personal "me, myself and I" relationship with G-d. Tisha B'Av evokes a more collective energy of "us and we" in relationship with not only G-d but "them", a frequently changing cast of characters. Some Jews subscribe to a concrete Messianic redemption, others believe that fixing the world is our responsibility. In the spirit of the current buzz of compromise, my sense is it is by the grace of Hashem we redeem humanity. Tall order, probably goes down better eating dairy.
This is my version of a classic quiche. Again, have pie crust and you can fill it with anything. Here I use broccoli, onion and mushrooms with genuine Emmentaler Swiss Cheese. The cheese is more expensive than meat so I'm not sure if it fits the notion of food for mourning. But, I'm not a rabbi....
Kosher Status:
Dairy
Number of servings:
9" pie pan, 6 - 8 servings
Main Ingredient(s):
Eggs , Cheese - Swiss, Broccoli
Preparation Time:
00:40
Cooking Time:
00:30
Skill Level:
2

(1 Easy - 5 Hard)

Estimated POINT value:


Ingredients:


1 8" or 9" pie shell (see Perfect Pie Dough Recipe)
1 package Emmentaler Swiss cheese (about 6 ounces)

2 cups broccoli florets, blanched

2 cups thinly sliced onions (about 1 large or 2 medium onions)

2 cups sliced mushrooms (about 8 ounces)

5 eggs

1 cup 1/2 & 1/2 or whole milk

2 tablespoons flour

1 teaspoon salt

1/2 teaspoon pepper

dash of nutmeg (optional)


Steps:


Make the Perfect Pie Dough recipe and form an 8" or 9" pie. Crimp the edges. Preheat the oven to 400'.

I had to make 24 quiches so my photos show lots of pie crusts. Don't panic!
We want a pie shell that is 'blind baked', partially baked. Line the shell with a piece of foil. Fill with pie weights or beans reserved solely for this purpose. Bake at 400' until the crimped edge is lightly browned. Remove from the oven and set aside for 5 minutes before removing the pie weights.

After 5 minutes, remove the pie weights. Return the pie shell to the oven and bake a few minutes just so the bottom of the crust is very lightly browned. Remove from the oven and set aside.
| | |
| --- | --- |
| | Meanwhile, saute the onions until very limp. When I make as many quiche as I'm making here, I use the oven to cook down the onions. |
| | |
| --- | --- |
| | Saute the mushrooms until limp. You can add the mushrooms to the onions in the final minutes of cooking and cook them at the same time. Again, when I make a ton, I use a sheet pan in the oven. |
| | |
| --- | --- |
| | I blanch the broccoli by putting the florets into boiling water just until the color brightens and just tender. Drain and toss into cold water. Drain well. |
| | |
| --- | --- |
| | Put 1/2 the Swiss cheese into the bottom of the baked pie shell. |
| | |
| --- | --- |
| | Fill the crust with the prepped vegetables. |
| | |
| --- | --- |
| | Combine the milk, eggs, flour, salt, pepper and nutmeg if using. Whisk well and pour over vegetables into the pie shell. |
| | |
| --- | --- |
| | Top with the remaining Swiss Cheese. Bake at 375' until golden brown and the center is firm. If the quiche browns too quickly, you can cover with foil and turn the heat down to 350'. |
| | |
| --- | --- |
| | The quiche will be golden brown when baked. Great served warm or at room temperature. Refrigerate the leftovers. Microwave for a quick reheat (not in foil pan!) |


Recently viewed recipes:



Broccoli, Mushroom and Swiss Cheese Quiche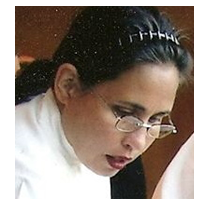 About Leah
Hi! Thank you for stopping by to watch me, Leah, cook kosher. I've been the owner operator of my boutique catering firm in Seattle, Leah's Catering, for the past 14 years.
Read more...
Leah's Blog

Aviva Makes Aliyah and The Sandwich Generation

Happy Chinese New Year! Happy Super Bowl! Go Hawks!

Tradition! Fun with the Seattle International Film Festival

Where Have I Been in My Life???

Making Kosher Salads

Blog Categories
Leah's Kosher Pantry

View what is in the pantry
Recipes

Appetizers
(44)

Appetizers - Dips and Sauces
(11)

Appetizers - Starter Courses
(10)

Beverages - Cold
(1)

Breads - Yeast
(10)

Breakfast Pastries
(7)

Dessert - Frostings
(6)

Desserts - Cakes
(13)

Desserts - Cookies and Brownies
(29)

Desserts - Dairy
(42)

Desserts - Pareve
(71)

Desserts - Pies and Tarts
(14)

Desserts - Tea Breads, Quick Breads
(8)

Desserts and Baked Goods - Gluten Free
(18)

Main Dish - Beef
(7)

Main Dish - Dairy
(3)

Main Dish - Eggs and Fritattas
(6)

Main Dish - Fish
(11)

Main Dish - Poultry
(14)

Main Dish - Vegetarian and Vegan
(9)

Salads - Dressing
(8)

Salads - Fruit
(4)

Salads - Grains & Legumes
(7)

Salads - Green
(1)

Salads - Pasta and Rice
(10)

Salads - Potatoes and Eggs
(5)

Salads - Vegetable
(15)

Side Dishes - Kugels and Souffles
(7)

Side Dishes - Potatoes and Vegetables
(17)

Side Dishes - Rice, Grains and Pasta
(7)

Soups, Stews and Cholent
(9)
Special Considerations

Dairy-Free Recipes
(230)

Gluten-Free Recipes
(134)

High Fiber Recipes
(18)

Low-fat Recipes
(11)

Nut-Free Desserts Recipes
(48)

Vegan Recipes
(101)

Vegetarian Recipes
(207)
Holidays

Rosh Hashana Recipes
(23)

Yom Kippur Recipes
(3)

Sukkot Recipes
(26)

Simchat Torah Recipes
(9)

Chanukah Recipes
(20)

Tu B'shevat Recipes
(16)

Purim Recipes
(9)

Passover Recipes
(44)

Lag Ba'omer Recipes
(6)

Shavuot Recipes
(24)

Shabbat Recipes
(34)
Cookbook Library

New Releases

Jewish Classics

Other Favorites
Kitchen Gadgets

Essentials

Small Appliances
Chef Of The Week

Barbara Williamson
Congratulations to our chef of the week.