Jam Thumbprint Cookies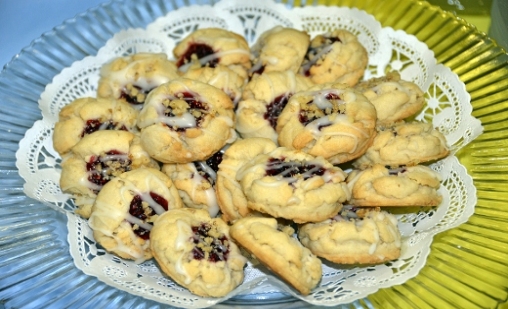 Thumbprint cookies are a standby classic that I really don't see all that often. Good parve, they are fabulous made with real butter....and, what isn't? With a simple indentation filled with a quality preserve (my favorite being Hero brand), these tasty morsels melt in your mouth. When I'm in a rush for a quick 'wow!' factor, jam thumbprints do the trick. Just the kind of cookie that reminds a person of someone's grandmother. The ingredient list is short and the steps simple. I'm going to try them gluten-free next. I'm sure that they will turn out great.
I'm struggling to think of some cute story to tell about thumbprint cookies. The only thing that comes to mind is remembering Benoit bringing a box of apricot jam filled shortbread cookies into the kitchen a couple weeks back. Often, his deliveries don't come with fanfare; just an obvious placement to catch my attention. The unspoken message is "you should make something like these." I'm ahead of Benoit's game on jam filled cookies. Yeah, yeah....been there, still here. Only, I drizzle mine with confectioner's sugar glaze and toasted almonds. Yep, that is me ahead of you walking like an Egyptian. Catch me if you can!
Kosher Status:
Dairy
Number of servings:
about 36 cookies
Main Ingredient(s):
Flour - Unbleached All Purpose
Preparation Time:
00:20
Cooking Time:
00:10
Skill Level:
1 - Easy

(1 Easy - 5 Hard)

Estimated POINT value:


Ingredients:


1 cup unsalted butter or margarine (for parve), at room temperature

1/2 cup sugar

2 teaspoons vanilla extract

1/4 teaspoon salt

2 1/2 cups flour

about 1/2 cup jam
Glaze:
1 1/2 cup confectioner's sugar

2 tablespoons lemon juice, or enough to make a smooth glaze that will drizzle but not run


Steps:


| | |
| --- | --- |
| | Beat the butter or margarine until just softened and smooth. Don't overbeat. Cookies are best when the butter is just incorporated into the dough. Add vanilla and mix just until combined. |
| | |
| --- | --- |
| | Combine the dry ingredients into another bowl and whisk to blend. Add to the creamed butter just until everything is mixed. |
| | |
| --- | --- |
| | With a #50 or #40 scoop, scoop the dough and place with the flat side on the parchment lined cookie sheet. With your thumb, finger or back of 1/4 teaspoon, indent the dough. |
| | |
| --- | --- |
| | Fill the indentation with your favorite jam. If I have to make dozens and dozens, I fill a pastry bag and pipe the indentation. Otherwise, a small spoon works great. |
| | |
| --- | --- |
| | Bake at 350' until light golden brown. Remove from the oven and let cool. Meanwhile, mix the glaze by combining powdered sugar and lemon juice. With the tip of a fork, drizzle the glaze over the cookie. Sprinkle with chopped toasted almonds before the glaze dries. |


Recently viewed recipes:



Jam Thumbprint Cookies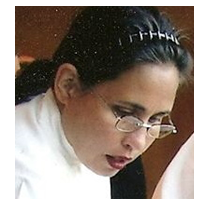 About Leah
Hi! Thank you for stopping by to watch me, Leah, cook kosher. I've been the owner operator of my boutique catering firm in Seattle, Leah's Catering, for the past 14 years.
Read more...
Leah's Blog

Aviva Makes Aliyah and The Sandwich Generation

Happy Chinese New Year! Happy Super Bowl! Go Hawks!

Tradition! Fun with the Seattle International Film Festival

Where Have I Been in My Life???

Making Kosher Salads

Blog Categories
Leah's Kosher Pantry

View what is in the pantry
Recipes

Appetizers
(44)

Appetizers - Dips and Sauces
(11)

Appetizers - Starter Courses
(10)

Beverages - Cold
(1)

Breads - Yeast
(10)

Breakfast Pastries
(7)

Dessert - Frostings
(6)

Desserts - Cakes
(13)

Desserts - Cookies and Brownies
(29)

Desserts - Dairy
(42)

Desserts - Pareve
(71)

Desserts - Pies and Tarts
(14)

Desserts - Tea Breads, Quick Breads
(8)

Desserts and Baked Goods - Gluten Free
(18)

Main Dish - Beef
(7)

Main Dish - Dairy
(3)

Main Dish - Eggs and Fritattas
(6)

Main Dish - Fish
(11)

Main Dish - Poultry
(14)

Main Dish - Vegetarian and Vegan
(9)

Salads - Dressing
(8)

Salads - Fruit
(4)

Salads - Grains & Legumes
(7)

Salads - Green
(1)

Salads - Pasta and Rice
(10)

Salads - Potatoes and Eggs
(5)

Salads - Vegetable
(15)

Side Dishes - Kugels and Souffles
(7)

Side Dishes - Potatoes and Vegetables
(17)

Side Dishes - Rice, Grains and Pasta
(7)

Soups, Stews and Cholent
(9)
Special Considerations

Dairy-Free Recipes
(230)

Gluten-Free Recipes
(134)

High Fiber Recipes
(18)

Low-fat Recipes
(11)

Nut-Free Desserts Recipes
(48)

Vegan Recipes
(101)

Vegetarian Recipes
(207)
Holidays

Rosh Hashana Recipes
(23)

Yom Kippur Recipes
(3)

Sukkot Recipes
(26)

Simchat Torah Recipes
(9)

Chanukah Recipes
(20)

Tu B'shevat Recipes
(16)

Purim Recipes
(9)

Passover Recipes
(44)

Lag Ba'omer Recipes
(6)

Shavuot Recipes
(24)

Shabbat Recipes
(34)
Cookbook Library

New Releases

Jewish Classics

Other Favorites
Kitchen Gadgets

Essentials

Small Appliances
Chef Of The Week

Barbara Williamson
Congratulations to our chef of the week.