Vanilla Cake or Cupcakes with Real Buttercream Frosting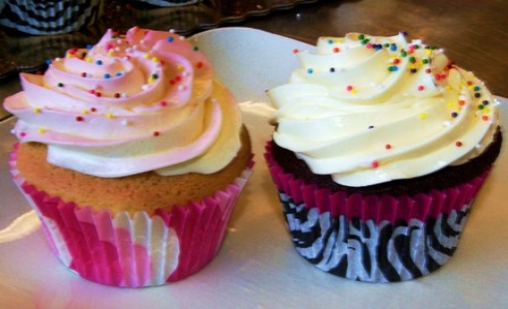 Wow. Hurrying to make food for 3 events last erev Shabbat, I realize that I don't have my vanilla cake recipe. Sha-zam! - my Smart Phone (or, not-so-smart as Aviva says because it is my phone and not her phone nor is it an i phone) will save me running home. I log into LeahCooksKosher.com and voila ~ it isn't there. I'm surprised; lots of things aren't on my website yet but certainly this recipe needs to be.
We make this recipe for years parve while I have the bakery. Sometimes I reflect on those days and think that I gave up too much of the baking. Sheer volume of product makes it impossible for me to be the control freak I am. Once at Hillel, with the ease of working dairy in this kitchen and with my focus on catering, I can bake and leave other chopping and dicing to the crew. This recipe, especially when using real butter, milk and real vanilla extract is a chocolate lover's delight. It ain't chocolate but it is fab!
Baking is all in the wrists, the hands and the eyes. There is a way to handle various batters and dough. Mostly I say "romance it!" by using a gentle touch. Learn to see what the various steps of baking any recipe should look and feel like and you'll bake like an artist. This philosophy is the driving principle behind all the photo steps I post. I'll get off my soapbox but please try this basic white cake. You'll be surprised how many people appreciate the tasty simplicity.
The cupcakes pictured are a last minute addition to my Kiddush menu, part of an aufruf celebration sharing the Bar Mitzvah celebration. I make vanilla and chocolate cupcakes with absolutely let-me-stand-over-this-bowl-and-wait-for-leftovers dairy buttercream frosting. You can have your cupcake wars; my world is black and white....one of each.
Kosher Status:
Dairy
Number of servings:
24 cupcakes or 2 x 8 or 9" layers
Main Ingredient(s):
Flour - Unbleached All Purpose
Preparation Time:
00:30
Cooking Time:
00:10
Skill Level:
2

(1 Easy - 5 Hard)

Estimated POINT value:
Average Rating:
5/5


Ingredients:


3 cups flour

1 tablespoon baking powder

1/2 teaspoon salt

1 cup unsalted butter (or unsalted margarine for parve)

1 3/4 cup sugar

4 eggs, separated

1 cup milk (or soy milk for parve)

1/2 teaspoon vanilla


Steps:


Preheat the oven to 350'.

Combine the flour, baking powder and salt in a bowl and set aside.
| | |
| --- | --- |
| | Beat the egg whites until stiff but not dry. Empty into another bowl so you can use the mixing bowl for the cake batter. I do it in this order so I don't have to wash the bowl. If you have 2 bowls, all the better. |
| | |
| --- | --- |
| | Cream the butter or margarine with the sugar until very light and fluffy, about 5 minutes. |
| | |
| --- | --- |
| | Add the egg yolks one at a time beating well after each addition. |
| | |
| --- | --- |
| | Add 1/3 of the flour mixture and beat on low to combine. |
| | |
| --- | --- |
| | Add milk in 1/3 and beat at low to blend. Repeat the flour and milk, ending with the flour mixture. Scrape the bowl down and add vanilla. Beat on low to combine, about 30 seconds. |
| | |
| --- | --- |
| | Add 1/3 of the beaten egg whites and blend just until combined. |
| | |
| --- | --- |
| | Fold in the remaining egg whites until blended. Folding is using an over and under motion as you spin the bowl. Do not beat or the egg whites deflate. |
If making cupcakes, put paper liners into 24 standard sized muffin cups. Fill a little more than 1/2 full. You should make 24 with this batter so use it up evenly.

Bake for 12 minutes or so. Test by looking for a light brown color. The center will also spring back when gently pressed. Don't overbake as the cupcake will be dry.

If using a cake pan, spray the bottom of the pan ONLY. Don't spray the sides. I like to line the bottom with a piece of parchment paper cut to size. I invert a cake decorating nail upside down in the center of the pan before adding the batter. This will help bring heat to the center of the cake for even baking.

Bake until the center of the cake springs back, 25 - 30 minutes. This is where you need to be able to see if the cake is set in the middle. Bake until the center springs back when gently pressed. When baked, cool in the pan for at least 10 minutes. Gently cut the edge around the pan, invert onto a wire rack. If you feel confident, flip the cake right side up to cool.

Decorate as desired. I love the Real Dairy Buttercream Frosting. See the recipe archive.


Recently viewed recipes:



Vanilla Cake or Cupcakes with Real Buttercream Frosting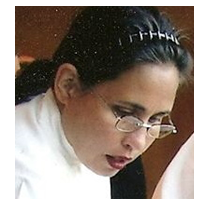 About Leah
Hi! Thank you for stopping by to watch me, Leah, cook kosher. I've been the owner operator of my boutique catering firm in Seattle, Leah's Catering, for the past 14 years.
Read more...
Leah's Blog

Aviva Makes Aliyah and The Sandwich Generation

Happy Chinese New Year! Happy Super Bowl! Go Hawks!

Tradition! Fun with the Seattle International Film Festival

Where Have I Been in My Life???

Making Kosher Salads

Blog Categories
Leah's Kosher Pantry

View what is in the pantry
Recipes

Appetizers
(44)

Appetizers - Dips and Sauces
(11)

Appetizers - Starter Courses
(10)

Beverages - Cold
(1)

Breads - Yeast
(10)

Breakfast Pastries
(7)

Dessert - Frostings
(6)

Desserts - Cakes
(13)

Desserts - Cookies and Brownies
(29)

Desserts - Dairy
(42)

Desserts - Pareve
(71)

Desserts - Pies and Tarts
(14)

Desserts - Tea Breads, Quick Breads
(8)

Desserts and Baked Goods - Gluten Free
(18)

Main Dish - Beef
(7)

Main Dish - Dairy
(3)

Main Dish - Eggs and Fritattas
(6)

Main Dish - Fish
(11)

Main Dish - Poultry
(14)

Main Dish - Vegetarian and Vegan
(9)

Salads - Dressing
(8)

Salads - Fruit
(4)

Salads - Grains & Legumes
(7)

Salads - Green
(1)

Salads - Pasta and Rice
(10)

Salads - Potatoes and Eggs
(5)

Salads - Vegetable
(15)

Side Dishes - Kugels and Souffles
(7)

Side Dishes - Potatoes and Vegetables
(17)

Side Dishes - Rice, Grains and Pasta
(7)

Soups, Stews and Cholent
(9)
Special Considerations

Dairy-Free Recipes
(230)

Gluten-Free Recipes
(134)

High Fiber Recipes
(18)

Low-fat Recipes
(11)

Nut-Free Desserts Recipes
(48)

Vegan Recipes
(101)

Vegetarian Recipes
(207)
Holidays

Rosh Hashana Recipes
(23)

Yom Kippur Recipes
(3)

Sukkot Recipes
(26)

Simchat Torah Recipes
(9)

Chanukah Recipes
(20)

Tu B'shevat Recipes
(16)

Purim Recipes
(9)

Passover Recipes
(44)

Lag Ba'omer Recipes
(6)

Shavuot Recipes
(24)

Shabbat Recipes
(34)
Cookbook Library

New Releases

Jewish Classics

Other Favorites
Kitchen Gadgets

Essentials

Small Appliances
Chef Of The Week

Barbara Williamson
Congratulations to our chef of the week.