Gluten-free Toasted Oatmeal with Dried Cherries Cookies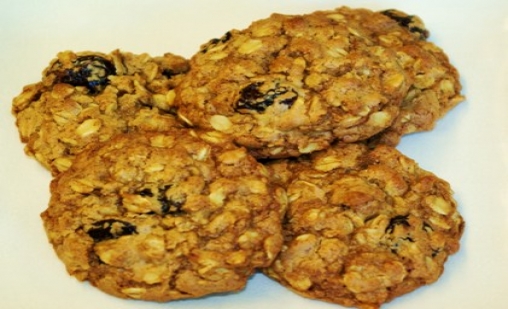 I've been wanting to make these cookies for a couple of weeks. I have 4 events this weekend but I want to make a gluten-free oatmeal cookie. Guess what is on the dessert table this Shabbos at one lucky synagogue ~ yep. I could work longer tonight in the kitchen but I decide to run home instead. I want to get this recipe posted.
Not sure which recipe to use, I grab my pry-it-from-my-fingers McCall's Cookbook from 1962 as I'm running out the door this morning. To be sure, no one cared one bit about gluten 50 years ago. I figure that there must be some sort of basic oatmeal cookie recipe within the pages. Did I ever expect to find what I found? Nope. I'm amazed and intrigued by the concept of toasting the oatmeal (I have a special gluten-free) in browned butter. I've never made oatmeal cookies like this before. I'm making a dairy-free version so I'm not so sure that margarine has the same potential for that browned-butter flavor. I decide to be happy with melted margarine and not risk burning it. If you don't mind dairy, go for the brown butter. I'm sure it adds another layer of flavor.
I was shocked at how easily the cookies came together, scooped and baked. I wouldn't have guessed that this is a gluten-free make-the-best-of-it oatmeal cookie. I love it. They are moist and chewy with a hint of spice. I use my standard formula for converting any recipe to gluten-free; substitute the flour for the Wendy Wark's Flour Mix Tweaked recipe (in the archives) and add a half teaspoon of xanthan gum for every cup. I only brought 2 cookies home; willpower!
Kosher Status:
Parve
Number of servings:
makes about 24 cookies
Main Ingredient(s):
Oatmeal
Preparation Time:
00:20
Cooking Time:
00:10
Skill Level:
1 - Easy

(1 Easy - 5 Hard)

Estimated POINT value:


Ingredients:


3/4 cup unsalted margarine (or unsalted butter for dairy)

2 1/2 cups raw gluten-free oatmeal (or regular if you don't care)

1/2 cup Wendy Wark's Flour Mix Tweaked (or regular flour if you don't care)

1 teaspoon cinnamon

1/2 teaspoon salt

1/2 teaspoon baking soda

1 cup light-brown sugar

1 egg

1 teaspoon vanilla extract

1/2 cup dried cherries


Steps:


Preheat the oven to 350'.

In a skillet, melt the margarine (or brown the butter) over medium heat being careful not to burn it.
| | |
| --- | --- |
| | Add the oatmeal and stir to coat with margarine. Keep toasting the oatmeal for about 5 minutes. Add the dried cherries in the last minute. This will help moisten them. |
Combine the special flour, cinnamon, salt and baking soda in a bowl. Set aside.

In another bowl, combine the brown sugar, egg and vanilla.
| | |
| --- | --- |
| | Beat until very light. |
| | |
| --- | --- |
| | Add the flour mixture to the sugar mixture. |
| | |
| --- | --- |
| | Add the toasted oatmeal and dried cherry mixture. Stir until combined. |
| | |
| --- | --- |
| | Scoop the cookies in rounded tablespoons onto a parchment lined cookie sheet. |
| | |
| --- | --- |
| | Baked until golden brown. YUM! |


Recently viewed recipes:



Gluten-free Toasted Oatmeal with Dried Cherries Cookies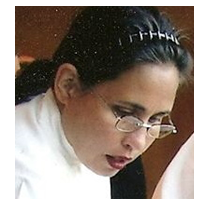 About Leah
Hi! Thank you for stopping by to watch me, Leah, cook kosher. I've been the owner operator of my boutique catering firm in Seattle, Leah's Catering, for the past 14 years.
Read more...
Leah's Blog

Aviva Makes Aliyah and The Sandwich Generation

Happy Chinese New Year! Happy Super Bowl! Go Hawks!

Tradition! Fun with the Seattle International Film Festival

Where Have I Been in My Life???

Making Kosher Salads

Blog Categories
Leah's Kosher Pantry

View what is in the pantry
Recipes

Appetizers
(44)

Appetizers - Dips and Sauces
(11)

Appetizers - Starter Courses
(10)

Beverages - Cold
(1)

Breads - Yeast
(10)

Breakfast Pastries
(7)

Dessert - Frostings
(6)

Desserts - Cakes
(13)

Desserts - Cookies and Brownies
(29)

Desserts - Dairy
(42)

Desserts - Pareve
(71)

Desserts - Pies and Tarts
(14)

Desserts - Tea Breads, Quick Breads
(8)

Desserts and Baked Goods - Gluten Free
(18)

Main Dish - Beef
(7)

Main Dish - Dairy
(3)

Main Dish - Eggs and Fritattas
(6)

Main Dish - Fish
(11)

Main Dish - Poultry
(14)

Main Dish - Vegetarian and Vegan
(9)

Salads - Dressing
(8)

Salads - Fruit
(4)

Salads - Grains & Legumes
(7)

Salads - Green
(1)

Salads - Pasta and Rice
(10)

Salads - Potatoes and Eggs
(5)

Salads - Vegetable
(15)

Side Dishes - Kugels and Souffles
(7)

Side Dishes - Potatoes and Vegetables
(17)

Side Dishes - Rice, Grains and Pasta
(7)

Soups, Stews and Cholent
(9)
Special Considerations

Dairy-Free Recipes
(230)

Gluten-Free Recipes
(134)

High Fiber Recipes
(18)

Low-fat Recipes
(11)

Nut-Free Desserts Recipes
(48)

Vegan Recipes
(101)

Vegetarian Recipes
(207)
Holidays

Rosh Hashana Recipes
(23)

Yom Kippur Recipes
(3)

Sukkot Recipes
(26)

Simchat Torah Recipes
(9)

Chanukah Recipes
(20)

Tu B'shevat Recipes
(16)

Purim Recipes
(9)

Passover Recipes
(44)

Lag Ba'omer Recipes
(6)

Shavuot Recipes
(24)

Shabbat Recipes
(34)
Cookbook Library

New Releases

Jewish Classics

Other Favorites
Kitchen Gadgets

Essentials

Small Appliances
Chef Of The Week

Barbara Williamson
Congratulations to our chef of the week.