Saffron Rice Salad with Fresh Mint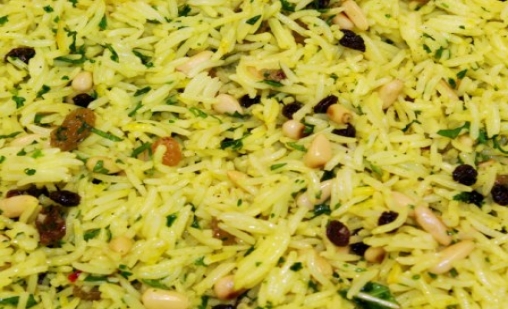 My sister Jeanette's birthday is a great reason to make a number of summer salads. Back in the beginning of the bakery, she would work with me the weeks her husband worked in Alaska. I start thinking of those days and decide to revisit some of the salads. Why not? They are timeless, tasty and I'm up for a trip down memory lane.
My mom, after she retired, was a fixture on Fridays at the bakery. She owns a zillion cookbooks, many purchased from the local Goodwill store. There is a series of cookbooks by James McNair circa the 1980's. Each recipe has a photo, each book pertains to a specific food group; rice, salads, fish, salmon, etc. They are pretty fabulous books and I snatch them up at second-hand stores whenever I see them. I am definitely inspired by James McNair when it comes to salads.
This is one of his salads although I think the recipe calls for orzo. Jeanette is on a gluten-free diet so I opt for rice. I use saffron and keep it light and fragrant. The recipe also calls for tumeric but I pull it back a tad. I don't want to mask the saffron flavor for bolder color. I also switch the dried cranberries for dried cherries; good call! Feeling cheap, I leave out the pine nuts....at $20 a bag; forget it. No one misses them. This is truly a beautiful salad and a notch up from the usual potato or pasta salads.
Kosher Status:
Parve
Number of servings:
10 -12
Main Ingredient(s):
Rice ~ Basmati
Preparation Time:
00:20
Cooking Time:
00:20
Skill Level:
1 - Easy

(1 Easy - 5 Hard)

Estimated POINT value:


Ingredients:


1 pound (about 2 cups) basmati rice

1/4 teaspoon saffron

2/3 cups toasted pine nuts, optional

1/2 cup currants

1/2 cup dried cherries (or cranberries)

1/4 cup chopped fresh mint

1/4 cup chopped fresh parsley

3 tablespoons chopped fresh cilantro
Dressing:
1/2 cup olive oil

2 teaspoons minced fresh garlic

2 tablespoons fresh lemon juice

1/4 teaspoon cumin

1/4 teaspoon ground tumeric

1 teaspoon sugar

1 teaspoon salt

1/2 teaspoon pepper


Steps:


| | |
| --- | --- |
| | Rinse the rice in a medium sauce pan. Add water to the first joint of the middle finger when you balance your finger on the top of the rice. Add the saffron. Bring the rice to a boil and then turn to medium low until the rice is cooked. |
| | |
| --- | --- |
| | Gently fluff the rice. |
| | |
| --- | --- |
| | Turn the rice out of the pot onto a cookie sheet. Spread out to cool. |
| | |
| --- | --- |
| | As the rice cooks, combine the dried cherries and currants in a small bowl. Wet with just enough water to help plump the fruit. |
| | |
| --- | --- |
| | Prep the herbs. Make the dressing by combining the ingredients in a measuring cup. |
Combine the rice, fruit, herbs and add the dressing. Gently toss. Adjust salt and pepper as necessary.

Serve at room temperature.


Recently viewed recipes:



Saffron Rice Salad with Fresh Mint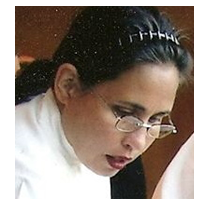 About Leah
Hi! Thank you for stopping by to watch me, Leah, cook kosher. I've been the owner operator of my boutique catering firm in Seattle, Leah's Catering, for the past 14 years.
Read more...
Leah's Blog

Aviva Makes Aliyah and The Sandwich Generation

Happy Chinese New Year! Happy Super Bowl! Go Hawks!

Tradition! Fun with the Seattle International Film Festival

Where Have I Been in My Life???

Making Kosher Salads

Blog Categories
Leah's Kosher Pantry

View what is in the pantry
Recipes

Appetizers
(44)

Appetizers - Dips and Sauces
(11)

Appetizers - Starter Courses
(10)

Beverages - Cold
(1)

Breads - Yeast
(10)

Breakfast Pastries
(7)

Dessert - Frostings
(6)

Desserts - Cakes
(13)

Desserts - Cookies and Brownies
(29)

Desserts - Dairy
(42)

Desserts - Pareve
(71)

Desserts - Pies and Tarts
(14)

Desserts - Tea Breads, Quick Breads
(8)

Desserts and Baked Goods - Gluten Free
(18)

Main Dish - Beef
(7)

Main Dish - Dairy
(3)

Main Dish - Eggs and Fritattas
(6)

Main Dish - Fish
(11)

Main Dish - Poultry
(14)

Main Dish - Vegetarian and Vegan
(9)

Salads - Dressing
(8)

Salads - Fruit
(4)

Salads - Grains & Legumes
(7)

Salads - Green
(1)

Salads - Pasta and Rice
(10)

Salads - Potatoes and Eggs
(5)

Salads - Vegetable
(15)

Side Dishes - Kugels and Souffles
(7)

Side Dishes - Potatoes and Vegetables
(17)

Side Dishes - Rice, Grains and Pasta
(7)

Soups, Stews and Cholent
(9)
Special Considerations

Dairy-Free Recipes
(230)

Gluten-Free Recipes
(134)

High Fiber Recipes
(18)

Low-fat Recipes
(11)

Nut-Free Desserts Recipes
(48)

Vegan Recipes
(101)

Vegetarian Recipes
(207)
Holidays

Rosh Hashana Recipes
(23)

Yom Kippur Recipes
(3)

Sukkot Recipes
(26)

Simchat Torah Recipes
(9)

Chanukah Recipes
(20)

Tu B'shevat Recipes
(16)

Purim Recipes
(9)

Passover Recipes
(44)

Lag Ba'omer Recipes
(6)

Shavuot Recipes
(24)

Shabbat Recipes
(34)
Cookbook Library

New Releases

Jewish Classics

Other Favorites
Kitchen Gadgets

Essentials

Small Appliances
Chef Of The Week

Barbara Williamson
Congratulations to our chef of the week.