Mom's Old-Fashioned Potato Salad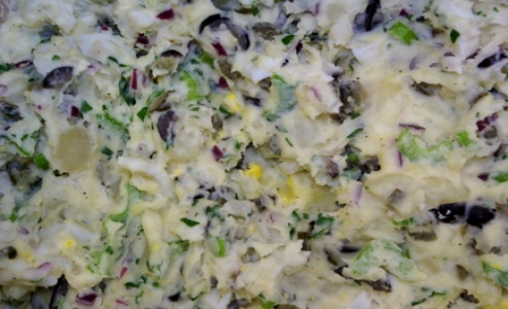 So, while making this potato salad for my sister's birthday party, I'm making four other salads; the ones posted along with this recipe. I opt to use Russet potatoes since that is what mom always used. They take forever to cook. Multi-tasking, I pull them off the heat, drain them and set them aside to cool at the perfect time. Looking at this picture, I'm thinking that maybe, just maybe, I let the potatoes cook too long. This salad does have chunks of potatoes but it is so creamy. A little longer and it would have turned to mashed potatoes.
The dressing is mayonnaise based and that doesn't bother me. It is important to let the potatoes cool before adding the dressing so as not to create a breeding ground for bacteria (yuk!). I like the way the starchy potato blends with the dressing to form a rich, thick coating. However, dressing refrigerator cold potatoes is not a good idea. Cold potatoes just make the dressing soupy. Better potatoes are slightly warm when you add the dressing. Just be sure to serve or refrigerate immediately.
This is my favorite potato salad to serve with deli spreads or a classic BBQ hamburger party. My sisters and I have tweaked the salad in that we use Yukon Gold potatoes or small red new potatoes. They cook faster, are creamy but firm and don't need to be peeled. Mom's potato salad must be topped with hard-boiled egg rings and paprika...so 1960's. Yum yum, tastes fabulous, just like mom used to make.
Kosher Status:
Parve
Number of servings:
10 - 12
Main Ingredient(s):
Potatoes - Yukon Gold, Potatoes - Russet
Preparation Time:
00:20
Cooking Time:
00:30
Skill Level:
1 - Easy

(1 Easy - 5 Hard)

Estimated POINT value:


Ingredients:


2 pounds Yukon Golds, or other thin skinned potato

2/3 cups finely sliced celery

1/2 cup finely diced onion (I like red onion)

1/2 cup finely diced sweet pickles (reserve juice for dressing)

1/2 cup sliced black olives

3 chopped hard-boiled eggs (plus 2 for decorating the top)
Dressing:
2/3 cup mayonnaise (Best Foods)

1/4 cup sweet pickle juice

3/4 teaspoon salt

1/4 teaspoon black pepper


Steps:


| | |
| --- | --- |
| | Wash potatoes (I used Russets in this photo) and place into a sauce pan. Cover with water by 1 inch. Add eggs. Put onto the heat and bring to a boil. Turn the heat down and maintain a slow boil. After 11 minutes, remove the eggs. Run the eggs under cold water, peel and set aside. Continue to cook the potatoes until just tender. |
| | |
| --- | --- |
| | When the potatoes are tender, drain the water and set aside to cool down. |
While the potatoes are cooking, prep the remaining ingredients. Reserve 2 of the hard-boiled eggs before chopping the others.

Make the dressing by combining the ingredients and mixing well.
| | |
| --- | --- |
| | Dice the potatoes into 1/2" chunks. Assemble all ingredients when the potatoes are almost room temperature. |
Refrigerate the potato salad until ready to serve. I like it best when the flavors have had some time to meld.

To serve, decorate with reserved hard-boiled eggs and sprinkle with paprika.


Recently viewed recipes:



Mom's Old-Fashioned Potato Salad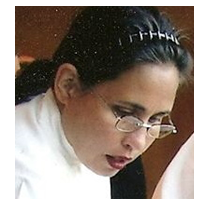 About Leah
Hi! Thank you for stopping by to watch me, Leah, cook kosher. I've been the owner operator of my boutique catering firm in Seattle, Leah's Catering, for the past 14 years.
Read more...
Leah's Blog

Aviva Makes Aliyah and The Sandwich Generation

Happy Chinese New Year! Happy Super Bowl! Go Hawks!

Tradition! Fun with the Seattle International Film Festival

Where Have I Been in My Life???

Making Kosher Salads

Blog Categories
Leah's Kosher Pantry

View what is in the pantry
Recipes

Appetizers
(44)

Appetizers - Dips and Sauces
(11)

Appetizers - Starter Courses
(10)

Beverages - Cold
(1)

Breads - Yeast
(10)

Breakfast Pastries
(7)

Dessert - Frostings
(6)

Desserts - Cakes
(13)

Desserts - Cookies and Brownies
(29)

Desserts - Dairy
(42)

Desserts - Pareve
(71)

Desserts - Pies and Tarts
(14)

Desserts - Tea Breads, Quick Breads
(8)

Desserts and Baked Goods - Gluten Free
(18)

Main Dish - Beef
(7)

Main Dish - Dairy
(3)

Main Dish - Eggs and Fritattas
(6)

Main Dish - Fish
(11)

Main Dish - Poultry
(14)

Main Dish - Vegetarian and Vegan
(9)

Salads - Dressing
(8)

Salads - Fruit
(4)

Salads - Grains & Legumes
(7)

Salads - Green
(1)

Salads - Pasta and Rice
(10)

Salads - Potatoes and Eggs
(5)

Salads - Vegetable
(15)

Side Dishes - Kugels and Souffles
(7)

Side Dishes - Potatoes and Vegetables
(17)

Side Dishes - Rice, Grains and Pasta
(7)

Soups, Stews and Cholent
(9)
Special Considerations

Dairy-Free Recipes
(230)

Gluten-Free Recipes
(134)

High Fiber Recipes
(18)

Low-fat Recipes
(11)

Nut-Free Desserts Recipes
(48)

Vegan Recipes
(101)

Vegetarian Recipes
(207)
Holidays

Rosh Hashana Recipes
(23)

Yom Kippur Recipes
(3)

Sukkot Recipes
(26)

Simchat Torah Recipes
(9)

Chanukah Recipes
(20)

Tu B'shevat Recipes
(16)

Purim Recipes
(9)

Passover Recipes
(44)

Lag Ba'omer Recipes
(6)

Shavuot Recipes
(24)

Shabbat Recipes
(34)
Cookbook Library

New Releases

Jewish Classics

Other Favorites
Kitchen Gadgets

Essentials

Small Appliances
Chef Of The Week

Barbara Williamson
Congratulations to our chef of the week.