Spelt, Rice or Wheat Pasta Salad with Stir-fried Vegetables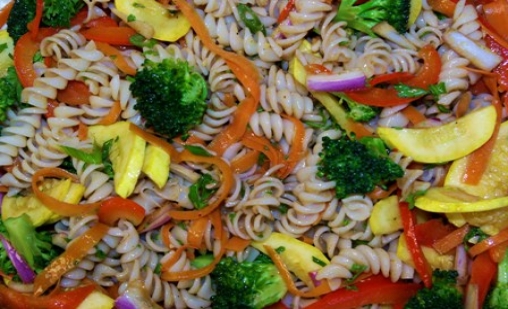 I want to make an assortment of gluten-free salads for my sister's party. I have a box of spelt pasta and decide to use it. Rude awakening! Spelt is not gluten-free. It's not even in my dictionary. A Google search reveals it is an ancient, gluten-grain nutty flavored grain. Well, who knew? Just the same, the pasta salad is wonderful and certainly, a gluten-free rice pasta could be inserted. Ordinarily, we make this salad with wheat pasta, in the radiatore shape. I love how the ridges hold the dressing. This is another salad with origins in James McNair's "Salad" cookbook.
In the past, we blanch the various vegetables. This time, I stir fry them to bring up the color but leave a slight crispness. Instead of grating the carrots, I make strips with the vegetable peeler. I also julienne the red peppers. These flavorful vegetables tossed with pasta, fresh herbs and a balsamic dressing makes a great summer time side dish.
Kosher Status:
Parve
Number of servings:
10 - 12
Main Ingredient(s):
Pasta
Preparation Time:
00:30
Cooking Time:
00:10
Skill Level:
1 - Easy

(1 Easy - 5 Hard)

Estimated POINT value:


Ingredients:


12 ounces spelt, rice or wheat pasta

3 tablespoons olive oil

1 medium red pepper, julienne sliced (thin sliced)

2 medium carrots, 'peeled' into strips

2 medium yellow squash, split lengthwise and sliced into 1/2 moons

3/4 pound broccoli crowns, separated into bite-sized pieces

3 green onions, thinly sliced on the bias

2 tablespoons chives, finely sliced

1/2 cup fresh basil leaves, thinly sliced
Dressing:
1 tablespoon Dijon mustard

1/4 cup balsamic vinegar

1/2 cup olive oil

1 1/2 teaspoon minced garlic

1 teaspoon sugar

1/2 teaspoon salt

1/4 teaspoon black pepper

1/8 teaspoon dried red pepper flakes


Steps:


| | |
| --- | --- |
| | Cook the pasta as per the manufacturer's instructions until al dente. I like to add a little salt to the boiling water. Do not overcook. Gently rinse the pasta in cold water and drain well. |
| | |
| --- | --- |
| | Prep the vegetables as per their descriptions in the ingredient list. Heat the oil in a wok or skillet and stir-fry the veggies until their colors are bright. They shouldn't be limp, just take the raw tasting edge off. |
Gently combine the pasta with the vegetables. Add the green onions, chives and basil. Add the dressing and toss. I always say, "romance it!"....you don't want to break the pasta.

Serve at room temperature.


Recently viewed recipes:



Spelt, Rice or Wheat Pasta Salad with Stir-fried Vegetables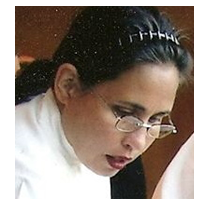 About Leah
Hi! Thank you for stopping by to watch me, Leah, cook kosher. I've been the owner operator of my boutique catering firm in Seattle, Leah's Catering, for the past 14 years.
Read more...
Leah's Blog

Aviva Makes Aliyah and The Sandwich Generation

Happy Chinese New Year! Happy Super Bowl! Go Hawks!

Tradition! Fun with the Seattle International Film Festival

Where Have I Been in My Life???

Making Kosher Salads

Blog Categories
Leah's Kosher Pantry

View what is in the pantry
Recipes

Appetizers
(44)

Appetizers - Dips and Sauces
(11)

Appetizers - Starter Courses
(10)

Beverages - Cold
(1)

Breads - Yeast
(10)

Breakfast Pastries
(7)

Dessert - Frostings
(6)

Desserts - Cakes
(13)

Desserts - Cookies and Brownies
(29)

Desserts - Dairy
(42)

Desserts - Pareve
(71)

Desserts - Pies and Tarts
(14)

Desserts - Tea Breads, Quick Breads
(8)

Desserts and Baked Goods - Gluten Free
(18)

Main Dish - Beef
(7)

Main Dish - Dairy
(3)

Main Dish - Eggs and Fritattas
(6)

Main Dish - Fish
(11)

Main Dish - Poultry
(14)

Main Dish - Vegetarian and Vegan
(9)

Salads - Dressing
(8)

Salads - Fruit
(4)

Salads - Grains & Legumes
(7)

Salads - Green
(1)

Salads - Pasta and Rice
(10)

Salads - Potatoes and Eggs
(5)

Salads - Vegetable
(15)

Side Dishes - Kugels and Souffles
(7)

Side Dishes - Potatoes and Vegetables
(17)

Side Dishes - Rice, Grains and Pasta
(7)

Soups, Stews and Cholent
(9)
Special Considerations

Dairy-Free Recipes
(230)

Gluten-Free Recipes
(134)

High Fiber Recipes
(18)

Low-fat Recipes
(11)

Nut-Free Desserts Recipes
(48)

Vegan Recipes
(101)

Vegetarian Recipes
(207)
Holidays

Rosh Hashana Recipes
(23)

Yom Kippur Recipes
(3)

Sukkot Recipes
(26)

Simchat Torah Recipes
(9)

Chanukah Recipes
(20)

Tu B'shevat Recipes
(16)

Purim Recipes
(9)

Passover Recipes
(44)

Lag Ba'omer Recipes
(6)

Shavuot Recipes
(24)

Shabbat Recipes
(34)
Cookbook Library

New Releases

Jewish Classics

Other Favorites
Kitchen Gadgets

Essentials

Small Appliances
Chef Of The Week

Barbara Williamson
Congratulations to our chef of the week.