Falafel Patties with Tehini (Gluten-free)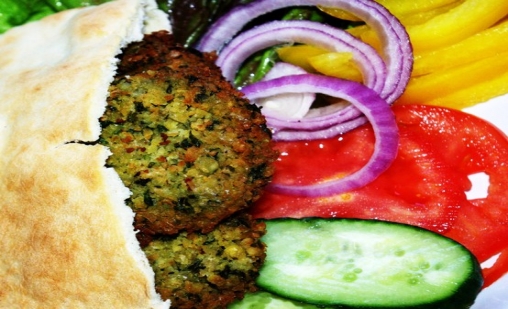 Serving falafel last weekend to rave reviews, most guests are surprised that it tastes homemade. It should taste homemade as it is a real little red hen process to make. We do everything short of growing and harvesting the garbanzo beans. Freshly ground beans, chopped herbs, tons of onions and hours of frying. Of course, it takes a while to make 300 falafel patties but we have it down.
Back in the days of the pareve bakery, we come up with a very tight lunch menu that includes falafel. Located in an old wooden building, we aren't allowed to install a commercial hood required for deep frying. Hence, falafel patties are born as they can be fried in a inch of oil and come in just under code. Anyway, patties fit much more easily into a flat pita and an open mouth.
The recipe I've used for years is handwritten on a grease stained sheet of yellow pad. It is extended to make 120 patties. This past week we triple the recipe. That is a whole lot of fryin' goin' on...and on. I remember getting the recipe from The 2nd Avenue Deli Cookbook in 1999. As the story goes, the late Abe Lebewohl's search for the perfect falafel led him to the Yemenite shop across the street from his landmark deli. I find the recipe excellent. Hmm, I just notice that Abe would squeeze fresh lemon over the fried falafel. Wow, that would explain why I add more salt to the recipe.
Generally, falafel isn't appealing to me as it looks so bland, so fried. The generous herbs in these patties create colorful, tasty bites. Not much of a sandwich person, I like to eat my falafel like a salad, taco salad style. Lettuce, tomato, cucumber topped with falafel patties, tehini on the side with pita. I don't apologize, it is great and far more ladylike.
Despite what one might think, making these patties ahead and freezing them works. It is a great way to make a falafel party in advance. Really, that is the only way we can pull off falafel for hundreds of people at a time. Give it a try and you won't have to stand over a pot of oil in your party clothes.
Kosher Status:
Parve
Number of servings:
about 36 patties, 12 servings
Main Ingredient(s):
Beans - Garbanzo
Preparation Time:
00:30
Cooking Time:
00:30
Skill Level:
2

(1 Easy - 5 Hard)

Estimated POINT value:


Ingredients:


3/4 pounds dried chick peas (garbanzo beans), about 1 1/2 cups

1 cup chopped onions

1 tablespoons minced garlic

1 tablespoon ground cumin

2/3 cup finely chopped fresh parsley

2/3 cup finely chopped fresh cilantro

2 teaspoons salt

1/2 teaspoon black pepper

3 tablespoons flour (use garbanzo bean flour + 1 teaspoon xanthan gum for gluten-free)

1/2 teaspoon red pepper flakes (optional, to taste)

Oil for frying (I buy special canola fry oil as it doesn't brown)

2 lemons for squeezing over fried patties
Tehini Sauce:
3/4 cup tehini

3 tablespoons fresh lemon juice

2 teaspoons minced garlic

3/4 teaspoon salt

1/2 cup cold water (or a little more if it is too thick)


Steps:


| | |
| --- | --- |
| | Wash the garbanzo beans. Place them into a container or pot and cover with a few inches of water. Refrigerate overnight or at least 8 hours. |
| | |
| --- | --- |
| | Drain the beans, rinse and drain well as you prep the other ingredients. |
| | |
| --- | --- |
| | In the bowl of a food processor, grind the beans to a fine meal. It shouldn't be smooth, it should look like cornmeal. |
| | |
| --- | --- |
| | Wash the herbs and finely chop by hand or in the food processor. Same with the onions. |
| | |
| --- | --- |
| | Combine the garbanzo beans, onions, garlic, cumin, parsley, cilantro, salt and pepper. Toss well. |
| | |
| --- | --- |
| | Add the flour and continue to mix. Make a small patty on the palm of your hand. If it breaks apart, add a little more flour. I decided to add 1/2 garbanzo bean flour as I didn't want a flour paste taste. When it holds together, refrigerate for an hour. |
Heat the frying oil in a large frying pan over medium heat. I love using our old, well seasoned pans for this process.

I use a scoop (#50) to take a walnut sized ball of the mixture onto the palm of my hand.
| | |
| --- | --- |
| | I gently flatten the ball into a patty and round out the edge. Using my heat sensitive spatula, I life the patty from my palm and gently lower into the oil. The oil should be hot enough to start cooking the patty but not so hot it burns without cooking. Also, if the oil isn't hot enough, the patty will sit there and absorb oil. |
| | |
| --- | --- |
| | Fry on one side over medium heat. |
| | |
| --- | --- |
| | Turn the patties over and fry until golden brown. |
| | |
| --- | --- |
| | When the patties are cooked, remove from the heat and drain on the paper towels. |
| | |
| --- | --- |
| | Before serving, squeeze lemon juice over the patties if desired. Place a few patties into a pita and top of with sliced or diced cucumbers, tomato, onion and lettuce if you like. Serve with tehini sauce and very optional z'chug. |
| | |
| --- | --- |
| | To make the sauce, combine all the ingredients in the food processor and blend until smooth. Refrigerate until ready to use. |


Recently viewed recipes:



Falafel Patties with Tehini (Gluten-free)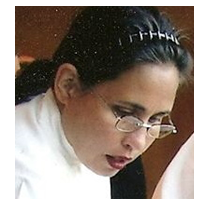 About Leah
Hi! Thank you for stopping by to watch me, Leah, cook kosher. I've been the owner operator of my boutique catering firm in Seattle, Leah's Catering, for the past 14 years.
Read more...
Leah's Blog

Aviva Makes Aliyah and The Sandwich Generation

Happy Chinese New Year! Happy Super Bowl! Go Hawks!

Tradition! Fun with the Seattle International Film Festival

Where Have I Been in My Life???

Making Kosher Salads

Blog Categories
Leah's Kosher Pantry

View what is in the pantry
Recipes

Appetizers
(44)

Appetizers - Dips and Sauces
(11)

Appetizers - Starter Courses
(10)

Beverages - Cold
(1)

Breads - Yeast
(10)

Breakfast Pastries
(7)

Dessert - Frostings
(6)

Desserts - Cakes
(13)

Desserts - Cookies and Brownies
(29)

Desserts - Dairy
(42)

Desserts - Pareve
(71)

Desserts - Pies and Tarts
(14)

Desserts - Tea Breads, Quick Breads
(8)

Desserts and Baked Goods - Gluten Free
(18)

Main Dish - Beef
(7)

Main Dish - Dairy
(3)

Main Dish - Eggs and Fritattas
(6)

Main Dish - Fish
(11)

Main Dish - Poultry
(14)

Main Dish - Vegetarian and Vegan
(9)

Salads - Dressing
(8)

Salads - Fruit
(4)

Salads - Grains & Legumes
(7)

Salads - Green
(1)

Salads - Pasta and Rice
(10)

Salads - Potatoes and Eggs
(5)

Salads - Vegetable
(15)

Side Dishes - Kugels and Souffles
(7)

Side Dishes - Potatoes and Vegetables
(17)

Side Dishes - Rice, Grains and Pasta
(7)

Soups, Stews and Cholent
(9)
Special Considerations

Dairy-Free Recipes
(230)

Gluten-Free Recipes
(134)

High Fiber Recipes
(18)

Low-fat Recipes
(11)

Nut-Free Desserts Recipes
(48)

Vegan Recipes
(101)

Vegetarian Recipes
(207)
Holidays

Rosh Hashana Recipes
(23)

Yom Kippur Recipes
(3)

Sukkot Recipes
(26)

Simchat Torah Recipes
(9)

Chanukah Recipes
(20)

Tu B'shevat Recipes
(16)

Purim Recipes
(9)

Passover Recipes
(44)

Lag Ba'omer Recipes
(6)

Shavuot Recipes
(24)

Shabbat Recipes
(34)
Cookbook Library

New Releases

Jewish Classics

Other Favorites
Kitchen Gadgets

Essentials

Small Appliances
Chef Of The Week

Barbara Williamson
Congratulations to our chef of the week.