Eggplant Filling for Borekas (Boreca de Berenjena)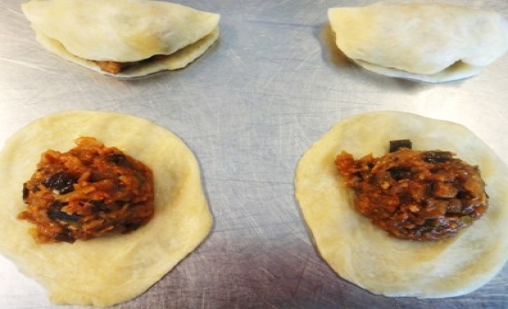 Sigh, another great Sephardic item and I don't have the final photo. Focusing on getting 2 Shabbat events cooked and baked by sundown on Friday, I totally space all my final shots. No photos on Shabbat, either. Alas, go to the Sephardic Boreka recipe and you'll see the potato version. This photo illustrates the eggplant filling. Once the boreka is made with the delicate rope edging, I brush with an egg wash and sprinkle with sesame seeds. They are beautiful and worth mastering. To my knowledge they can't be purchased anywhere....not like these.
Requiring an even lighter touch than the potato filled borekas, I make sure my dough is flattened large enough so I can simply lift the top over the filling. Gently, I take the boreka off the table and barely bring the edges together. Then I do the fine edgework. Since these borekas are pareve, they are a great appetizer for meat meals. Borekas are a labor of love; no shortcuts to the real deal.
BUT, if you are out of time to hand form borekas, try using the mini filo cups. They make an easy appetizer with a spoonful of this filling.
Kosher Status:
Parve
Number of servings:
36 borekas
Main Ingredient(s):
Eggplant
Preparation Time:
00:30
Cooking Time:
00:00
Skill Level:
1 - Easy

(1 Easy - 5 Hard)

Estimated POINT value:


Ingredients:


3 pounds of eggplant (about 2 large)

1 large onion

1 green pepper

2 cloves of garlic

8 ounces tomato sauce

1/2 cup water

2 tablespoons red wine vinegar

1 1/2 teaspoons sugar

1 teaspoon salt

1/2 teaspoon pepper

1/2 teaspoon dried oregano

1/2 teaspoon ground cumin

pinch of cayenne pepper

1/2 cup diced olives


Steps:


| | |
| --- | --- |
| | Finely dice the eggplant. Set aside. |
| | |
| --- | --- |
| | Finely dice the onions and green pepper. Mince the garlic. Set aside. |
| | |
| --- | --- |
| | Heat the olive oil in a saute pan. Add diced vegetables and cook until tender. |
| | |
| --- | --- |
| | Add the remaining ingredients. Continue to cook until all the liquid is absorbed. Refrigerate until cool. The filling should be thick enough to hold together when forming the borekas. If it is too wet, add a little bread crumbs to absorb the moisture. |
Make the boreka dough and form borekas as per the Sephardic Boreka recipe illustrates. Brush with egg wash and sprinkle with sesame seeds. Bake at 350' until golden brown, about 20 minutes.

These may also be made ahead and then baked before serving.


Recently viewed recipes:



Eggplant Filling for Borekas (Boreca de Berenjena)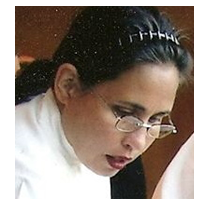 About Leah
Hi! Thank you for stopping by to watch me, Leah, cook kosher. I've been the owner operator of my boutique catering firm in Seattle, Leah's Catering, for the past 14 years.
Read more...
Leah's Blog

Aviva Makes Aliyah and The Sandwich Generation

Happy Chinese New Year! Happy Super Bowl! Go Hawks!

Tradition! Fun with the Seattle International Film Festival

Where Have I Been in My Life???

Making Kosher Salads

Blog Categories
Leah's Kosher Pantry

View what is in the pantry
Recipes

Appetizers
(44)

Appetizers - Dips and Sauces
(11)

Appetizers - Starter Courses
(10)

Beverages - Cold
(1)

Breads - Yeast
(10)

Breakfast Pastries
(7)

Dessert - Frostings
(6)

Desserts - Cakes
(13)

Desserts - Cookies and Brownies
(29)

Desserts - Dairy
(42)

Desserts - Pareve
(71)

Desserts - Pies and Tarts
(14)

Desserts - Tea Breads, Quick Breads
(8)

Desserts and Baked Goods - Gluten Free
(18)

Main Dish - Beef
(7)

Main Dish - Dairy
(3)

Main Dish - Eggs and Fritattas
(6)

Main Dish - Fish
(11)

Main Dish - Poultry
(14)

Main Dish - Vegetarian and Vegan
(9)

Salads - Dressing
(8)

Salads - Fruit
(4)

Salads - Grains & Legumes
(7)

Salads - Green
(1)

Salads - Pasta and Rice
(10)

Salads - Potatoes and Eggs
(5)

Salads - Vegetable
(15)

Side Dishes - Kugels and Souffles
(7)

Side Dishes - Potatoes and Vegetables
(17)

Side Dishes - Rice, Grains and Pasta
(7)

Soups, Stews and Cholent
(9)
Special Considerations

Dairy-Free Recipes
(230)

Gluten-Free Recipes
(134)

High Fiber Recipes
(18)

Low-fat Recipes
(11)

Nut-Free Desserts Recipes
(48)

Vegan Recipes
(101)

Vegetarian Recipes
(207)
Holidays

Rosh Hashana Recipes
(23)

Yom Kippur Recipes
(3)

Sukkot Recipes
(26)

Simchat Torah Recipes
(9)

Chanukah Recipes
(20)

Tu B'shevat Recipes
(16)

Purim Recipes
(9)

Passover Recipes
(44)

Lag Ba'omer Recipes
(6)

Shavuot Recipes
(24)

Shabbat Recipes
(34)
Cookbook Library

New Releases

Jewish Classics

Other Favorites
Kitchen Gadgets

Essentials

Small Appliances
Chef Of The Week

Barbara Williamson
Congratulations to our chef of the week.