Huevos Haminados, Sephardic Brown Eggs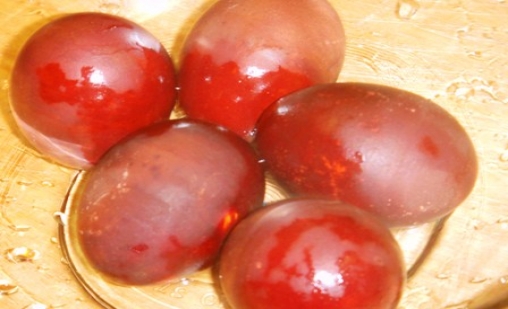 Over the months and years, I intend to document many Sephardic specialties of our region. Recently, I was asked to make 'brown eggs' for a traditional brunch. I'd only made them once before, years ago. Huevos Haminados are hard-boiled eggs made brown by extensive cooking with onion skins and coffee grounds.
I inventory all kinds of onions; yellow, sweet, white, red and Vidalia this time of year. Onion skins are in abundance as are eggs. The recipe is simple; boil an odd number (for halachic reasons) of eggs with onion skins, a little coffee grounds, oil and water to cover. The eggs will turn a beautiful brown and the internal whites will become a light taupe. The Sephardim love them with Greek style yogurt and pastries like bolemas. I can't eat hard-boiled eggs as they are off-the-chart allergens to me. But, I love to make them; the color is just gorgeous!
Kosher Status:
Parve
Number of servings:
3 - 4
Main Ingredient(s):
Eggs
Preparation Time:
00:10
Cooking Time:
05:00
Skill Level:
1 - Easy

(1 Easy - 5 Hard)

Estimated POINT value:


Ingredients:


7 eggs

cold water to cover by about an inch

outer skins of a few onions

1 tablespoon of oil

1 tablespoon of instant or regular coffee grounds


Steps:


| | |
| --- | --- |
| | Put all the ingredients into a pot and cover with foil or a tight lid. Put on the stove top and bring to a boil. Either turn the heat as low as possible and cook overnight or place into an oven at 185' overnight. Once cooked, remove and rinse under cold water. Serve. |


Recently viewed recipes:



Huevos Haminados, Sephardic Brown Eggs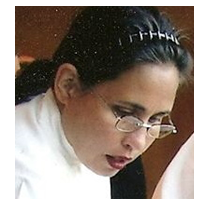 About Leah
Hi! Thank you for stopping by to watch me, Leah, cook kosher. I've been the owner operator of my boutique catering firm in Seattle, Leah's Catering, for the past 14 years.
Read more...
Leah's Blog

Aviva Makes Aliyah and The Sandwich Generation

Happy Chinese New Year! Happy Super Bowl! Go Hawks!

Tradition! Fun with the Seattle International Film Festival

Where Have I Been in My Life???

Making Kosher Salads

Blog Categories
Leah's Kosher Pantry

View what is in the pantry
Recipes

Appetizers
(44)

Appetizers - Dips and Sauces
(11)

Appetizers - Starter Courses
(10)

Beverages - Cold
(1)

Breads - Yeast
(10)

Breakfast Pastries
(7)

Dessert - Frostings
(6)

Desserts - Cakes
(13)

Desserts - Cookies and Brownies
(29)

Desserts - Dairy
(42)

Desserts - Pareve
(71)

Desserts - Pies and Tarts
(14)

Desserts - Tea Breads, Quick Breads
(8)

Desserts and Baked Goods - Gluten Free
(18)

Main Dish - Beef
(7)

Main Dish - Dairy
(3)

Main Dish - Eggs and Fritattas
(6)

Main Dish - Fish
(11)

Main Dish - Poultry
(14)

Main Dish - Vegetarian and Vegan
(9)

Salads - Dressing
(8)

Salads - Fruit
(4)

Salads - Grains & Legumes
(7)

Salads - Green
(1)

Salads - Pasta and Rice
(10)

Salads - Potatoes and Eggs
(5)

Salads - Vegetable
(15)

Side Dishes - Kugels and Souffles
(7)

Side Dishes - Potatoes and Vegetables
(17)

Side Dishes - Rice, Grains and Pasta
(7)

Soups, Stews and Cholent
(9)
Special Considerations

Dairy-Free Recipes
(230)

Gluten-Free Recipes
(134)

High Fiber Recipes
(18)

Low-fat Recipes
(11)

Nut-Free Desserts Recipes
(48)

Vegan Recipes
(101)

Vegetarian Recipes
(207)
Holidays

Rosh Hashana Recipes
(23)

Yom Kippur Recipes
(3)

Sukkot Recipes
(26)

Simchat Torah Recipes
(9)

Chanukah Recipes
(20)

Tu B'shevat Recipes
(16)

Purim Recipes
(9)

Passover Recipes
(44)

Lag Ba'omer Recipes
(6)

Shavuot Recipes
(24)

Shabbat Recipes
(34)
Cookbook Library

New Releases

Jewish Classics

Other Favorites
Kitchen Gadgets

Essentials

Small Appliances
Chef Of The Week

Barbara Williamson
Congratulations to our chef of the week.