Parve Golden Potato Kugel (that is really purple)

Years ago, back when the bakery was the little space next to the Tree of Life Judaica shop, a woman pulls up curbside and jumps out of the car. Running into the bakery, she stops short staring into the deli case. Asking if I can help with anything, she says, "Your potato kugels aren't green!" I'm thinking, "Yeah, and that is a good thing." Apparently, she is stressed about making Shabbat dinner and her kugel is green. Time is ticking away. Like a Rav with a captive audience, I explain the tricks to avoid not only green potato kugels but pink ones as well.
However, pictured above is a purple kugel. If you were sitting next to me as I type, you'd see me pull my fingers away and do a little rockin' out. What else can you do with a purple marbled kugel? How did it get that way? Well, for this photo op, I need to make a kugel. I have red new potatoes I could use for a creamy kugel. I have russets I could use for a (yawn) classic kugel. Or, I can have some fun while I'm 'supervising' the Throwdown contestants and see what multi-colored fingerling potatoes will make.
Maybe this is a good time for a shoutout to my old friend Chami in Florida; ah, do not attempt at home UNLESS you have more of those heirloom carrots. Actually, not a bad idea!
Back to this kugel, it tastes like a potato kugel, it just doesn't walk like one. But, for the sake of a photo, I share this with you. You can imagine a golden potato kugel!
Kosher Status:
Parve
Number of servings:
9" x 13" pan, 20 - 24 pieces
Main Ingredient(s):
Potatoes - Yukon Gold, Eggs
Preparation Time:
00:30
Cooking Time:
01:00
Skill Level:
1 - Easy

(1 Easy - 5 Hard)

Estimated POINT value:


Ingredients:


3 pounds of peeled potatoes, about 3 1/2 pounds unpeeled (Russets, Yukon Golds or whatever but maybe not purple)

1 pound of peeled yellow onions, about 3 large

6 large eggs

1/4 cup canola oil

3/4 cup flour (or gluten-free flour mix + 1/2 teaspoon xanthan gum)

1/2 teaspoon baking powder

1 tablespoon salt

1 teaspoon black pepper


Steps:


| | |
| --- | --- |
| | In a large bowl, combine all the ingredients except the potatoes and onions. Blend well with a whisk or hand held wand. Set aside. |
| | |
| --- | --- |
| | Peel the onions and quarter to fit the chute of the food processor. Depending on the potatoes you use, peel them or not, definitely wash them and set aside. Using the grater attachment on the food processor, grate the potatoes and onions together. When the bowl is almost full, empty contents directly into the egg mixture. This will prevent the kugel from becoming either green or pink. Give the mixture a little toss and continue to grate potatoes and onions until finished. Mix well with the egg mixture. |
Grease a 9" x 13" pan well. Add the kugel mixture. Bake at 350' until golden brown and the potatoes are tender, about an hour. If it browns too fast and the potatoes aren't cooked through, cover with foil. When done, remove from the oven and let sit for a few minutes. Cut and serve hot.

And that is how you make a Kosher Golden Potato Kugel!


Recently viewed recipes:



Parve Golden Potato Kugel (that is really purple)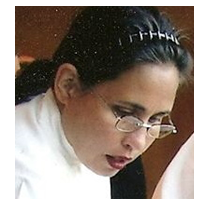 About Leah
Hi! Thank you for stopping by to watch me, Leah, cook kosher. I've been the owner operator of my boutique catering firm in Seattle, Leah's Catering, for the past 14 years.
Read more...
Leah's Blog

Aviva Makes Aliyah and The Sandwich Generation

Happy Chinese New Year! Happy Super Bowl! Go Hawks!

Tradition! Fun with the Seattle International Film Festival

Where Have I Been in My Life???

Making Kosher Salads

Blog Categories
Leah's Kosher Pantry

View what is in the pantry
Recipes

Appetizers
(44)

Appetizers - Dips and Sauces
(11)

Appetizers - Starter Courses
(10)

Beverages - Cold
(1)

Breads - Yeast
(10)

Breakfast Pastries
(7)

Dessert - Frostings
(6)

Desserts - Cakes
(13)

Desserts - Cookies and Brownies
(29)

Desserts - Dairy
(42)

Desserts - Pareve
(71)

Desserts - Pies and Tarts
(14)

Desserts - Tea Breads, Quick Breads
(8)

Desserts and Baked Goods - Gluten Free
(18)

Main Dish - Beef
(7)

Main Dish - Dairy
(3)

Main Dish - Eggs and Fritattas
(6)

Main Dish - Fish
(11)

Main Dish - Poultry
(14)

Main Dish - Vegetarian and Vegan
(9)

Salads - Dressing
(8)

Salads - Fruit
(4)

Salads - Grains & Legumes
(7)

Salads - Green
(1)

Salads - Pasta and Rice
(10)

Salads - Potatoes and Eggs
(5)

Salads - Vegetable
(15)

Side Dishes - Kugels and Souffles
(7)

Side Dishes - Potatoes and Vegetables
(17)

Side Dishes - Rice, Grains and Pasta
(7)

Soups, Stews and Cholent
(9)
Special Considerations

Dairy-Free Recipes
(230)

Gluten-Free Recipes
(134)

High Fiber Recipes
(18)

Low-fat Recipes
(11)

Nut-Free Desserts Recipes
(48)

Vegan Recipes
(101)

Vegetarian Recipes
(207)
Holidays

Rosh Hashana Recipes
(23)

Yom Kippur Recipes
(3)

Sukkot Recipes
(26)

Simchat Torah Recipes
(9)

Chanukah Recipes
(20)

Tu B'shevat Recipes
(16)

Purim Recipes
(9)

Passover Recipes
(44)

Lag Ba'omer Recipes
(6)

Shavuot Recipes
(24)

Shabbat Recipes
(34)
Cookbook Library

New Releases

Jewish Classics

Other Favorites
Kitchen Gadgets

Essentials

Small Appliances
Chef Of The Week

Barbara Williamson
Congratulations to our chef of the week.